Your Grand Rapids Christmas Bucket List
Don't Worry, We Didn't Include a Partridge or a Pear Tree!
There are Christmas traditions that are near and dear to a family. Some are based on traditions passed down from generations before (say, my mom's monkey bread on Christmas morning) and some are based on where you call home.
Celebrating Christmas in Grand Rapids is marked by train rides with Santa, mooing cows in a barn, and a Nutcracker in ballet shoes. It's all made more magical by a blanket of sparkling white snow.
So, what do you HAVE to do in Grand Rapids at Christmastime? Here it goes:
12 Perfectly Christmas-y Things To Do in Grand Rapids
1 – Go Ice Skating at Rosa Parks Circle
Iconic to a winter in Grand Rapids is Rosa Parks Circle turning into a picturesque ice rink. Grab your family and hit the ice! Adults skate for $3 and kids are $1 –which includes your skate rental cost.
2 – Soak up a Live-Nativity at The Critter Barn
While there are a number of live nativity scenes to be found in the area, there is something special about visiting The Critter Barn at Christmastime. The sweet animals and the smell of fresh straw are the perfect way to slow down and reflect during the busy holiday season.
3 – Find that Pickle at Frederik Meijer Gardens
Frederik Meijer Gardens gets a lot of attention during the spring and summer months, but what if I told you it's just as lovely in the winter time? It truly is!
The train is mesmerizing for the whole family. Also, the displays of Christmas trees from around the world are educational and beautiful. There is a hidden pickle in the Germany tree that is always fun to find.
4 – Embrace Some Local Dutch Heritage with Sinterklaas Day
Get a jumpstart on celebrating the holidays by adding Sinterklass Day on December 5th. Even though it's a holiday of Dutch heritage, you don't have to be Dutch to find some joy in the fun and simple tradition.
5 – Visit the Real Santa and Tell Him You've Been Nice
Did you know that the real Santa actually lives in Grand Rapids? You can find him at a handful of locations around West Michigan throughout the holiday season. It's not Christmas until Santa knows what to bring you (I promise I've been very nice this year–and I'll take a day at the spa or a trip to anywhere warm, thanks!).
6 – Get Nostalgic at The Nutcracker Ballet
Nothing gets me in the Christmas spirit quite like seeing the Grand Rapids Ballet's performance of The Nutcracker. It makes me feel all the loveliest Christmas feelings; it's like having Sugar Plum Fairies dance in my heart.
7 – Slide Down a Massive Hill
As a kid, Christmas break in Grand Rapids meant finding the biggest hills with my four brothers and sledding until we couldn't feel our toes. A forever favorite is the hill at Mulick Park Elementary–but see all the other area places to catch some speed on a sled right here.
8 – Find Some Impressive Christmas Lights
My kindergartner is obsessed with Christmas lights. His excitement makes me excited–and isn't that what the season is all about?! We scoped out all the best places to see Christmas light displays around Grand Rapids. Put the kids in their pajamas, grab a thermos of hot chocolate, and go for a festive drive.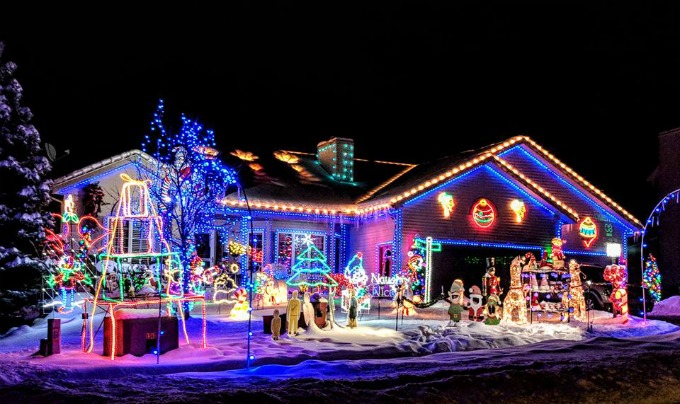 9 – Ride the Coopersville and Marne Railway Santa Train
The Santa Train is a must-do during the holidays–especially if you have any train enthusiasts in your house. The train ride is full of anticipation; waiting for Santa to visit your train car as you chug through the Coopersville countryside. Santa reads a Christmas story and gives out a small gift to each child on the train. Tickets tend to sell out, so be sure to buy them as soon as you can!
10 – Get Cozy by a Fireplace
Sometimes it's vital to pause and take a deep breath during the busy holiday season.  A favorite, festive way to unwind is a cup of coffee, a good book, and a cozy fireplace. No fireplace? No problem! We gathered 7 of our favorite spots to curl up by a fire (good book not included).
11 – Give Santa's Reindeer a Snack
My kids are both terrified about Santa–but they are all about animals! There are several places around Grand Rapids that host Santa's Reindeer throughout the holiday season. It's a fun photo opportunity and less intimidating than sitting on a stranger's lap.
12 – Remember the Reason for the Season: Give Back by Volunteering
I don't know about you, but I'm constantly reminding my kids that this season is not about the presents. Take a minute and give back to your local community through volunteering as a family. See where you can volunteer around Grand Rapids and take some time to count your blessings.
Ho, Ho, Ho… More Grand Rapids Holiday Fun!