A Lansing Trip is An Easy Outing for Grand Rapids Families
Did you know Lansing has something for you!? It can be hard to find out about the gems a city has to offer if you don't live there. So, here's an inside look into what kind of great family fun awaits you and your kids in our Capitol City.
I've stacked up my Top 10 Family Fun ideas for a day out in Lansing. Mix and Match or check them all off in one trip  –  either way you may just have some sleeping kids for the drive home. From touring one of the locations used in shooting the movie "Batman vs. Superman" to paddling through the city center it's sure to be fun for both kids and Parents.
Top Ten Adventures for Kid Fun in Lansing
(FREE to visit)
This amazing place is more than a pet store: it's an experience. Among the elaborate amounts of things to explore our favorites are visiting the parrots and for just $1 feeding the huge koi fish in their multiple ponds.
When deciding what to do on an adventure trip, Pruess Pets is a no brainer choice for my husband and I because it's SO MUCH FUN for both our kids and us! We all end up learning something new while seeing an exotic pet we've never seen before.
If you're lucky you might get to hang with Fred and Ginger (the 75 and 65 year old middle age tortoises) as they race through the store! (Did you know tortoises can live to about 150 years old!?)
($4 adults with state park car sticker, $2 ages 6-17, FREE 5 & under)
Cars! Motown! Coal Mines! Expect to see these and so much more on the three floors of exhibits.
The fun kids area is located on the first floor where crafts and cool experiments await, along with a stage and reading nook. As you walk in you'll see the massive pine tree growing right in the middle of the building!
TIP: We enjoy a nice walk on the trail to the Capitol building after we're finished exploring too!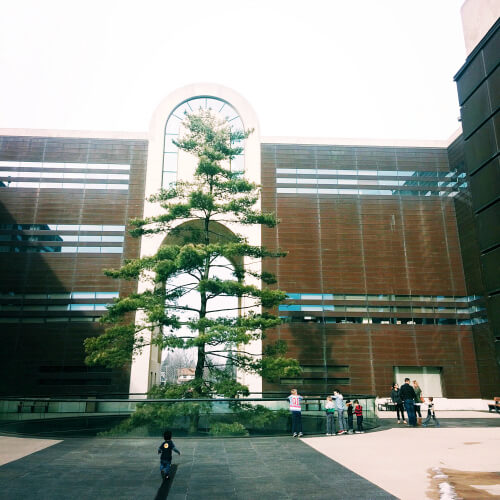 (FREE to visit and FREE Coffee to go!)
I know what you're thinking "we already have that in Grand Rapids." Trust me, Lansing's location is its own beast and a MUST VISIT! I highly recommend this spot whether you're wanting to grab some crisp produce/groceries on your way back home or just want to experience all that is Lansing Horrocks.
The amazing atmosphere and food from all over the world don't even begin to describe the fun to be had. Some of our favorite corners to visit are:
The fountain located deep in the beautiful greenhouses and hanging pinatas.
In-store popped Popcorn Station where you can sample their delicious kernels!
Infused olive oil station with a countless amount of flavors like basil or thyme.
Grab some Wine or Beer from their amazing staff at either their Wine Bar or Pub with a walk up patio where you can enjoy the view after you've grabbed a yummy snack.
And last, but absolutely not least, their coffee roasting station! There you can can grab a big cup to go with all the fixin's for FREE! A Parent's Dream! My personal favorite in this area is the Nitro cold brew from ColdSpell.
($5 per car)
As Melody describes perfectly in her guide to this awesome park, Fitzgerald Park truly is a hidden gem!
Venture out here and you'll find yourself in another world! You don't need to drive 4 hours up north to find sweet rock formations, or as we like to call them, "The Ledges." It's just under an hour from Grand Rapids and is something your kids will remember for a lifetime! Check out Melody's guide for tips and grab your coupon to Biggby.
6.Feed the Horses just down the street from the MSU Children's Gardens!
(FREE, bring your own bag/s of carrots or apples)
How many times can you say you've had an exciting yet peaceful day?! Visiting these absolutely gorgeous animals is just that.
Tucked away on the border of Lansing and Michigan State University Campus are the MSU Barns. There are lots of horses ready to meet your little cuties and they love being fed right from your hands! Each time we go there is so much excitement driving in and we leave feeling filled up with joy because we've looked into the eyes of these kind and sensitive beauties.
(FREE with JBZ Card, $11 non-resident adult, $4 ages 3-12, under 3 FREE, $3 for Parking)
Do you have a membership to the John Ball Zoo? If so, you're in for a day of FREE family fun where you'll see Lions face to face, penguins playing in their outdoor pool area, and their new Moose exhibit!
On Mondays from 10am – Noon enjoy a story time with a live creature. That's not all! Take a ride on a pony or jump high in the sky to try and see all of the animals from above!
(FREE + Old school, change-only parking meters)
One thing you can count on when you have a garden is that it will never be exactly the same each year. The same can be said about the MSU Children's Gardens and I absolutely love that!
Each time we go something different catches our eye and we can rest assured we won't get sick of it because next year will be something new again. This year brings fun huts for the kids to "hide" in and the tree maze is always a hit. Don't miss the butterfly house from March to April!
Want to visit in the winter? Go for it! The indoor greenhouses are open all year round and their succulent area is a favorite for our family. You can also enjoy a story hour once a month throughout the year.
(Kayak and Bike Rentals $10 per hour)
Kayaking with Rivertown Adventures has become one our favorite things to do in summer! The staff is amazing and will get you laughing and ready to paddle your way to an exciting hour of kayaking family fun. If you choose to bike instead, Lansing's River Trail will lead your right to the front door of my number two pick.
(FREE with Reciprocal Card, or $8.50 per adult and children 2 and older)
Newly renovated and ready for all ages! Our family has a membership to Impressions 5. We visit a lot in winter when it's cold outside because we are guaranteed a good day after visiting here.
My kids are 2-½ years apart and it can be difficult to visit when it's just me as they are wanting to run in completely opposite directions. Who can blame them?! The many wonders that are i5 include their brand new water exhibit, separate enclosed toddler area, science stations galore, and much much more!
TIP: The best tip I can give is to go with friends. It helps keep the kids all together and you won't have to wear your workout clothes because of chasing your toddler around all day.
(FREE, donations accepted)
The Eli & Edyth Broad Art Museum has a section in the bottom level just for kids where there's almost always a craft or something to participate in! It is my number one pick because it's so unique to Michigan and it's a place you and your kids won't soon forget.
Family day at the Broad is every first Saturday of the month. Here kids and parents can explore current exhibits and creating new art projects. The Broad is a captivating place that people of all ages enjoy and it's FREE!
**NOTE TO PARENTS**: Stick to the children/kid exhibit areas or make sure the adult exhibits are appropriate for your children. For a guarenteed fully family friendly environment – make a trip on Family Day (first Saturday of the every month).
TIPS: If you're needing a beverage, Starbucks is located in the lobby. Beverages are allowed in the Family Day areas. However, all food and beverages need to be finished before entering the exhibits.
So, are you ready for your Lansing adventure?
Let us know where you end up galavanting to and some tips you found helpful along the way.