The Best Campgrounds in Michigan
It's hard to beat Michigan campgrounds! Our state's picturesque lakes, incredible outdoor activities, and wide range of destinations makes camping in Michigan one of the best ways to experience a Michigan summer vacation.
Choose to pitch your tent – or park your rig – in one of many state parks, national parks, or privately owned campgrounds to give your family the outdoor getaway you will be talking about for years.
Use this extensive list of recommended campgrounds in Michigan to discover your family's next camping destination!
How to Book Campgrounds in Michigan
Booking campgrounds in Michigan can take a bit of persistence – and luck! Popular locations often fill up as soon as the booking calendar opens so you need to be prepared and know how to use the system if you are trying to get reservations after the window has opened.
Booking instructions vary by campground type so the first step is deciding on the type of campground you'd like to stay at.
Options include:
Michigan State Park Campgrounds
Michigan National Parks Campgrounds
Private Campgrounds in Michigan
Municipal Michigan Campgrounds
Michigan State Forest Campgrounds
Read on for tips on booking sites at the various types of campgrounds in Michigan.
(And while you're in planning mode, read up on the best Camping Hacks.)
Happy camping in Michigan!
Booking Campsites at the Different Types of Campgrounds in Michigan
Ok, campers! You've got your gear, now you just need a place to go!
(Seriously campsite reservations are specific to your camping gear. Before you book your campground in Michigan, you need to know how long your RV is, how big your tent is, how many people are camping with you, and the desired dates of your trip.)
1 – Booking Sites at Michigan State Park Campgrounds
The Michigan State Park system is a fantastic network of parks and campgrounds. Over 100 state parks blanket the upper and lower peninsula, providing unparalleled access to nature for everyone.
State parks range in amenities and attractions. Some offer boating experiences, others have unique activities like the zipline adventure or ice skating trail through the woods in Muskegon. Some state parks, like the White Pine Trail, are bike paths.
Needless to say, not all State Parks offer camping in Michigan.
How to Make Michigan State Park Camping Reservations
For the state parks that do offer camping, campsites, harbor slips and backcountry campsites can be reserved 6 months in advance (new inventory becomes available Monday through Friday at 8 a.m. and Saturday and Sunday at 9 AM.)
Many of the coveted campground spots book up instantly when the reservation window opens. You need to put this time and date in your calendar, have your account open and updated with payment info, and be ready to reserve.
It's a good idea to have multiple people in your camping party trying to get through at the same time – especially if you have several groups that want to camp together.

Book sites online at MiDNRReservations.com or call 1-800-44-PARKS to make a reservation.
Favorite State Park Campgrounds in Michigan
If you Miss the Reservation Window
All hope is not lost!
Michigan's reservation system allows you to set up notifications so that you are emailed if/when a camping spot opens up.
The email notification goes out to all people who have set up the alert for that campground and time period – the first one to book the site gets it, so don't delay when you get a notification because the site won't last long.
You are allowed to set up several notifications (I believe the max is five at this time.)
2 – Making Reservations at National Parks Campgrounds in Michigan
Michigan has several National Parks that offer camping. National Parks Campgrounds are operated by the National Park Service (NPS) and reservations are made through the recreation.gov website.
Michigan campgrounds operated by NPS include:
Drive-in camping reservations can be made up to 6 months in advance at recreation.gov (or call 1-877-444-6777).
tend to be focused on the natural beauty of the surrounding area and often limit wheeled toys (no skateboards, for example).
Please check the rules of the campground before booking – they are enforced.
Reserving Campsites at Municipal Campgrounds
Municipal Campgrounds are the sleeper hits of campgrounds in Michigan.

These parks are owned and operated by the local governments, often counties or cities. Because they are not part of a larger network of campgrounds they often are lesser known than some of their neighbors and can be easier to get into.
You will need to contact the individual campground to make a reservation, often by phone, as online booking is not always available. Reservation policies vary from campground to campground as well.
4 – Private Campground Reservations
Private Campgrounds may be owned and operated by individuals or franchises.
These campgrounds often offer the most amenities, like swimming pools, Wi-Fi, and family activities.
KOA and Jellystone Parks are examples of private campgrounds in Michigan.
Reservations can often be made online well in advance of your visit. Sign up for loyalty programs to take advantage of brand perks and discounts.
5 – Making Reservations for Michigan State Forest Campgrounds
If you're the whimsical type and like to camp when the mood strikes, Michigan State Forest campgrounds might be your cup of tea.
This rustic Michigan campground experience is found throughout the Upper Peninsula and the Northern Lower Peninsula and typically offers river or lake access.
State Forest Campgrounds are inexpensive – most are $20 a night.
There is no electricity at the state forest campgrounds in Michigan.
Facilities include vault toilets and hand pumps for potable water.
Many of these campsites are first-come, first served but several do take reservations:
Southwest Michigan Campgrounds
South Haven campgrounds are included in the Southwest Michigan campground region.
Expect state parks with sand beaches and dunes, RV parks, glamping options, inland lakes, rustic retreats and more.
0500 Co Rd 687, South Haven, MI 49090
Camping in Michigan at Kal-Haven Outpost:
Bring your bikes, this campground is located on the fabulous Kal-Haven trail that links South Haven and Kalamazoo.

From rustic tent sites to drive-thru RV sites, they have a variety of site options. They even have cabins and vacation homes.

Known for friendly service, clean grounds, a general store with ice cream, and a wonderful bathhouse, families love to camp here. In addition to being next to the Kal-Haven trail, they're also close to South Haven for activities (like the Lake Arvesta waterpark).
68840 8th Ave., South Haven, MI 49090
Camping in Michigan at Black River Trails Campground:
Black River Trails Campground is a fantastic sanctuary for nature lovers and people that want to escape to the woods.

Located on the banks of the Black River Heritage Water Trail and across the street from the Black River Preserve, the campground offers a range of activities, from hiking and fishing to kayaking and stargazing around the campfire.

Campers enjoy the nice showers and bathrooms and the quiet, clean campground. They have a small camp store.

Riverside sites are available!

Come discover the joys of old-time camping at Black River Trails Campground.

Bonus: Enjoy a river trip with their on-site kayak rentals.
03403 64th Street, South Haven, MI 49090
Camping in Michigan at Yogi Bear Jellystone Park - South Haven:
Yogi Bear's Camp-Resort is all about family fun.

The campground has campsites, cabin rentals and offers unique themed weekends.

Family activities abound with arcade, laser tag, pedal carts, a large jumping pad and plenty more so boredom won't be an option.
23960 Ruggles Road, South Haven, MI 49090
Camping in Michigan at Van Buren State Park:
Michigan's Van Buren State Park sits on picturesque Lake Michigan in South Haven.

The campground has 220 modern campsites. With one mile of sandy beach and high dune formations, kids will love to take a roll down the dunes.

Local shops and restaurants are only minutes away.
39397 M140 Highway, Covert, MI 49043
Camping in Michigan at Covert/South Haven KOA Holiday:
The South Haven KOA is only 10-15 minutes away from six popular beaches in the area.

Perfect for families, the campground features an awesome splash pad with a water slide and a nice pool.

Also find a trampoline basketball court, rock climbing wall, gem mining, fishing, craft time, blueberry picking, volleyball, gaga ball and other fun activities.

Want a quick meal or snack? Order pizza or snacks from the cafe and have it delivered directly to your campsite.
8551 Deep Lake Rd, Middleville, MI 49333
Camping in Michigan at Sharp Park Campground:
Located on beautiful Turner Lake in Yankee Springs Township in Middleville, Michigan.

Campground has a beach for swimming, hiking trails, fishing and kayaking on a small no wake lake.

The campground is bordered by state land and is close to Deep Lake, Gun Lake and Yankee Springs Recreational Area which offers additional recreational activities. Nearby businesses include a winery, local shops, golf courses, Gun Lake Casino and several local restaurants.

Surrounded by multiple small towns that offer events and attractions year-round.

There is a campground office/store that offers slushies, ice cream, popcorn, novelties, and camping necessities. We sell ice and firewood as well and will even deliver the firewood to your campsite.

- FULL HOOK UP SITES (WATER, SEWER AND ELECTRIC)
- ELECTRIC ONLY SITES (POP-UP, TENTS, CAMPER VANS, ETC)
- RUSTIC SITES (NO WATER, SEWER OR ELECTRIC)

Kayak, Canoe, Fishing Boat and Paddleboat Rental
14701 96th Van Buren St, Lawton, MI 49333
Camping in Michigan at Melville's 7 Lakes Family Campground:
A beautiful country setting campground with fishing and boating on six connected lakes. Small, nice beach area.

Melville's Campground is family owned and operated.

To get on our waiting list for a seasonal site please call 269-353-5852 or 269-312-0262.

When available, we offer both primitive and water/electric sites.

Gorgeous lake.
12032 Red Arrow Highway, Sawyer, MI 49125
Camping in Michigan at Warren Dunes State Park:
Beautiful dunes rising 260ft above the lake, six miles of hiking trails and 3 miles of shoreline await at Warren Dunes.

Kids will enjoy discovering the little river and dogs love that there's a pet-friendly spot along the beach as well.

Warren Dunes State Park campground has two campgrounds. Mt. Randall Campground is the modern/dune campground. It has185 electric hookup campsites, 24 rustic sites and 3 mini-cabins. Modern bathroom facilities (hot showers, flush toilets) and a sanitation dump station is available.

The other campground's (called semi-modern) site amenities are just water and vault toilets.
1701 Pucker St., Niles, MI 49120
Camping in Michigan at Riverfront Park Campground:
Get ready to discover a hidden gem! This amazing campground in Niles is tucked away in the woods right on Dowagiac River. You'll be thrilled to find spacious sites that offer plenty of room for parking, picnicking, grilling, and gathering around the fire pit. But that's just the beginning!

This campground also boasts a sandy beach, private lake, playground, fishing, volleyball, kayaking, and many more fun activities that will keep the whole family entertained and smiling from ear to ear. Get ready for a fantastic outdoor adventure that you'll never forget!
1622 East Clear Lake Rd., Buchanan, MI 49107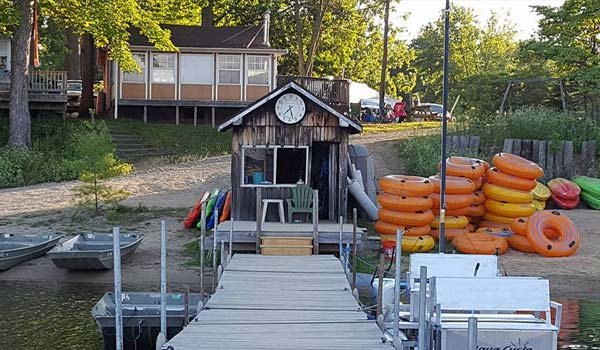 Camping in Michigan at Fuller's Resort & Campground:
Nestled in Buchanan, MI, Fuller's campground occupies a picturesque 80 acres surrounding the crystal-clear waters of Clear Lake.

Take advantage of the expansive 400-foot stretch of sandy beachfront, tranquil wooded environs, and charming country store pavilion.

Come experience the joy of spending quality time with loved ones while relishing in the simple pleasures of campfires, sunshine, sand, and water at Fuller's.
13496 S 28th St, Vicksburg, MI 49097
Camping in Michigan at Oak Shores Resort Campground:
We are a clean, quiet family campground in a rural setting. The campground is nestled under beautiful mature oak trees on Thrall Lake. Many campers enjoy fishing from the lake shore and the fishing pond.

If you are looking for relaxation, nature or entertainment with family and friends, this is the place to be! Some of the activities kids will enjoy are swimming, playing on the "big ship" in the playground, fishing and frog hunting, riding bikes and making new friends.

Parents enjoy playing a friendly game of corn hole, nature walks, swimming and relaxing with family and friends.

Come enjoy summer with us and start building amazing memories!!
POOL OPEN MEMORIAL WEEKEND THRU LABOR DAY

65 Full Hook-up sites
Lakeside, Wooded or Sunny sites available
Heated Swimming Pool
Playground
Picnic Tables & Fire Rings on every site
Nature Trails
Pet-Friendly

We are about half way between Chicago and Detroit, and less than half hour to Kalamazoo.
10705 Corey Lake Rd, Three Rivers, MI 49093
Camping in Michigan at Roberts Corey Lake Campground:
You'll have a blast camping, boating, and fishing at Roberts Corey Lake Campground in Three Rivers.

For those who love to explore the water, dock rentals are available for both boats and jet skis. You can also enjoy the convenience of campsites with water and sewer hookups. If you're lucky enough to catch a fish, don't worry - they have a fish shack on site where you can clean your catch and cook it over the fire.

It's the perfect place to unwind and create unforgettable memories with family and friends!
66839 52nd St., Lawrence, MI 49064
Camping in Michigan at Brush Creek Campground:
Brush Creek Campground is the place for you if you're looking for a small, family friendly campground where you can relax and make memories with family and friends.

Fishermen & women will love the creek fishing, shaded trails for hiking, modern bath houses and pets are welcome.

Visit the clubhouse to play foosball, ping-pong, darts and more.
6475 Wilkins Road, Hastings, MI 49058
Camping in Michigan at Camp Michiwana:
A general store, a beautiful waterfront, and family fun weekends are a sampling of some of the fun amenities at Camp Michiwana. There are 54 campsites, some with water and electric only and others are full hook-up sites. Rustic cabins are also available at this Christian campground located on Long Lake.
80855 Co Rd 376, Coloma, MI 49038
Camping in Michigan at Dune Lake Campground:
Located in Coloma between St. Joseph and South Haven you will find Dune Lake Campground. They are a family and pet friendly campground that offers 51 modern sites with 20 or 30 amp electrical service and water, as well as 26 primitive sites. We also have two rustic cabins with park grills, electric, and outdoor water.

We have a one acre SWIM ONLY lake as well as many themed weekends and other activities for families to enjoy. There are many attractions in the area, from the many beautiful Lake Michigan beaches, to golf courses, fruit farms, and wine tours.
3527 Coloma Road, Benton Harbor, MI 49022
Camping in Michigan at KOA Coloma/St. Joseph:
Located a mere two miles away from Lake Michigan, the St. Joseph KOA has a pool, hot tub, playground, bouncing pillow, mini-golf, and bike rentals.

Families can check out the nearby attractions in St. Joe – children's museum, splash pad, and carousel for one of the campgrounds in Michigan packing in the fun.
5163 Fort Custer Drive, Augusta, MI 49012
Camping in Michigan at Fort Custer Recreation Area:
Fort Custer is a short distance from both Battle Creek and Kalamazoo.

Near Eagle Lake, the campground offers 219 modern campsites.

In addition to the campground, this State Park features three lakes and boat rentals, the Kalamazoo River, a swimming beach and more than 25 miles of multi-use trails.
3106 125th Ave, Allegan, MI 49010
Camping in Michigan at Dumont Lake Family Campground:
Bring your tent, camper, RV or rent an RV directly from the Dumont Lake Family Campground.

Enjoy 520 feet of private beachfront activities including kayaking, paddleboarding, a new fishing dock, corn hole, and disc golf.
3687 Dumont Rd., Allegan, MI 49010
Camping in Michigan at Tri Ponds Family Camp Resort:
This family owned and operated campground that will keep the whole family happy with activities like a salt water pool, swimming ponds, rec room, mini golf, fishing, playground and splash pad.

Parents will also enjoy the spacious sites, cabins, cottages, and the fireside café.

Bonus: Firewood will be delivered right to your site.
5300 North Westnedge, Kalamazoo, MI 49004
Camping in Michigan at Markin Glen County Park:
The 38-site campground is located near downtown Kalamazoo, but you would never know it.

This great park is well kept, has a beach and walking trail close by.

The park has 160 acres of campsites, paved trails, beaches, tennis courts, two playgrounds, volleyball courts, and fishing.

This campground is also right around the corner from the Kalamazoo Nature Center.
West Michigan Campgrounds
Right now the battle for best Campgrounds in Michigan is going to West Michigan.
They have an extensive list of places to go camping on Lake Michigan, Michigan State campgrounds, and private campgrounds.
These top five West Michigan campgrounds are just a taste of what's out there.
Want to see them all? Check out the full list of amazing West Michigan Campgrounds.
15190 White Creek Ave NE, Cedar Springs, MI 49319
Camping in Michigan at Duke Creek Campground:
Duke Creek in Cedar Springs, and no, it's not the one on the highway. It's tucked in the woods so it feels like you're up north, yet I can still go to work downtown. I love the pool.

-Hayrides, Heated swimming pool (Memorial day through Labor Day)
-Horses to rent and ride
-Sunday School
-FREE Wifi, Indoor game room (pool table, ping pong table, corn hole)
-50 acres to walk, ride bike, bring your own golf cart!
-Natural woods & stream for exploring and adventure fishing in official trout stream (license required)
-Dogs Welcome (No Aggressive Breeds, ALL Dogs Must Remain on Leash or in Kennel when outside)
-Basketball, Tetherball, Horseshoes, Volleyball, Modern laundry facilities
-Huge playground with swings, slides, monkey bars, soccer net, teeter totter basketball court
-Propane tanks filled, Firewood
2745 136th Ave, Hopkins, MI 49328
Camping in Michigan at Sandy Pines:
Sandy Pines has endless activities and amenities and is truly like a small city.

Families love the 4 large heated pools, splash pad, general store, mini golf, activities, movie nights and ropes course.

and there are golf carts everywhere as the main form of transportation.

Make sure to check out the events calendar before you book, so you can plan your vacation.

If you have little ones, you may want to rent a golf cart (the main form of transportation), as the campground is one of the larger campgrounds in West Michigan.

Clean, level sites all with water and electric make it easy to relax for 2 nights or up to 2 weeks per season. Sandy Pines also offers Rustic Cabin or Rental Trailer options.
2104 S. Briggs Road, Middleville, MI 49333
Camping in Michigan at Yankee Springs Recreation Area:
Yankee Springs is great for water sports like swimming, fishing and boating. Situated on Gun Lake, this state park is near nine lakes for endless water rec.

Yankee Springs is also a great first timer campground. It's small with a nice (shallow) beach for little kids and lots of hiking.
1155 W Riley Thompson Rd, Muskegon, MI 49445
Camping in Michigan at Duck Creek RV Resort - Muskegon:
Duck Creek RV Resort is a gated place for RV camping directly across the street from Michigan's Adventure Amusement Park!

The paved RV sites are large and surrounded by grass. You can also stay in a camping cabin (they sleep 6 and start at $195 a night).

If you camp here, you get a ton of amenities: Saturday night hayrides, a jumping pillow, deluxe mini golf, a huge playground, a private lake with a beach and swimming area, large swimming pool, and a large hot tub, to name a few.

Their new retractable roof waterpark (Aquasis Water Park) is slated to open this summer (July 2023 tentatively) - it will have a activity pool, not-so-lazy river, 5 water slides, outdoor adult relaxation spa that's all included with your stay. Cabana rentals available - they include food and drink delivered from the Campfire Grill.

Their Snack Shack serves pizza and more.

Themed Halloween weekends are also offered.
400 West Lowell Street, Pentwater, MI 49449
Camping in Michigan at Charles Mears State Park:
Scoring a summer camping reservation at Mears State Park in Pentwater, MI is an accomplishment to be proud of!

If you are lucky enough to get a reservation here, you'll be camping very close to the sugar sand beach and the adorable downtown.

Families love to hike up Mt Baldy, spend afternoons fishing from the pier, and eating ice cream in the city center.
8239 West Hazel Road, Silver Lake, MI 49436
Camping in Michigan at Dune Town Camp Resort (Formerly Yogi Bear's Jellystone - Silver Lake):
Get ready for an extraordinary camping experience at Dune Town Camp Resort! Whether you're a first-time camper or a seasoned adventurer, this place has something for everyone.

If you're not into tent camping or don't own a camper, they've got you covered with their fantastic duplex and cabin rentals.

With so many fun activities available, there's never a dull moment at this resort. You can take a dip in the heated swimming pool, challenge your friends to a game of ping pong, or relax and watch a movie on site. Plus, the playground and rec room are perfect for keeping the little ones entertained.
2722 North Ridge Rd, Silver Lake, MI 49436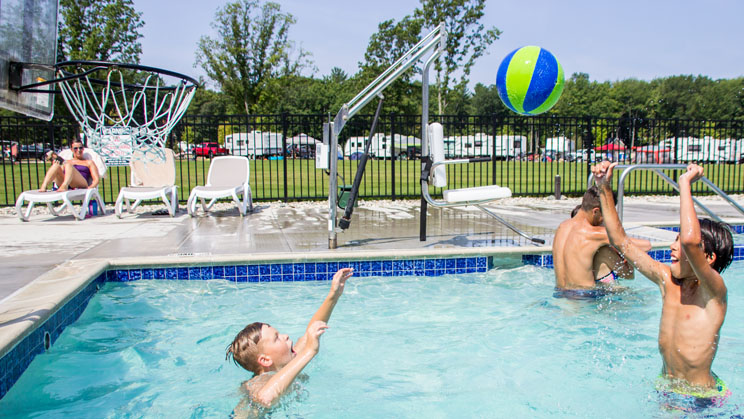 Camping in Michigan at Dunes Harbor Family Camp:
Dunes Harbor Family Camp is a waterfront campground on a secluded woodland harbor located minutes from Silver Lake, Michigan and the Silver Lake Sand Dunes.

Family activities like movie night, guided hikes, and yard games are common.

The heated pool, waterslide, and splash area are popular, as is the playground and kayak rental spot.

Campground Stats:
60 waterfront campsites, 136 Full Hook-Up Sites, 24 Water/Electric Sites.

They also offer Rental RVs and Cabins

This campground is a ministry of Grace Adventures, is a Christian family campground. They ask all guests to adhere to certain rules and policies. Please familiarize yourself with them before booking.
Upper Peninsula Campgrounds in Michigan
Say Ya to Camping in the Upper Peninsula of Michigan!
Really, camping in Michigan's Upper Peninsula is a treat.
You are a world away and immersed in natural beauty. If you like camping with kids, give one of these Upper Peninsula Camping a try!
Note: These are campgrounds in Michigan that our readers have vetted for us. We know there are so many more incredible campgrounds in the U.P., so tell us about your faves in the comments so we can add them to our list!
Finding campgrounds in Michigan on the east side of the state is easier than you might think.
Lake Huron is a popular draw, and the proximity of these cam to some of the state's larger population areas make camping in Michigan more accessible for many families.
Municipal Park Campgrounds in Southwest Michigan
Township Campgrounds, Beaver Island, MI 49782
Campground Amenities: Beach
Southwest Michigan Camping at Beaver Island Campground:
Looking for campgrounds in Michigan that are on an island? Beaver Island has a few campgrounds if you are interested in taking the ferry over for some good old-fashion rustic camping. None of the campgrounds take reservations, and there is no water or electricity, but pit toilets and hand pumps are availble.
State Park Campgrounds in Southwest Michigan
15223 US Highway 41, Copper Harbor, MI 49918
Campground Amenities: Playground, Camp Store, RV Sites, Cabin Rentals
Southwest Michigan Camping at Fort Wilkins State Park:
The campground is close to Lake Superior, Lake Fannyhoe, Brockway Mountain Drive, and Estivant Pines Nature Preserve. It is also adjacent to a really cool restored military outpost that kids can explore, and costumed interpreters present the history of the Keweenaw Peninsula Fort. It has a nice camp store with ice cream and a decent playground. Copper Harbor is also nearby for more family friendly fun.
State Park Campgrounds in Southwest Michigan
720 Idlewild Road, Crystal Falls, MI 49920
Campground Amenities: Beach, Playground, Hiking Trails
Southwest Michigan Camping at Bewabic State Park:
Bewabic State Park is wonderful place to camp in the U.P. Wooded picnic areas, a hiking trail, two playgrounds, an excellent beach and a boat launch to Fortune Lake are among the additional amenities at this park.
Municipal Park Campgrounds in Southwest Michigan
E8518 M-28 West, Munising, MI 49862
Campground Amenities: Tent Sites, RV Sites
Southwest Michigan Camping at Munising Tourist Park Campground:
Centrally located in the UP, this campground is the perfect resting spot for families to take in all the beauty of the UP. A short, three mile drive to Munising offers boat rides to view Pictured Rocks, Glass Bottom Boat Tours and the Riptide Ride. Marquette, Grand Marais and Taquamenon Falls are also within a day's drive of this campground.
State Forest Campgrounds in Southwest Michigan
on Lake Superior at the mouth of Two-Hearted River, Newberry, MI 49868
Campground Amenities: Tent Sites
Southwest Michigan Camping at Mouth of Two Hearted River Campground:
If in the U.P. the Two Hearted River is great for rustic camping. This campground does not take reservations and is first-come, first-serve. Tents and small trailer use only, and is located on Lake Superior at the mouth of Two-Hearted River.

Located in Luce County, 35 miles northeast of Newberry via M-123 and County Roads 500, 414, 412 and 423.
State Park Campgrounds in Southwest Michigan
41382 W M 123, Paradise, MI 49768
Campground Amenities: Playground, Camp Store, Hiking Trails, Cabin Rentals
Southwest Michigan Camping at Tahquamenon Falls State Park:
There are two campgrounds at Tahquamenon Falls. If you have younger kids I recommend staying at the Lower Falls. The trail along the falls is very kid-friendly. You can also rent a row-boat and row over to the island. The island is a great adventure. A quick hike around and you will find small water hole areas for kids to splash and play in. If you are camping you can pay for an all day rental and head over to island multiple times. Our younger kids loved it. This is one of our favorite campgrounds in Michigan.
Southeast Michigan Campgrounds
Finding campgrounds in Michigan on the east side of the state is easier than you might think.
Lake Huron is a popular draw, and the proximity of these cam to some of the state's larger population areas make camping in Michigan more accessible for many families.
State Park Campgrounds in Eastern Michigan
8100 Grange Hall Road, Holly, MI 48442
Campground Amenities: Beach, Playground, Paddle Rentals, Family Activities, Hiking Trails, RV Sites, Cabin Rentals
Eastern Michigan Camping at Holly State Recreation Area:
This campground is home to three lakes, four playgrounds, boat and paddle board rentals, a water park of inflatables, geocaching, and disc golf. Host sites activities with coffee and doughnuts on Saturdays.
Central Michigan Campgrounds
Private Campgrounds in Eastern Michigan
1989 West Pine River Rd, Breckenridge, MI 48615
Campground Amenities: Pool, Playground, Laundry, Camp Store, Family Activities, Tent Sites, RV Sites, Cabin Rentals
Eastern Michigan Camping at River Ridge Campground:
They have a pool and spa, it runs right along the Pine River so you can hear the water all night while you sleep. They also have a pond with a water trampoline, a jungle gym, and an aqua slide! It's a great place for family activities.
Private Campgrounds in Eastern Michigan
140 Lane 201 Barton Lake, Fremont, MI 46737
Campground Amenities: Pool, Splash Pad, Playground, Family Activities, Tent Sites, RV Sites, Cabin Rentals
Eastern Michigan Camping at Yogi Bear's Jellystone Park - Barton Lake:
Just outside of Michigan is Yogi Bear's Jellystone Park at Barton Lake.

Lodging includes 540 campsites, as well as deluxe cottages and rustic cabins.

The family-oriented amenities include an indoor pool, three outdoor pools, a water splash park, paddleboat, and rowboat rentals, five playgrounds, game room, mini-golf, pedal cart rental, kiddy train rides, wagon rides, horseshoes, sand volleyball cards and more.
Private Campgrounds in Eastern Michigan
6197 N. Burkhart Road, Howell, MI 48855
Campground Amenities: Playground, Family Activities, Hiking Trails, RV Sites
Eastern Michigan Camping at Taylor's Beach Campground:
Affordable family camping with seasonal, overnight, weekly, and monthly campsite rentals. Sandy beach with water toys. Onsite family fun includes kids' frog and turtle pond, basketball & volleyball courts, playground and mini-golf. They have a floating tiki bar that you can rent, as well as fun themed paddle boats.
State Park Campgrounds in Eastern Michigan
7835 E. Price Road, Laingsburg, MI 48848
Campground Amenities: Beach, Playground, Family Activities, Hiking Trails, Tent Sites, RV Sites
Eastern Michigan Camping at Sleepy Hollow State Park:
Sleepy Hollow offers four different camping areas on Lake Ovid with a river running through the campground and along trails. Activities include disc golf, fishing, boat rentals and a beach.
Michigan Thumb Area Campgrounds
State Park Campgrounds in Eastern Michigan
7605 Lakeshore Road, Lakeport, MI 48059
Campground Amenities: Camp Store, RV Sites, Cabin Rentals
Eastern Michigan Camping at Lakeport State Park:
Rustic or mini-cabin camping right on the water, plus a quick drive into Port Huron and Lexington State Park. And if you forgot anything, they have a camp store with all sorts of tasty treats.
State Park Campgrounds in Eastern Michigan
1775 Port Austin Road, Port Austin, MI 48467
Campground Amenities: Beach, Playground, Hiking Trails
Eastern Michigan Camping at Port Crescent State Park:
Snag a beautiful site along the 3 miles sandy beach to catch the amazing sunset. While you're there, check out their dark sky preserve for some exceptional stargazing. Awesome place for kids and right down the road from Caseville.
Camping in Michigan with Kids
This huge list has 50+ reader-recommended places to take kids camping in Michigan from the primitive to glamping-style and book your outdoor summer adventure today.
Every campground is different and exploring each is part of the fun. Some range from rustic with no water or electricity hookups and others have 'all the comforts of home' amenities.
Whether you are a seasoned camper or looking to take your family camping for the first time, there are a number of great options all around Michigan (and a few in bordering states).
Some of these facilities are more for RV-camping families, while some are better suited for hardcore campers who leave their technology at home.
Get the family ready to unplug, make s'mores, and enjoy the great outdoors.
Did we miss one? Please leave us a comment and tell us about your favorite campgrounds in Michigan for families!
Map of Campgrounds in Michigan
find campgrounds near me