Flower Farms With Summer Flower Picking
Looking for a unique experience that will brighten up your summer? How about trekking to flower farms where you can pick your own flowers?
Michigan is filled with amazing farms to pick lavender or sunflowers, but those aren't your only flower-picking options.
U-Pick Flowers FAQs
How does flower picking work?
The process for picking flowers at flower farms varies by location but generally, visitors show up, get instructions and tools, and proceed to cut the flower stalks as directed. Check the open times for the flower farms you want to visit and head on out. Some farms require reservations.
What is the best time of day to go flower picking?
Try to pick flowers in the morning. Your flowers will be less likely to wilt. The flower farms know this and often offer morning flower picking times as a result. Flowers cut in the middle of the day may struggle.
When can I go flower picking in Michigan?
The growing season in Michigan typically runs from the end of May, into October.
Flower bloom times depend on flower variety, location, and seasonal conditions. It can be hard to predict exactly when a certain type of flower will be at peak bloom. But, flower farms are good at estimating these bloom times and will often post updates on their social media accounts.
If your heart is set on picking sunflowers, make sure you check the flower farm's calendar to determine the best time to visit.
What should I wear to a flower farm?
Wear clothes you're comfortable getting dirty.

Consider rainboots for trudging through the fields.
  Michigan Flower Farms for Flower Picking
Notes:
– Many farms are cash or check only.
– Please be respectful of the fields these farmers work hard to cultivate. This is their livelihood.
Some flower farms offer additional activities, but most focus on helping you pick your own beautiful bouquets.
Dahlia Acres Farms
4763 Baldwin Street, Hudsonville, MI 49441
Type of Flowers: Dahlias
Flower Picking Schedule: Mid-August through the first frost.

Schedule an appointment to visit this farm where you'll find a wide variety of Dahlias, either pre-picked or pick your own. You can also buy tubers here. Details
Muddy Acres Flower Farm
9777 Warren Rd, Plymouth, MI 48170
Type of Flowers: Dahlias, peonies, sunflowers, ranunculus, anemone, and more.
Flower Picking Schedule: U Pick is typically July – September.

Advance ticket purchase is required to visit the farm.
You can also buy precut flowers to make your own bouquet. Details
Jazz Blueberry Farm & Flowers
7223 W Grant Rd, Shelby, MI 49455
Type of Flowers: Peonies, tulips, sunflowers,
Flower Picking Schedule: Throughout summer.

These guys grow it all! Find wide varieties of beautiful flowers throughout the growing season. And of course, you can also get your blueberries here. Details
Gust Brothers
11998 Rodesiler Highway, Ottawa Lake, MI 49267
Type of Flowers: Zinnias and more
Flower Picking Schedule: Throughout summer.

Lots of great-looking flowers for cutting right now! Mason jar bouquets cost $10 per jar. They supply jars, scissors, and water for you to cut your bouquet. They also have a 5-acre sunflower trail and a country store, as well as u pick vegetables. Details
Secret Garden at Brys Estate
3309 BLUE WATER ROAD, TRAVERSE CITY, MI 49686
Type of Flowers: Lavender, perennials, and herbs.
Flower Picking Schedule: June – August

This 12-acre agricultural oasis is tucked away on Old Mission Peninsula (near Traverse City) on Brys Estate.

Enjoy lavender fields, a gift shop, fruit, and sweet treats in addition to the perennial gardens.

Seasonal U-Pick flowers are available. In early July, lavender is in bloom. From mid-June through August, perennial flowers can be cut.

While you're there, stop by and relax on the porch or visit the adjacent vineyard & winery. Details
31 Petals You Pick Flower Farm
East, Coleman Rd, Kewadin, MI 49648
Type of Flowers: A wide variety, including salvia, rudbeckia, mint, zinnias, phlox, lavender, iris, delphinium, cosmos, and more.
Flower Picking Schedule: Open May – October

This farm is a self-serve u pick flower farm in northern Michigan. Everything you need to pick flowers is provided: a container, water, and scissors. You can bring your own supplies if you'd like.

Payments accepted are cash, check, or Venmo.

Details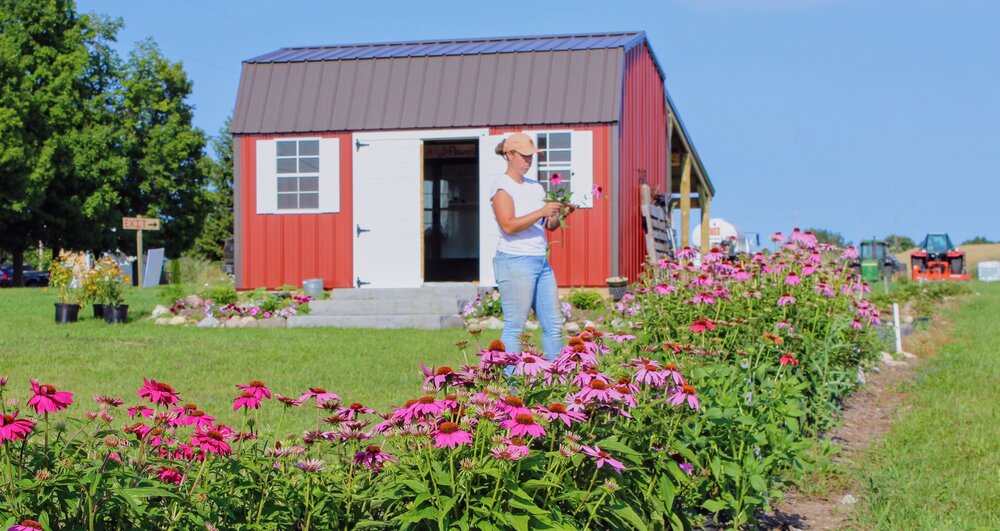 Omena Cut Flowers U-Pick
12401 E Freeland Rd, Suttons Bay, MI 49682
Type of Flowers: Huge list of annuals and perennials, including ranunculus, zinnias, daffodils, hydrangea, sunflowers, lavender, and more.
Flower Picking Schedule: Throughout summer.

Omena Cut Flowers is a U-Pick flower farm located about seven miles north of Suttons Bay on M-22 in Leelanau County. From the month of May through October, they are open daily from dawn 'til dusk. The farm is self-service, offering 26 beds to pick from, with over 40 varieties of annuals and perennials.

They have free containers (think milk jugs and jars) that you may use to take flowers home in or bring your own containers. 

Cash, checks to OCR, and Venmo accepted. Most stems are priced from 25 to 75 cents each–with some less (lavender is 10 cents a stem) and some more (peonies and lilies are $2.50 – $3.) Price List

Flower Farm Details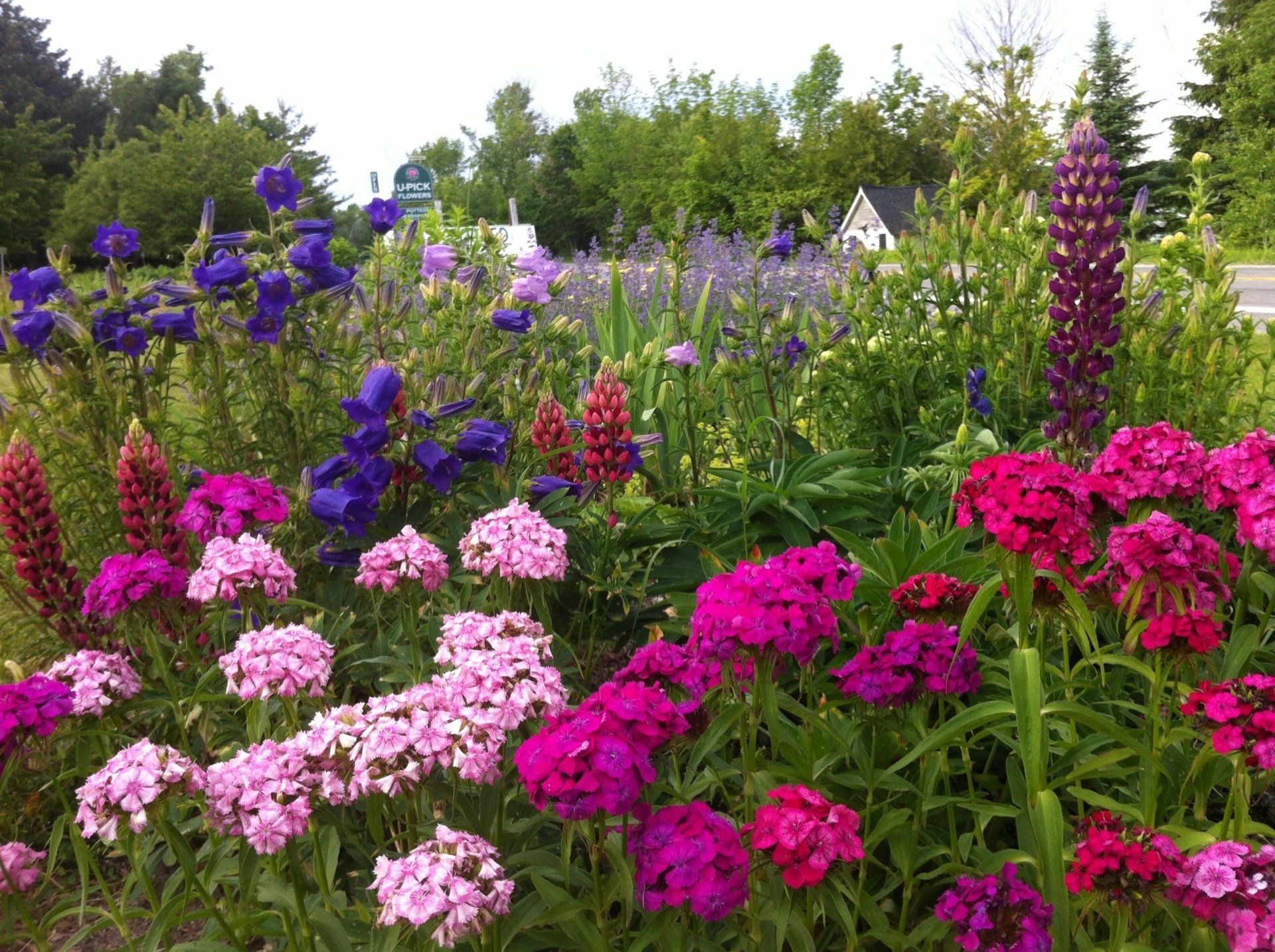 Fieldsview Farm
608 71st St, South Haven, MI 49090
Type of Flowers: Snapdragon, zinnia, sunflower, ranunculus, delphinium.
Flower Picking Schedule: Upick opens in July.

Wild riots of flowers here, and you can also purchase pre-picked bouquets. Bring your own scissors for flower picking. Details
Wild Wood Family Farms
7970 Snow Ave SE, Alto, MI 49302
Type of Flowers: Over 100 varieties.
Flower Picking Schedule: By appointment only, May – October.


Their flower farm season runs from May to October with the largest portion available from the end of July to early October. Winter blooms also available. Details
More to Explore