How to Experience the Mitten State – for Free
There are SO many FREE things to do in Michigan! I know I'm a little biased, but Michigan really is the best.
For starters, our peninsulas mean we basically have two great states in one. And who else is bordered by four out of the five Great Lakes? Or boasts so many majestic sand dunes and thousand of miles of freshwater shoreline?
Michigan is overflowing with so many fascinating things–history, nature, invention, art–that you'll never tire of finding something to do in this great state.
And since we don't think adventure needs to break the bank, we raised the stakes a little and compiled a list of FREE (or nearly free) things to do in Michigan.
Whether you are searching for urban adventure, rural vibes or experiences in the great outdoors, you can do that in Michigan, affordably.
All it takes is probably some transportation, a spirit of adventure and snacks. Lots of snacks.
Where Will Your Next Free Michigan Adventure Take You?
We've broken the list into sections of the state. After you've experienced the free things to do in Michigan near you, venture out to new parts of the state.
And if you find something incredible that's not on our list, drop us a line. We'd love to share your discovery so others can enjoy it, too!
Free Things to Do in Michigan
Free Things to Do in Michigan: Statewide
Free Things to Do in Michigan: Grand Rapids
17
Stop by Rosa Parks Circle

Explore Rosa Parks Circle, a public art space in the heart of downtown GR by renowned artist, Maya Lin. Many FREE events and concerts take place here all year long, and (almost FREE) outdoor ice skating is offered in winter months.
19
Hang Out at Millennium Park

Millennium Park offers nearly 18 miles of paved and natural-surfaced trails, fishing, recreational areas, and great playgrounds. Also available is a great beach and splash pad, paddle boats and more. However please note, unlike the rest of the park, these water-based features of the park are fee-based.
21
Visit the GRAM

Visit the World's first LEED certified art museum, the Grand Rapids Art Museum, and enjoy FREE admission all day on Tuesdays and Thursdays evenings.
22
Watch the Fish

Visit Fish Ladder Park. Get up close to the Grand River, and watch the fish jump up the ladder in a seasonal migration in the spring and late summer!
24
Spend Time Outdoors

Foster a natural curiosity in your family for the great outdoors by joining one of Calvin Ecosystem Preserve Education Programs for families.
25
Be Awed at ArtPrize

Although season and biennial now, ArtPrize is too good not to include. An international art competition, open to any artist and decided by public vote, it fills the city of Grand Rapids with art and visitors from all over the world. Off years will also feature fun art installments on a smaller scale.
26
Go on a Mural Crawl

Grand Rapids boasts over 100 street murals for all to enjoy. Some by way of ArtPrize, and many more through the Downtown Development Authority's dedication to supporting the artist community in Grand Rapids.
Free Things to Do in Michigan: Muskegon
27
Hit the Beach

Go to the beach! While there are many options, if you have the Recreation Passport, definitely check out Duck Lake State Park, it's the perfect size for kids!
28
Visit a Museum

View an antique collection of fire fighting apparatus at the Fire Barn Museum and take a look inside the Scolnik House, a living museum that highlights the lives of those who lived in Muskegon during the Great Depression. Both of these Lakeshore Museum Center gems have FREE admission!
30
Watch a Movie on a Ship

Enjoy a movie on the deck of the USS LST 393, a historic warship located in Muskegon. Movies are shown on Friday nights all summer long.
Free Things to Do in Michigan: West Coast Lakeshore
Free Things to Do in Michigan: Kalamazoo
Free Things to Do in Michigan: Lansing
Free Things to Do in Michigan: Bay Area and the Thumb
Free Things to Do in Michigan: Ann Arbor
Free Things to Do in Michigan: Detroit
Free Things to Do in Michigan: Northern Michigan
Northern Michigan and Mackinac
Free Things to Do in Michigan: Upper Peninsula
92
Discover Waterfalls and Incredible Views

Take in the splendor of the Pictured Rocks National Lakeshore in Alger and the numerous waterfalls around it. In winter, head down the road to check out the Eben Ice Caves in Hiawatha National Forest Rock River Canyon Wilderness Area.
93
Learn About Mining

Discover Calumet's beginnings and its explosion into a major copper mining boomtown, by checking out the Calumet Visitor Center, or head west and learn about the state's iron mining history at the Michigan Iron Industry Museum in Negaunee.
94
Hike to Narnia

Take a magical hike through an open forest with fern and wildflower-laden floors as you search for the secret place known to the locals as Narnia.

Your trip starts at the Woollam Nature Preserve.

Eventually, you will weave your way through moss-laden boulders that tower overhead.

Adventurous kids and adults can scramble over these sleeping giants. (And don't forget to spot the magical lamp post!)

Your hike ends with sweeping views of Lake Huron and more boulders to climb as you watch the waters for freighters in the distance.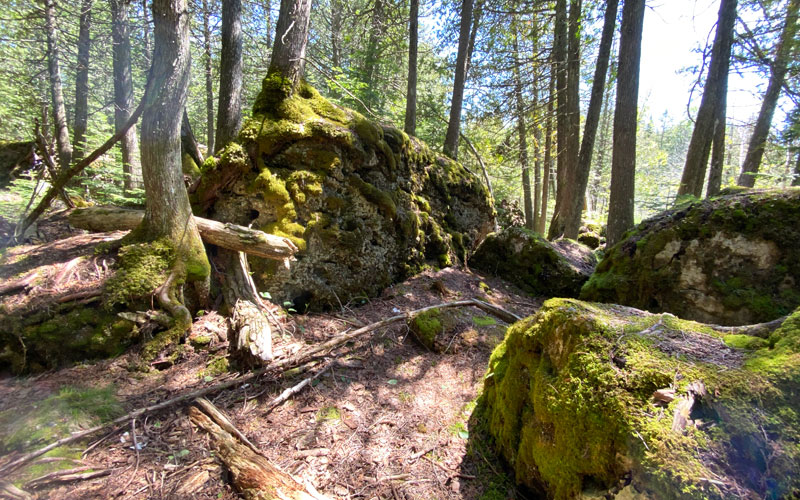 96
Visit a Refuge

Fish, hike, ski or drive through the Seney National Wildlife Refuge; 95,000 acres of diverse habitats which provide a home to a wide variety of plant and wildlife species.
101
Climb a Mountain

Take in a spectacular sunset view of Pine Mountain, well worth the 500 steep steps it takes to get there, then head to the Millie Mine Bat Viewing Area, and watch as one of the largest bat colonies in North America, depart at dusk.
102
Ride a Self-Operated Raft

Cross Michigan's largest spring, Kitch-iti-kipi in Manistique, on its self operated observation raft.
Have something to add to this list? Let us know in the comments so our readers can check it out, too!
More to Explore