About Grand Rapids MI
Grand Rapids MI is Michigan's second-largest city, after Detroit.

Most mitten-dwellers shorten the city name to GR and know that it's a great destination if you're looking for bigger city amenities without the traffic and other challenges that come with visiting a place the size of Chicago.

As far as city size goes, right now Grand Rapids has a population of just under 200,000 people. The greater metro area's population is just over 1,000,000.
Residents of the City of Grand Rapids live in one of three wards. Within wards, there are numerous precincts and neighborhoods.

People love to live here because on any given day there's always some event or activity happening around the city, often free. (Find many of these on the event calendar.)

This 'small city with a big city vibe' draws people to live in Grand Rapids.

Families love the walkability and easy access to amenities.

Traffic is low, and it's one of the cleanest cities around. Add in world-class medical facilities on "Medical Mile" and epic Great Lakes beach access less than an hour away, and why would you want to live anywhere else?


Where is Grand Rapids, MI?
Grand Rapids, Michigan, is located on the west side of Michigan's lower peninsula, about 2.5 hours west of Detroit.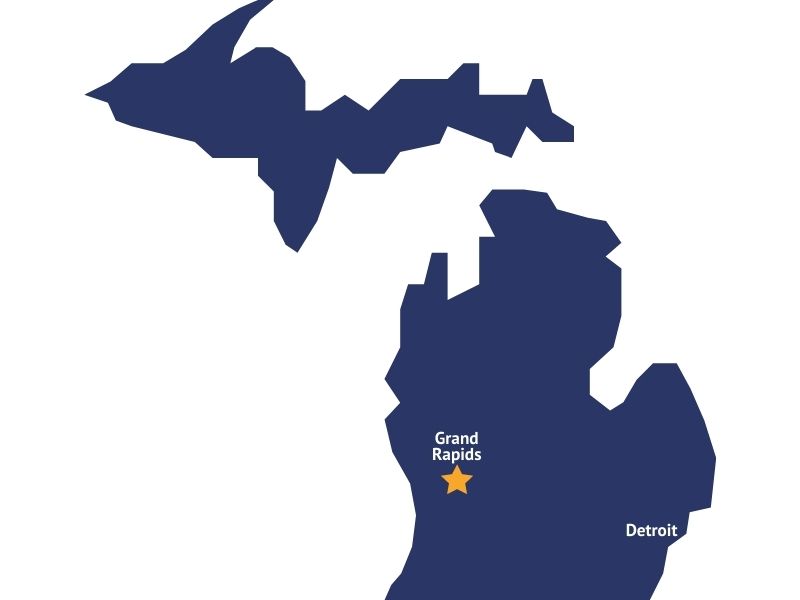 What is Grand Rapids known for?
Once nicknamed Furniture City, Grand Rapids MI has recently become known as Beer City USA. The city also has a growing reputation for being a great place to raise a family. When you visit, you'll also discover the fast-growing and nationally recognized Medical Mile, the popular Wealthy street area, and Downtown Rosa Parks Circle.
When is the best time to visit Grand Rapids MI?
It's always a good time to visit the outdoorsy city of Grand Rapids, Michigan but each season has its own draw.

The vibrant food and beer scene is present year-round, while a good number of outdoor attractions are available in the spring, summer, and fall months.

The days are long during the summertime, with the sun setting after 9 PM in July. This gives visitors ample time to get out and enjoy everything the area offers, from patio dining to river tubing to exploring parks & more.

Spring and Fall are seasons of change in West Michigan, making it hard to predict what the weather will bring.
They are great times to visit if you can be flexible with your activities, as you'll beat the crowds and experience things at a more laid-back pace. Indoor destinations are open as well, ready to host you if your outdoor plans get too wet or blustery.

If you visit in the winter (winter weather here typically is in full force from December through February but can show up and linger for months on either side of the time period), come prepared for snow (more on that below.)

If you visit during winter, be sure to pack snow boots, hats, mittens, and a warm coat. You can stay outdoors for a very long time if you have the right gear.

Leave the sneakers for indoor activities, and remember that snow is treated with salt to help it melt- so leather items can be damaged unless treated. I also like to carry disposable hand warmers for chilly situations, too.
What is Lake Effect Snow?
Unique to this part of Michigan is something called lake-effect snow.

Westerly winds blow over Lake Michigan, gathering moisture. Once over land, heavy bands of snow form. Where the snow falls is dependent on the direction and force of the wind at the time.

Certain communities in West Michigan, Grand Rapids included, can see heavy amounts of snow in a short period. As a result, Grand Rapids and the surrounding areas are great for winter fun.
History of Grand Rapids MI
Before the city of Grand Rapids existed, the land was home to various indigenous peoples.

The area didn't see European-American settlers until the early 1800s.

The city of Grand Rapids has roots in the furniture industry (and the lumber boom that allowed said furniture to be built.) It was a bustling population center back in the day.
Since then, it's seen ups and downs like most Midwestern cities. Racial tensions have existed for a long time.

Right now, Grand Rapids is on the upswing, with many publications calling it out as an up-and-coming city. Current numbers back this up, with GR charting record population growth and home prices/demand backing that up.

The downtown area saw many old buildings torn down in the 1950s and 60s in the name of modernization. The 70s were a time of decreased commercial traffic and general decline. That's when city planners closed Monroe Center in an attempt to lure shoppers to the pedestrian mall but that experiment failed.

It wasn't until the late 1990s that a revitalization of the city's core started, catalyzed by the building of VanAndel Arena. Since then, there's been a steady increase in construction and reclamation of buildings that were empty for a long time.
Lumber, Furniture & the Grand River
The Grand River is another part of the Grand Rapids MI equation.

The lumber companies used the river to float logs to mills. Flour mills and early factory machinery were powered by energy generated by the Grand River. GR even used water power to generate electricity for lighting in 1880. All of this power was possible because there were large (grand) rapids in the river.

The rapids in the river eventually were flattened by a series of dams constructed following the Civil War.
Grand Rapids MI Today
There is a movement afoot today to Restore the Rapids (powered by Grand Rapids WhiteWater) to the river, returning an 18-foot drop to the river as it flows through the heart of the city.

This project is a perfect example of a city powered by its people. Significant change has come to this West Michigan town over the last few decades because citizens, organizations like Downtown GR Inc, and local government continually find ways to work together and move creative ideas forward.

While the city has its challenges, it's turning into a vibrant place to live and visit one person, one block, and one business at a time.
Come visit our town and enjoy what Grand Rapidians have known and loved for years – one grand little city.
Grand Rapids Things to do
Best Things to Do in Grand Rapids MI
Things to Do with Kids in the City of GR