Choose Your Own Adventure at Portage Point Resort
A hundred years ago, you'd likely need to take a Lake Michigan steamship to get to Portage Point Inn, just north of Manistee, MI.
Today, you're more apt to drive the family minivan up to M-22 and out to Portage Point to get here.
When you do arrive, you'll be in the spot where the Inn has sat for more than a century, staking its claim on the peninsula between Portage Lake and Lake Michigan.
This iconic inn is on its way back to greatness today, thanks to a new owner with fresh vision. The transformation has already begun – and this baby sister of the Grand Hotel is once again slated for greatness.
Read on to find out what you're in for when you visit, how you can get connected, and the changes in store for Portage Point Resort.
---
---
Portage Point Resort, Michigan
What It's Like to Stay at Portage Point Resort Today
Maybe you're not so interested in the history of this old place.
Honestly, I wasn't too curious either, until I found myself in one of their cottages and wondering about all of the old buildings around me.
But you don't have to get a history lesson to stay here.
You can just show up with your family and enjoy the resort as it is today. This list will give you a glimpse of what's in store:
1) Make Time for the Saltwater Infinity Pool
Ask my girls, the best part of Portage Point Resort is the lakeside saltwater infinity pool.
I'd say a close second is the waterfront hot tub.
There's something mesmerizing about an infinity pool. It sparks the imagination in a way a regular pool just can't.
POOL & HOT TUB HOURS
June 15 – September 15: MONDAY – SUNDAY, 10 AM – 10 PM
Beginning of May – June 14 & September 16 – End of October: WEDNESDAY – SATURDAY, 2 PM – 10 PM
November – Beginning of May: OPEN FOR SPECIAL EVENTS
*weather dependent*
Saltwater Infinity Pool at Portage Point Inn in Onekama, MI
2) Enjoy Your Space & Your Own Kitchen
Portage Point Resort is an All-Condos/Cottage resort, meaning that you'll have room to spread out – and your own kitchen.
With the exception of the Doll Houses, all units are condos, making PPR an ideal family getaway. (I don't know about you, but having a five-person family makes squeezing into a hotel room a rough way to travel.)
Anytime we can stay in something with a full kitchen, I count it as a win.
Our family bunked in the Avalon Cottage, which has just undergone an extensive remodel, and you can tell how delightful it is in these photos:
3) Easy Entertainment: Shuffleboard, Swings, Bonfires, Beaches and Boats
In its heyday, Portage Point Inn was reminiscent of the resort life portrayed in Dirty Dancing. Shuffleboard tournaments, dances, and other organized activities got visitors mingling.
Today, there's a much more laidback atmosphere at Portage Point, but recreation still rules the day.
Many guests bring boats or jet skiis (renting from a nearby marina is an option.) Some guests arrive by boat via the channel to Lake Michigan.
Swings and a small playground line the beach at the resort.
Shuffleboard is still a favorite pastime.
…As is laying out on the beach.
Beachside bonfires are a way of life here, too.
And, just a short walk away, are the waters of Lake Michigan. This sandy beach is available to all guests of the resort.
4) Spend Some Time by Fireplace and on the Porch
The wide, sweeping porch is the perfect place to enjoy a cup of coffee or a bite to eat.
The interior is outfitted with board games.
This is also where you'll grab corn hole or shuffleboard equipment for outdoor play.
And, if it's cool enough, enjoy the fieldstone fireplace.
5) Get Ready to Be Taken in by the History
As I mentioned, you might not come to Portage Point Resort for the history, but once you're here, you'll be full of questions.
Hang with me and I'll tell you a little bit about this place that resorters have been enjoying for over a decade of decades.
Before there was Portage Point Resort
Before any of the Portage Point Inn existed, the land was logged. In fact, the area was a boomtown for the industry in the 1800s. (Visit nearby Manistee for proof – many of the mega Victorian mansions left behind by the lumber barons are still standing.)
As the tree supply dwindled, farming moved in to take its place, but the transition between these two practices was not smooth.
Around 1871, farmland flooding and a shipping pier access controversy led to a group of rogue farmers taking things into their own hands.
Even as some of the farmers were thrown into jail, they managed to dig a dry channel from Portage Lake out to Lake Michigan, bypassing the offending Portage Creek and its mill.
When the farmers removed the single log holding back the waters of Portage Lake, water rushed from Portage Lake into Lake Michigan, carving out a huge channel 300 feet wide and 18 feet deep.
The farmers didn't know it at the time, but this new channel would provide passage for large steamships that would soon bring passengers to Portage Point Inn from Chicago and Milwaukee.
Portage Point Inn was built in 1903 by a steamship company.
According to Northern Express Magazine, Portage Point Inn was "one of the first resort developments along the pristine lakeshore. The resort flourished during Prohibition when high-grade alcohol was shipped in from Canada on luxury schooners. It's said that Al Capone, Ernest Hemingway, Will Shirer and Orson Wells all spent time at the resort."
Indeed, Portage Point Inn was owned and served by the Northern Michigan Transportation Company.
(This steamship company owned five 375-foot long steamships that they used to bring passengers from the Windy City to Northern Michigan.)
Photo: Portage Point Resort
If you've visited the Grand Hotel on Mackinac Island, you'll feel right at home at Portage Point Inn. That's because Portage Point Inn was designed and built by the same firm that brought us Mackinac Island's Grand Hotel. Some people even call Portage Point Inn the Grand Hotel's "Little Sister."
After the mid-1900s, the steamship business declined, greatly impacting the patronage of Portage Point Inn.
At one point, the hotel completely closed.
Now under new ownership, the hotel is being restored to its former glory.
Renovation of many of the historic buildings is already underway.
Plans for a new restaurant in partnership with a local culinary program are in the works.
A marina expansion and other improvements are in the plans, too.
Here's a look at the newly renovated ballroom – a gorgeous place for weddings.
Historic Portage Point Inn as it Looks Today
6) Claim Front Row Seats for the Sunset or Sunrise
One of the things Portage Point Resort has going for it is an amazing location. It's not only on the shores of Portage Lake, it's also just a short walk away from Lake Michigan.
For spectacular sunrise views, situate yourself on the resort's lawn or porch.
The main building faces due east, so it's here that you'll get sunrise views over 3 miles of Portage Lake. It's also worth it to take in a sunset at this spot, where you'll see the light shining on the far shoreline, especially in autumn when the light from the sunset highlights trees along the far shore.
Make your way to any nearby Lake Michigan Beach and you'll have front row seats for the sunset.
We found ourselves at Portage Point Beach, just a short drive from the resort, for one such event.
You can even walk the pier if you'd like.
7) You're Close to Nature at Portage Point Resort
Another perk of being immersed in the Northern Michigan great outdoors?
We were treated to quite the show while at the resort!
Two bald eagles soared above us for the better part of a morning. We even saw one swoop down and pluck a fish right out of the lake.
And, if you drive to nearby Arcadia, you'll be treated to more wildlife viewings.
The Arcadia Marsh Nature Preserve has an amazing overwater boardwalk system that leads to max bird sightings.
And, if hiking is your thing, head just up the road to Arcadia Dunes and hike Old Baldy. You won't be disappointed.
8) You're Close to Manistee
If getting a city-fix is on your list, Manistee is just about 20 minutes away.
Head into town for shopping, restaurants, the riverwalk, and a great collection of beaches.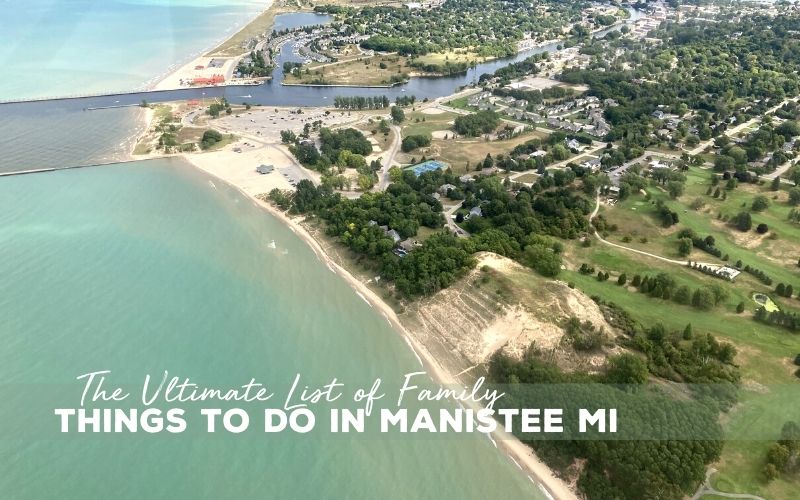 The history here is another draw.
9) You're Close to Sleeping Bear Dunes
Just a little farther afield from Portage Point Resort: Sleeping Bear Dunes National Lakeshore.
Portage Point's great location makes day trips to the Sleeping Bear Dunes easy.
Maybe you'll find yourself wanting to climb the Dune Climb, hike Empire Bluff Trail or tube the Platte River on your visit.
If you go to Portage Point
No matter how you choose to spend your time in the area, let us know how your Portage Point Resort Adventure turns out!
---
Portage Point Resort
8567 Portage Point Dr, Onekama, MI 49675
---