Your Sleeping Bear Dunes Michigan Vacation With Kids
Sleeping Bear Dunes National Lakeshore, located along the shores of Lake Michigan (in northern Michigan), is a treasure to behold.
This park boasts majestic lake vistas, sweeping dune panoramas, crystal clear rivers, and emerald-colored inland lakes, islands, and hiking trails cut through hardwood forests.
The park is not continuous; rather, it is comprised of the Platte River District to the south and the Leelanau District to the north, with the town of Empire in the middle. There are also two islands, South Manitou Island and North Manitou Island, within the park's borders (ferry service is suspended for 2020.)
The Leelanau District of Sleeping Bear Dunes is where you'll find the towering dunes and the cute town of Glen Arbor, while the Platte River District is flatter with a meandering river snaking along to Lake Michigan.
The National Park Service operates this lakeshore park, so many of the programs, signage, and policies you see at National Parks around the country will be familiar to you. For example, the Junior Ranger Program is available at Sleeping Bear Dunes.
While the park is open year-round, summer is one of the most popular times for a visit. With that in mind, I've put together my recommendations for visiting Sleeping Bear Dunes with Kids during summer vacation.
STARTER TIPS for SLEEPING BEAR DUNES 
Before you leave home, prepare for a rural destination.
Sleeping Bear Dunes is in a remote part of Michigan. Cell service is spotty.
And while there are small markets and the occasional gas station, you will be hard-pressed to find specialty medications, electronics, and other items common in a city. Pack plenty of insect repellent, sunscreen, rain gear and any other items you'll need for your adventure before setting out.
Start at the Visitor's Center
The small village of Empire is home to Sleeping Bear Dune's Visitor Center and is a great place to start your adventure. To enter the park, you'll need to purchase a pass for $25 (good for 7 days) or $45 (good for 1 year). You can get your pass here, as well as maps and materials for the Junior Ranger program.
HIKE & BIKE AT SLEEPING BEAR DUNES
There are miles and miles of trails at the Sleeping Bear Dunes that you can explore with your kids. Our family loves mixing hiking, biking, and kayaking into a visit at the Dunes, and we have favorite places for each activity- although it's hard to go wrong, no matter where you decide to play.
HIKING at SLEEPING BEAR DUNES
THE FAMOUS DUNE CLIMB
This is a *Must do!* A trip to the Sleeping Bear Dunes with kids is not complete without a stop at the Dune Climb.
It's a giant sandbox that you can climb up and run down and dig, dig, dig.
Pro tip: Visit in the morning on summer days to beat the heat. It easily feels ten degrees warmer on the dunes than elsewhere in the park.
Also, most people do not realize that the Dune Climb is also the starting point for a long, arduous Dunes hike over sandy, hilly trails out to Lake Michigan that may take as long as three to four hours.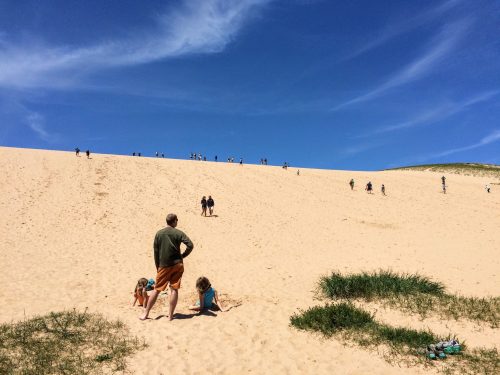 I do not recommend this hike for kids, especially in hot weather. Rather, climb up the dune climb to the lookout bench (left side of the dune) and be rewarded with Lake Michigan and Glen Lake views.
CAUTION: This is a spot where you can easily lose your kids. From the bottom of the dune climb, it's easy to send kids up and not realize there is a vast world of sand at the top. Give kids specific instructions on how far they can go by using landmarks and stay together.
ALLIGATOR HILL TRAIL
This is another top hike in the area.
Our hike to the overlook and the "easy" 3-mile loop was just enough for our 5 and 9-year-old. You can't beat the Lake Michigan views from the top of the Alligator Hill Trails.
PYRAMID POINT TRAIL
Once again, get ready to climb. This hike takes you to the top of a bluff, where you overlook Lake Michigan and the Manitou Islands. The Pyramid Point Hiking Trail is 1.2 miles to the top of the bluff and back or you can do a 2.7-mile loop.
EMPIRE BLUFF TRAIL
The Empire Bluff hiking trail is probably my favorite hike, especially at sunset.
It's an out-and-back 1.5-mile hike that starts with a climb and then takes you over a rolling, wooded pathway. Once you reach the Lake Michigan overlook, there's a boardwalk with great photo ops all around.
BIKING at SLEEPING BEAR DUNES
If you didn't bring bikes along, you can rent them at The Cyclery in Glen Arbor. From there, I recommend riding on the newish Sleeping Bear Heritage Trail.
There are many places to get on the trail, but my favorite section is the 2-mile ride from the Dune Climb parking lot to Glen Haven Historic Village. The ride takes you over a few small hills and through old cedar forests and varied vegetation.
Go another two miles, and you're at Glen Arbor where an ice cream stop is a refreshing treat.
If you'd like to ride one way on the trail and get a ride back, you can use the local bike-n-ride program to hitch a ride.
KAYAKING & TUBING at SLEEPING BEAR DUNES
Paddle or Float the Day Away at Sleeping Bear Dunes
The Crystal River and the Platte River are Northern Michigan gems located in or near the Sleeping Bear Dunes National Lakeshore.
Both rivers are shallow and easy for kids to navigate, but the Platte has the upper hand because it's great for river-tubing.
On hot days, tubing down the lower Platte River is a refreshing way to pass the time. It's also a very popular activity, so if you want to rent tubes or kayaks, think about reserving them ahead of time at Riverside Canoe Trips or The Honor Trading Post.
Platte River empties into Lake Michigan, and playing in the lake or river at the mouth of the river is half of the fun, so be sure to plan extra time for this into your visit. Some people even pack a grill into their canoe for a beach-side BBQ.
I say, if you can keep it dry, you've earned it! This is a highlight of any trip to the Sleeping Bear Dunes with Kids!
BEACHES at SLEEPING BEAR DUNES 
The Sleeping Bear Dunes National Lakeshore serves up plenty of beach day options.
Sugar sand beaches and clear waters of Lake Michigan make a day of sun and summer fun a delight.
First-time visitors are often shocked at the sheer size of Lake Michigan. It looks – and can act – like an ocean. Calm waters can be overtaken with large waves quite suddenly, and rip currents are dangerous and must be respected. If you're planning to swim in Lake Michigan, PDFs are a good idea, especially for children.
Many families choose to swim at beaches where rivers empty into the big lake. The river water tends to be warmer than lake Michigan, and often times there are shallower wading areas available. That said, record Lake Michigan levels in 2020 are driving up the river depths, so come prepared for deep water wherever you go.
A few favorite beaches include:
Platte River Point Beach (Lake Michigan Rd, Honor, MI, 49640). This is where the Platte River meets Lake Michigan. It's a popular spot for river tubing and kayaking, too.
Esch Road Beach (Esch Rd, Honor, MI, 49640) is located at the mouth of Otter Creek and is a sandy beach popular with swimmers.
North Bar Lake Beach (1030 N. Bar Lake Rd, Empire, MI, 49630) is usually nice and warm. A dune hike separates the small lake from Lake Michigan, so you have options.
Shalda Creek Access (1952 W Lake Michigan Rd #1592, Maple City, MI 49664) is a rocky beach. The creek is warm and swift where it meets Lake Michigan. Come here for a twist on your normal beach-going experience or if you like to skip stones.
STARS & NIGHTTIME at SLEEPING BEAR DUNES 
Sleeping Bear Dunes – Area Fun After Dark
This area in Michigan doesn't stop just because the sun goes down. Consider these Sleeping Bear Dunes Area nightlife options.
Starry Night in the Dark Park
Have you ever been in a place where it was so dark the stars seemed to pop out of the sky? That's what it's like at the Sleeping Bear Dunes on a clear night. Where can you best see the stars? One of my favorite spots is at the Dune Climb – open 24 hours a day – but any Lake Michigan beach will be wonderful, too. You'll be surprised at just how much the stars light up the evening! Download a stargazing app for your phone, aim at the night sky, and learn constellations with your family.
Beach Bonfire
Pack your roasting sticks because beach bonfires are permitted within the Sleeping Bear Dunes National Lakeshore on certain Lake Michigan beaches! North Bar Beach, Esch Road Beach, Glen Haven Beach, and Good Harbor Beach are popular bonfire spots, but any unposted Lake Michigan beach within park boundaries is fair game. Perhaps try the beach at Shalda Creek Access for an off-the-beaten-path adventure.
Pro tips: You need a valid park pass for beach fires and you need to bring your own firewood. Fires are only allowed between the water's edge and the first dune. Put out your fire with water when done, and pack out everything you brought in.
While not officially in the Sleeping Bear Dunes, this nearby drive-in movie theatre is a treat. With 50's style mini-golf, a playground and popcorn, hotdogs, and ice cream, your kids will love this place (amenities are closed for 2020.) Plus, you always get two movies for the price of one. Movies start at dusk. TIP: Bring sleeping bags or blankets to cover up with- it can get chilly up north at night. Also, insect repellent is helpful at certain times of the year. 9812 Honor Highway, Honor, MI 49640. (not located within the park boundaries)

Beach Bards
(Canceled for 2020) Every Friday night in the summer, the Beach Bards gather to recite poems, tell stories and enjoy some music around a big bonfire next to Lake Michigan at the Leelanau School near Glen Arbor. One Old Homestead Road Glen Arbor, MI 49636-9720 (not located within the park boundaries)
Observatory
(Closed for 2020) Usually open on Wednesday and Thursday nights from Summer Solstice through Labor Day,  the Lanphier Observatory sports a 14″ Celestron Telescope. At the Leelanau School near Glen Arbor. One Old Homestead Road Glen Arbor, MI 49636-9720. (not located within the park boundaries)
SMALL TOWN STOPS near SLEEPING BEAR DUNES
Things to Do in GLEN ARBOR, EMPIRE & GLEN HAVEN
COVID-19 has caused changes in many business operations. Masks are required in many places and other social distancing measures have been enacted. Call ahead to determine the most up-to-date policies at your destination.
As I mentioned earlier, Glen Arbor is a small little town that is also a great place to stop for ice cream. At the Pine Cone, they serve Ashby's ice cream and it's pretty delicious, albeit a little pricy.
Also, check out Cherry Republic's campus – they have a restaurant (with cherry-flavored ice cream options, of course), a soda pop and wine tasting room, and a store filled with yummy cherry products that you can sample and purchase (when we're not in a pandemic.)
Glen Arbor has a few restaurants – that tend to be very busy in the summer – as well as cute shops, a market, a playground, and a post office.
Take a Break at the Lake Michigan Beach Park Playground
Located on Lake Michigan in Empire, this park has the best playground around.
At $1/hour for parking, it is affordable entertainment. The beach is sandy and well kept. Bathrooms and picnic areas round out this great park. Located 3 blocks west of M-22 in Empire, MI 49630
Relive the Olden Days at Glen Haven
Glen Haven is an authentic and old "village" showcasing logging life along the Lake Michigan shoreline from days gone by.
You can see a rescue "gun" fire a rescue line daily at 3 PM if you visit the Maritime Museum in Glen Haven.
In Glen Haven you'll also find a General Store, working Blacksmith Shop, and the Cannery Boat Museum.
PIERCE STOCKING SCENIC DRIVE 
Top Stops on the *Must Do* Pierce Stocking Scenic Drive
Notice on NPS website as of 6/24/20: The following facilities will remain closed until further notice: Pierce Stocking Scenic Drive; South Manitou Island museums; and Maritime Museum. Check this website for future updates.
This 7-mile scenic driving route takes you to spectacular overlooks of Lake Michigan, Glen Lake, and the Sleeping Bear Dunes. Two picnic areas are also on the route. Get a brochure at the entrance to the drive.
There are 12 designated stops – but here are the ones you have to do if you're visiting with kids:
1) Photo op at the covered bridge. It's just pretty!
2) Glen Lake Overlook. Your first glimpse of the vast beauty found at the Sleeping Bear Dunes. Take pictures!
3) Dune Overlook.
9) Lake Michigan Overlook. Park and walk to the platform overlooking Lake Michigan. You're treated to views of the dunes, Manitou Islands, and splendid lakeshore views. It's not recommended that you hike down. The climb back up can take 2 hours and is very strenuous. There's a hefty rescue fee if you hike down and get stranded.
WHERE TO STAY at SLEEPING BEAR DUNES 
Sleeping Bear Dunes Lodging & Camping Options
Lodging options within the park are tricky, as they are few and far between and tend to book up far in advance. If you're looking for peak July or August months it's best to book your lodging at least 6 months out.
Camping at Sleeping Bear Dunes National Lakeshore
We've camped numerous times at the Platte River Campground, which is operated by the National Park Service.
It's a lovely wooded campground. Sites are spaced far enough from each other to afford a good amount of privacy. Walk-in sites area available… be aware that you are not allowed to roll any items into these sites. All coolers and equipment must be carried in and carried out.
Platte River Campground has hot showers and RV hookups – and is in a great location if you want to tube or kayak the Platte River. Reservations open six months prior to your visit's start date. The popularity of the Sleeping Bear Dunes campground makes getting a reservation quite challenging – check back often for cancelations or plan to make reservations as soon as the reservation window opens up.
D.H. Day Campground is another campground within the National Lakeshore. It's located close to Lake Michigan and Glen Haven and offers rustic camping. During the summer season, there are nightly ranger-led evening programs at this campground. Campsites reservations are required from May 1 – October 15.
Other campgrounds outside of the park might have more availability. Holiday Park Campground, just outside of Traverse City, is a favorite for many families. More campground options to consider:
Hotels, Resorts & Lodging near Sleeping Bear Dunes National Park
Hotels and B&B's are in limited supply within the National Park area, although there are a few to be had.
One of the most popular is the Homestead Resort,  just minutes away from Glen Arbor and right outside the park borders. The resort has a pool, restaurant, and provides kid's activities in season.
Check other hotel prices and availability in Glen Arbor.
Other Nearby Rental Options
Chances are, you will not be staying right in Empire or Glen Arbor. That's okay. You can find accommodations in nearby towns, too, if you're willing to drive a bit. It's common for people staying in Beulah or Traverse City to drive over and visit the dunes for the day.
Cottage Rentals near Sleeping Bear Dunes
There are also a considerable number of cottages for rent in the Sleeping Bear Dunes. It makes sense to explore this option if you're staying in the area for a week or more and have a larger family.
Check vacation rental prices and availability in Empire | Glen Arbor
You can also look on AirBnB or VRBO for vacation rentals.