The Famous Sleeping Bear Dunes Dune Climb
Dune Climb at Sleeping Bear Dunes
6748 S Dune Hwy, Glen Arbor, MI 49636
(231) 326-4700
This is a Must do!
A trip to the Sleeping Bear Dunes in Michigan is not complete without a stop at the Sleeping Bear Dune Climb.
It's a giant sandbox that you can climb up and run down and dig, dig, dig. Here's what you need to know about visiting:
Table of Contents
Climbing Sleeping Bear Dunes
The Sleeping Bear Dunes Dune Climb is the best place to go if you want to climb sand dunes.
Pull into the parking lot to be greeted by a 284-foot tall sand dune challenge.
Shoes on or shoes off, adults and kids power up the dune, breathless, only to turn and run down as fast as they possibly can.
You'll be tempted to do the same!
Pro Tip
Need some motivation? Treat yourself to one of the many glorious beaches at Sleeping Bear Dunes after the dune climb.
Climbing to Lake Views
It takes about 10 solid minutes to climb up the first dune to the expansive first plateau.
A popular goal: climb up the dune climb to the lookout bench (left side of the dune) to be rewarded with Glen Lake views.
If want to see Lake Michigan, though, you'll have to go on a long hike.
Pro Tip
Visit the Dune Climb in the morning on summer days to beat the heat. It easily feels ten degrees warmer on the dunes than elsewhere in the park.
Dune Climb History
People have been enjoying the Dune Climb for year.
The area became part of the National Park when Congress established the Sleeping Bear Dunes National Lakeshore on Oct. 21, 1970.
Before that, the foot of the dune climb area was home to a lunch counter that served tourists headed out on Dunesmobile rides.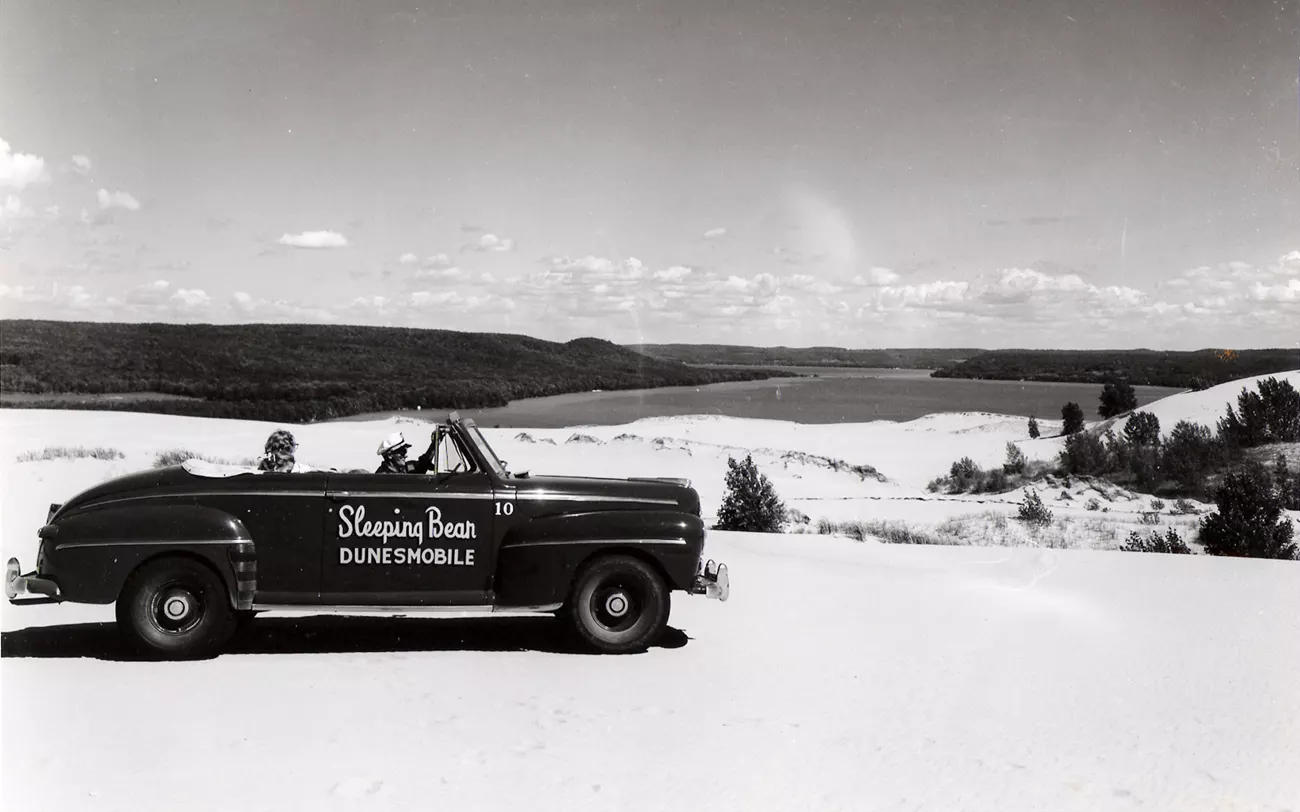 Equipped with customized tires, Dunesmobiles sped up and over the sandy dunes, thrilling riders. Many visitors enjoyed these dune rides during their 40+ years in operation. The tours ended in 1978, an act of dune preservation.
Today, you can catch a glimpse of a Dunesmobile in one of the Traverse City Cherry Festival parades.
And, you'll find many snapshots of the dune climb, like this polaroid, in old-timey family photo albums.
Family excursions to the dunes grew with popularity as automobiles and roads grew in number and continue to be a main attraction today.
Dune Climb Visitor Center & Picnic Area
There is a visitor center at the base of the dune where you can learn about the history and ecology of this place.
A picnic area, a bookstore, and modern restrooms are also located here.
The store carries T-shirts, sweatshirts, hats, nature games, postcards, books, videos, and convenience items. It' is 's open Memorial Day weekend through Labor Day from noon to 5:00 PM. During June, the bookstore is only open on Friday, Saturday & Sunday.
People like to tailgate in the parking lot, too.
Dune Hike to Lake Michigan
Once at the top of the first dune, it's decision time: return to the parking lot or continue the long Dunes Trail hike out to Lake Michigan.
If you opt for the hike, know you're in for a strenuous – yet rewarding – trek.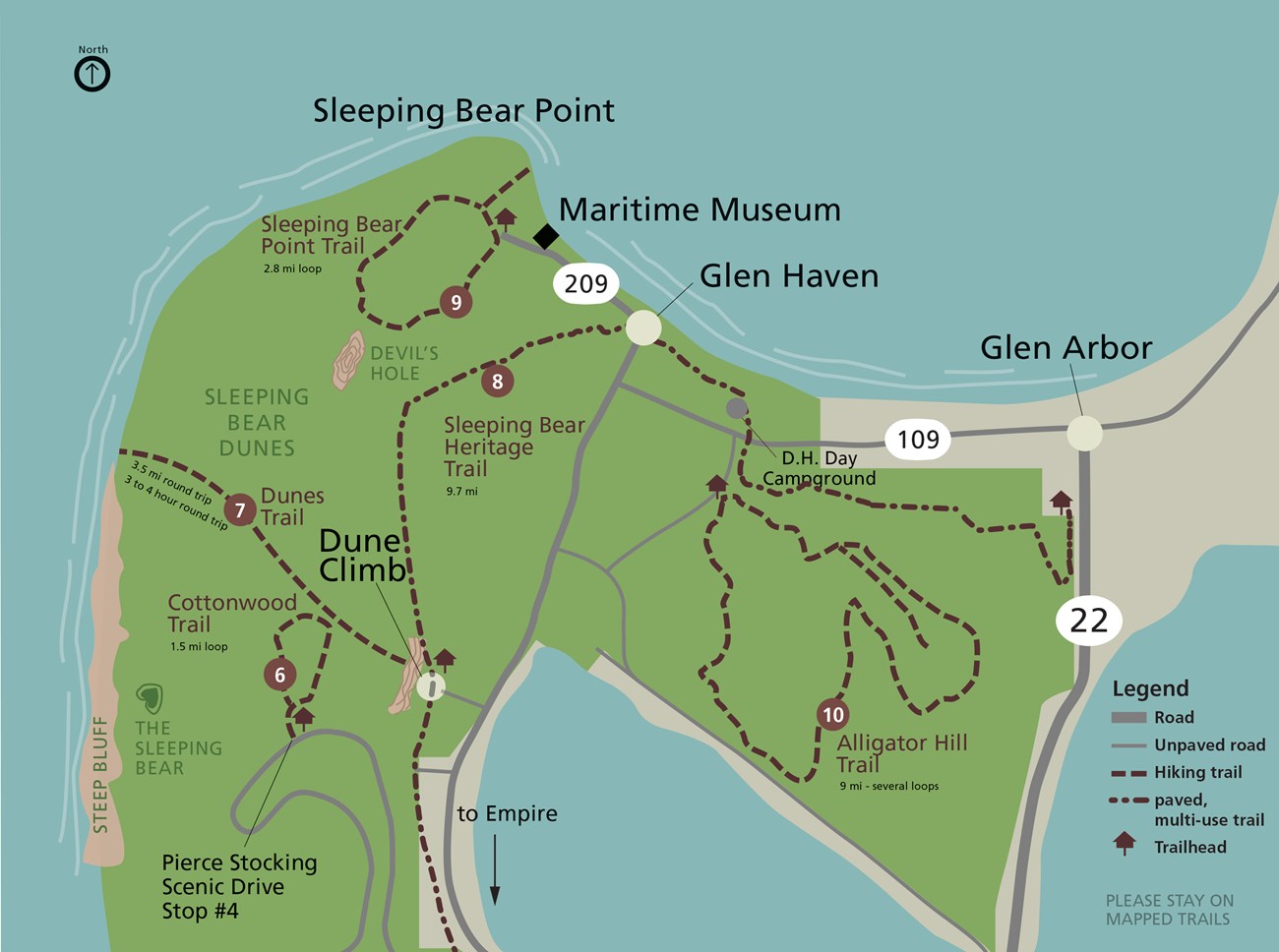 Be prepared to walk on soft, slippery sand for an extended period in the open sun.
To reach the panoramic views and refreshing waters of Lake Michigan, you'll climb seven dunes, walk 3.5 miles, and spend about 3-4 hours on the trail.
What to Bring on the Dune Climb Hike
This is a great hike if you are prepared. You'll definitely want:
plenty of water
footwear (the sand can be extremely hot)
hat & sun protection
snacks
towels and swimsuits
Sleeping Bear Dune Climb Location
Dune Climb Hours & Admission
Hours
The Sleeping Bear Dunes Dune Climb is always open. 24 hours a day, 365 days a year, this part of the park is accessible.
Dark Sky Park
After dark, the dune climb serves as a Dark Sky Park – perfect for stargazing.
Dune Climb Admission
A valid park pass is required for entry. Several pass levels are available.
Many visitors opt for the 7-day private vehicle pass ($25).
You can buy a park pass at the Dune Climb Entrance Station (6748 S Dune Hwy, Glen Arbor, MI 49636) from Memorial Day Weekend to Labor Day.
As of 2023, Sleeping Bear Dunes, including the Dune Climb, is cashless. Nine different self-pay locations are available throughout the park for visitors who don't have a debit/credit card. (Most credit cards and digital forms of payment are accepted including Discover, Mastercard, Visa, American Express, Diner's Club, JCB, Union Pay, Apple Pay, Samsung Pay and Google Pay.)
Catch the Sleeping Bear Heritage Trail
This mostly-paved 27-mile-long bike trail starts on the north end of the Dune Climb parking lot.
It's an easy 2 miles by trail to Glen Haven, if you'd like to see the historic village.
The Sleeping Bear Heritage Trail is popular with bikers, walkers and rollerbladers. While much of the trail is relativley flat, several trail sections are steep. Study the map before heading out.
More Places to Climb Dunes
While Sleeping Bear Dunes Dune Climb is the only place in the park that encourages visitors to climb, there are several other places in the national park where you can climb a dune.
Another popular place you can scramble down – and up – a Sleeping Bear Sand dune is at Stop 9 on the Pierce Stocking Drive. Warning, though. If you climb down and can't get back up, you'll be fined THOUSANDS of dollars to be rescued.
It takes only minutes to get down to the water here but can take an hour to climb back up. It's physically strenuous and many people are not fit enough to make the climb back up.
Test Your Sand Dune Climb Knowledge
Just for fun – see how well you know the Dune Climb by taking this short TRUE/FALSE quiz.
Don't Miss the Dune Climb
If you're one of the thousands of people that visit the dunes this year, don't miss the Dune Climb.
It's one of the most popular attractions in the park.
Climb the dune or picnic at its base – either way, it's a Sleeping Bear Dunes bucket list item.