The Only Place in Lower MI Where You Can Swim in a Waterfall
Swimming in a waterfall might seem like something you can only do in the tropics, but Michigan's Lower Peninsula offers up one place you can have this incredible free experience: Ocqueoc Falls MI.
Before you grab your suit and jump in the car, there are a few things you need to know.
Here's the scoop on swimming in Michigan's waterfall:
How do you pronounce Ocqueoc?
This is a tricky one. You pronounce it AH-key-ock. (Were you close?)
Are Ocqueoc Falls Accessible?
Yes, access to the falls is wheelchair and stroller accessible.
How many waterfalls are there in Lower Michigan?
Just one! While the Upper Peninsula is loaded with waterfalls, Ocqueoc Falls are the only falls in lower Michigan that you can visit.
Ocqueoc Falls At a Glance
Ocqueoc Falls MI
M-68, Millersburg, MI 49759
Facilities: Vault toilets. Bring hand sanitizer.
Stroller Friendly? Yes, access to the falls is wheelchair and stroller accessible.
Time of Year Accessible: Open year round.
Trail Difficulty: Moderate, with some hills.
Camping: Yes, Rustic camping in State Forest.
Interesting Facts About the Falls
The Ocqueoc River in Michigan's Presque Isle County runs over pre-glacial limestone bedrock as it flows to Lake Huron.
Throughout the years, the river has cut through the limestone, creating the 5-foot drop at Ocqueoc Falls, among other interesting natural features.
Limestone dissolves more readily than most types of rocks, making it great for forming not only waterfalls, but also cool things like sinkholes, caves, and disappearing streams that go underground and reappear some distance later.
The Place of the Crooked River
The name Ocqueoc means "sacred" in the language of the Anishinabe, Native Americans who were the first people to live on this land. The area around Ocqueoc was used as a sacred meeting place.
Take a moment to learn what this place has meant to people throughout history.
Things to Do at Ocqueoc Falls MI
Yes, you can swim in this Presque Isle County waterfall – and you can fish, camp, hike, bike and more!
Play in the River & Waterfall
Ocqueoc Falls might be small as far as waterfalls are concerned but its allure is big.
Water cascading over limestone ledges invites visitors to jump in and cool off, for starters.
You can slide into the waist-deep water (on adults) and just enjoy the brisk water or cross the river, climb up, and jump off of the upper ledge of the fall.
The Best Time to Swim at Ocqueoc Falls
June, July, August and September offer reasonable swimming water temps – most of the time.
If you want the place to yourself while you swim, you're going to need to get up early.
Our first visit was on a Friday afternoon and it was crowded.
We took a few photos and decided to return the next morning – and had the falls to ourselves for a bit.
The trade-off?
Cool temps plus cold waterfall water provided a brisk wakeup call that morning.
Bike or Hike the Ocqueoc Falls Bicentennial Pathway
If you're up for another type of adventure, the Ocqueoc Falls Bicentennial Pathway is here for you.
With four loops of 3 to 6 miles, it's great for hiking and mountain biking.
Get a glimpse of an old mill, fish at the State Forest Campground or enjoy the views from the short, scenic first pathway.
FAQs
What to Bring?
A state park annual or daily vehicle pass is required
Water shoes
goggles
towels
sunscreen
picnic/beverages
hand sanitizer
life jackets
What facilities are available?
Enjoy accessible picnic tables and grills at the falls overlook when you visit.
A terraced rock wall doubles as seating for waterfall watchers.
Restrooms are vault toilets.
Who Should Visit Ocqueoc Falls?
Everyone! These are the first universally accessible waterfall in the U.S. – so that people using wheelchairs are able to fully experience the waterfall, too.
How do wheelchair users access the water?
There are three different ways to get down to the river.
There's a ramped pathway leading to the river, small steps, or larger steps for people to choose from.
Where to Stay When Visiting Ocqueoc Falls
The Ocqueoc Falls State Forest Campground is just across the road from the falls.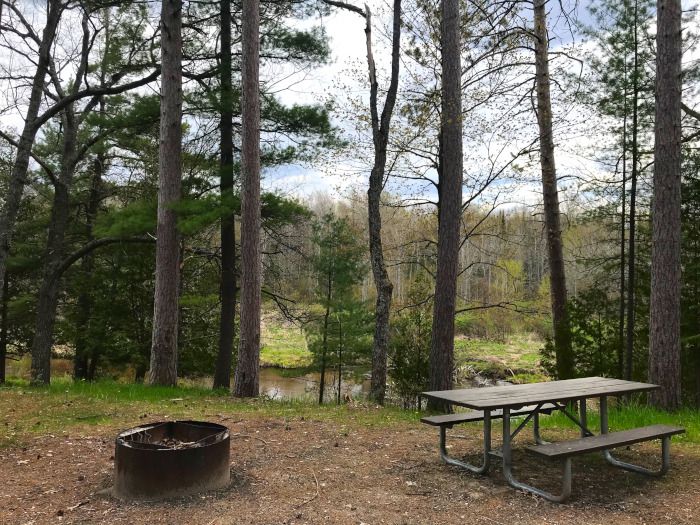 The rustic, wooded campground doesn't take reservations – the 15 tent/small trailer sites available on a first-come, first-serve basis.
Vault toilets and potable water from a well-hand pump are available.
The campground is known for good steelhead and trout fishing.
Backpacking
Backpacking (dispersed camping) is allowed along the Ocqueoc Falls Bicentennial Pathway, as long as you are one mile away from Ocqueoc Falls state forest campground.
Backpacking is free of charge.
Vacation Rentals Near Ocqueoc Falls Michigan
*We may earn a small commission if you book through an affiliate link. Thank you for supporting our work!
How to Get to Ocqueoc Falls
Ocqueoc Falls is located in Presque Isle County, on Ocqueoc Falls Road, near Millersburg.
It's 12 miles west of Rogers City via M-68 and 40 miles from Rockport State Park (Alpena).
Most GPS systems will let you type in "Ocqueoc Falls" and lead you there.