Meet Michigan's 100th State Park: Rockport State Recreation Area
It's fun to do something completely different sometimes. And Rockport State Park has different in spades.
Visiting this fossil beach in Michigan is a one-of-a-kind adventure. It's one of the many inexpensive or free things to do in Michigan.
Rockport State Park is off the beaten path. Lake Huron beaches are rockier than Lake Michigan beaches, so many people dismiss travel to NE Michigan.
But wow, are they missing out on something so unique.
When you skip the Alpena area, this is what you're missing.
Rockport State Park Recreation Area
Located on Lake Huron, this former rock quarry was once booming with mining and shipping activity.
From 1914-1948, limestone was dug and shipped out of the deep water harbor for use in the construction industry.
Some of the materials quarried here were even used to build the Mackinac Bridge.
Today, this property is being reclaimed for a multitude of recreational opportunities.
Rockport State Parks FAQs
How do we get to Rockport State Recreation Area?
Don't rely fully on GPS to get you to the state park.

Rockport State Recreation Area is located off of US 23 on Rockport Road. There is a sign pointing you in the right direction, but you'll need to travel a few miles down the dirt road to the end to make it to the park.
When is the best time to visit Rockport State Recreation Area?
Rockport State Park is open year-round so it really depends on what you want to do when you're there.

The best time to rock hunt is when the snow is gone. Visit during the winter for cross-country skiing.

It is still a relatively unknown park, so even when it is busy in the summer, there are not throngs of people to maneuver around.
Can we collect rocks from Rockport State Recreation Area?
On public lands in the State of Michigan, unless otherwise posted, people can collect 25 pounds of rock per person per year.

Rockport State Park is openly supportive of responsible fossil hunting.
What should we bring along to Rockport State Park Recreation Area?
This is one rugged park. With such rough terrain, you'll want to come prepared.

For any visit longer than a couple of hours, you'll want to bring:
If you'll be digging for fossils, it's recommended that you bring:
If you have babies or toddlers with you:
Unique Outdoor Adventures at Rockport State Park
Rockport State Park Recreation area is not your typical Michigan State Park.
Yes, it is expected that a campground with cabins down on the beach will eventually be built here. There already are a couple of backcountry campsites on the property.
And yes, there is a boat launch – the walleye, lake trout, and salmon fishing here is great.
The trails are abundant, with miles for hikers to explore. Mountain bikers and horses are welcome on the trails, too. These are typical state park type things.
Best Things to do at Rockport State Park Recreation Area
1 – Dig for fossils in the Rockport Quarry
This Michigan State Park doesn't have many signs up yet. (Porcupines keep eating the trail markers!)

If you drive into the park and didn't know about the quarry or rock hunting, you'd have no idea it was here.

Take a good look at a map before you arrive, or save one to your phone (cell service is spotty at best here.)

The Alpena area is the best part of Michigan for fossil hunting.



photo: Angela Hollinshead

Ages ago, this area wasn't walkable. It was covered by warm saltwater filled with fish and coral. (This was 350+ million years ago in a time period now called the Devonian Era, or the "age of fish.")

The remnants of these old fish and coral are trapped here, fossilized in the limestone in the quarry, ready for you to dig, discover, and make your own. You are allowed to take home up to 25 pounds of fossils/rocks per person per year.

(Just an FYI – snakes also love hanging out in the quarry.)



Snake in the Rockport Quarry: photo Sarah Koss



A Rockport State Park Review:
Angela Hollinshead, a mom from Greenville, MI, recently visited Rockport State Recreation Area with her son, sister, and 6&8-year-old niece and nephew. She reports:

Make sure to wear sturdy shoes, the rocks are uneven and sharp. It's a short walk down an old road into the quarry, it took us under 10 minutes to walk there.

I took my 11-month old in his stroller, the road is bumpy but the stroller did just fine. Once into the quarry I parked the stroller along the road and put him in my backpack carrier to explore.



photos: Angela Hollinshead

There are huge boulders – I brought a rock hammer and we had fun chipping out embedded fossils.

Right away you see hundreds of fossil corals, horn coral, Petoskey stones, and brachiopods.

There is water that runs through the quarry. The older kids had a lot of fun playing in the shallow streams and shallow ponds as well as chipping away at the rocks.
FOSSIL & AREA GUIDE
Besser Museum for Northeast Michigan
491 Johnson Street Alpena, MI 49707
If you're new to fossil hunting, you might want to stop at the nearby Besser Museum for Northeast Michigan first.

This museum is open to the public and is on a mission to teach people about the Alpena area's geology and fossils with their exhibits and two fossil parks. You're encouraged to bring a small trowel for prying, a water bottle to loosen fossil specimens, and a tote to carry home your fossil finds.

OR

You can join up with Paleo Joe on one of his many fossil dig field trips to the area.
2 – Climb the Giant Rock Pile
When mining operations at the Rockport location abruptly ended, a huge pile of limestone ready for shipment was left along the side of Lake Huron.




Today, you can climb up these tall piles. The rocks are sharp and jagged, so be sure to wear sturdy footwear.
3 – Walk the Old Pier – And Maybe Swim from It
The pier is eroding in the middle. Adventurous souls can still make it to the end, but the days for the little land bridge are numbered.




Some people choose to swim here. If you do jump in, know the water is very deep.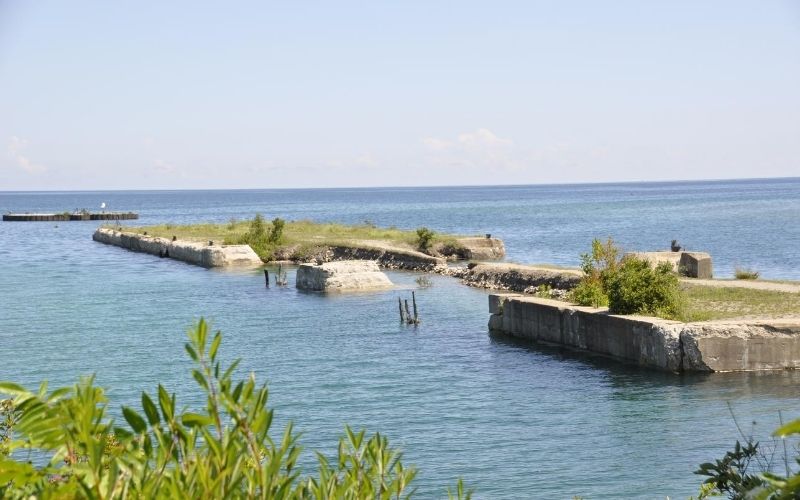 4 – Mountain Bike, Hike or Ride a Horse out to the Sinkholes
Hiking out to the sinkholes is a big undertaking. Take water and bug spray and be prepared to be out for hours.




Plan on a 6+ mile loop over rugged terrain out to the crystal clear waters of the sinkholes.
5 – Stargaze at this Dark Sky Park
Staying up late gets a thumbs up here. Miles away from major light sources, this park is one place where it feels like you could reach up and pick the stars right out of the sky.

Choose a clear evening to stay up late, download a stargazing app, and just try to stay awake to see the stars, meteors, planets, and other night sky wonders.
6 – Learn about the Endangered Bats Living in the Bat Hibernaculum
There are 4 species of endangered bats that call Rockport State Recreation Area home in manmade tunnels beneath the giant rock pile in what people love to call the Bat Cave.



photos & info: Cheryl Phillips

There is a secured grate for the bats to enter and exit the bat cave. It's located by the large rock pile.

The grate of the bat cave (Bat Hibernaculum) is locked to prevent people from entering and disturbing them.
photos & info: Cheryl Phillips
7 – Have a Picnic
There is a small park at the base of the pier, near the entrance to the rock pile. Several picnic tables are available.

The following options are located at the north end of Rockport Recreation Area in the Besser Natural Area.
8 – Visit the old Grove of Giant Virgin Pine Trees
Many of the trees in Michigan were cut down during the 1800's logging boom.

Somehow, a grove of old-growth white and red pines escaped the chopping block and can still be seen today. Just follow the 1.3-mile loop at Besser Natural Area and you'll pass right by them. Also on this trail is the old Village of Bell.
9 – Explore the former Village of Bell, an Old Ghost Town
You'll see the remains of historic buildings, including a really cool old chimney, a cemetery, and safe.

Over 100 people used to live in the town back in the late 1800's.
10 – Swim at a Sandy Lake Huron Beach
It's rare to find a sandy beach along Lake Huron. If you visit Besser Natural Area, you'll be in luck.

Find the secluded sandy beach that swimmers enjoy. Rockport also has miles of more remote sandy beach – but you'll have to hike or bike to access it.
11 – Kayak, Dive or Snorkel to Explore Historic Shipwrecks
Pick your pleasure, there are multiple ways to get a good look at the shipwrecks in Lake Huron by Rockport State Recreation Area.

The Portland shipwreck off of Besser Natural Area (just north of Rockport) is in very shallow water and is easy to see from a kayak or while snorkeling.

The water in the state park is crystal clear, making it easy to see what lies below the surface.
Where to Stay When Visiting Rockport State Recreation Area