Autism Treatment & Autism Testing Services
When our kids act differently from other kids, we worry. Do they have a disability? Can we help them? Will they grow out of this? Who can I talk to about this?

And when it's a neurological difference, it can be even more confusing. It can look so different from kid to kid and therapy can range, too.

Where do you start?

You start here. We are going to break down what autism looks like, how autism testing works, the costs, and where to find autism therapists in Grand Rapids.

We also have a list of the best autism screening places in West Michigan.

Kids with neurological disorders navigate the world differently. Find the resources you need to help them, and you'll be setting your child up for a better understanding of themselves and how they interact with others.

What is Autism Spectrum Disorder?
Autism, or Autism Spectrum Disorder (ASD for short), is a disorder that impairs communication and interaction with others.
There are subcategories within ASD, such as Aspberger's syndrome, but they all have the same umbrella symptoms.
Signs of autism start in early childhood, although it is not always diagnosed at a young age.
What are Autism Symptoms?
Autism symptoms manifest very differently from person to person.
Some autistic persons are non-verbal, while others could be a coworker or classmate who seems to have little difficulties communicating. (But they will tell you that they still do!)
Common symptoms include:
Repetitive behaviors such as rocking back and forth or twirling hair between fingers
Obsessive interests.
Difficulty with communication
Difficulty understanding social cues
Avoiding eye contact
Difficulty understanding or talking about other's feelings
This chart is an example of the different areas ASD affects.
The reason for the circular grid is because autism looks different for each impacted individual. Two different autistic people will experience ASD in very different ways, yet they both have autism.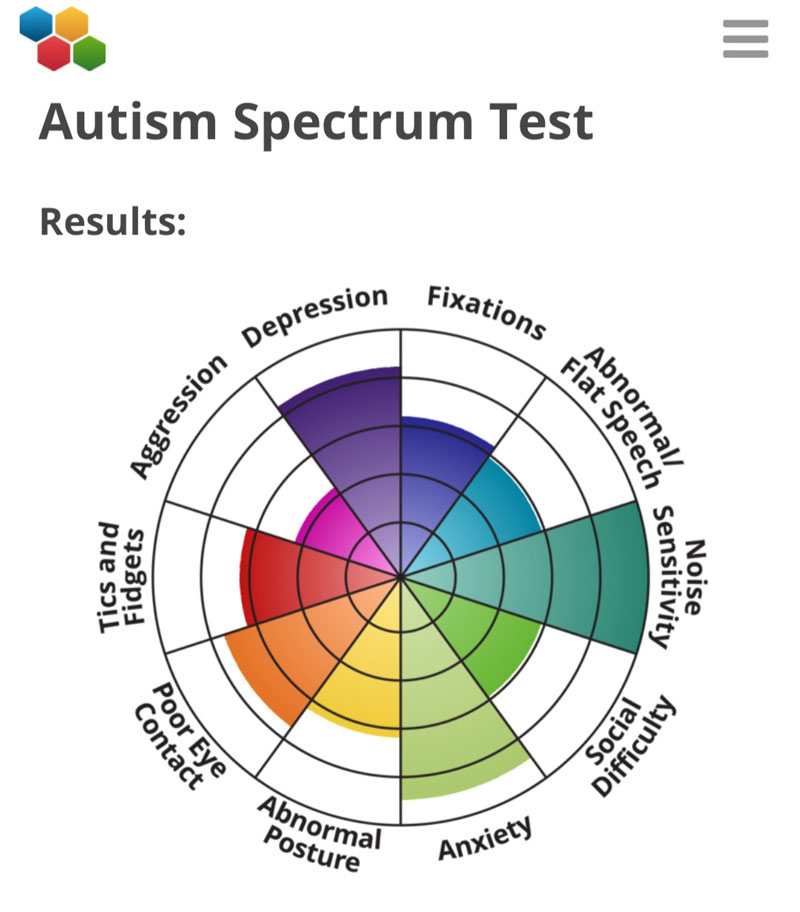 What Autism Testing is Like
Like with ADHD, there is no standard test for Autism or any of the other spectrum disorders.
Specialists often use a combination of indicators when making a diagnosis. They will observe the child's behaviors, talk to family members about their observations, and even interview the child (if they're old enough/verbal).
When you're looking for autism testing in Grand Rapids, start with your pediatrician. If your child has indications of autism or any other spectrum disorder, your pediatrician will refer you to other specialists including:
Specialists will use the DSM-5 for an official diagnosis.
What Does Autism Testing Cost?
If you pay out of pocket, autism assessments run anywhere from $500-2,000 on average. A highly skilled professional is usually $1,200+.
Insurance companies all have different rules for covering autism screening, so always talk to your insurance company first.
Some will cover part of the bill, and others not at all. You may need a referral for them to consider covering autism testing fees.
Best Autism Testing in Grand Rapids
Wondering if your child may be on the autism spectrum?
There are many options for testing, some with long wait lists. These testers are worth the wait.
TOP Autism Spectrum Disorder Testing in Grand Rapids
1. BRAINS

2. Developmental Enhancement Behavioral Health GR

3. Center for Autism Kentwood

4. Helen DeVos Children's Hospital

5. Center for Autism Holland

6. Center for Childhood Development

6. Counseling Center of West Michigan – Muskegon
Autism Services in West Michigan & Grand Rapids
These specialists can offer a variety of assistance for those on the spectrum, from speech and occupational therapy to autism testing.
Another great resource is The Autism Society of Michigan.
Counseling, Dance / Movement Therapy, Occupational Therapy, Sensory Therapy, Speech Therapy in Grand Rapids


2505 Ardmore St SE, Grand Rapids, MI 49506-4915



We work with individuals with Autism who are in need of speech, sensory, occupational, or social-emotional therapeutic services.
Occupational Therapy, Speech Therapy in Grandville


2880 Wilson Ave SW, Grandville, MI 49418



Our therapists have specialized training and experience providing Speech-Language and Occupational Therapy to children with Autism Spectrum Disorders to address speech, language, social, sensory and motor needs.

We also offer a program called Social Skills 4 Life.

Our SLP's use an individualized, but comprehensive program to teach social communication skills to support relationship-building, conflict resolution, social problem solving, interview/job skills and more.

This program is great for ages 8 and up.
Applied Behavior Analysis in Grand Rapids


1000 E. Paris SE, Suite 160, Grand Rapids, MI 49546
5943 Stadium Drive, Kalamazoo, MI 49009



Acorn Health helps children between the ages of 18 months and 21 years of age with an ASD diagnosis gain the tools they need to live meaningful and independent lives.
Counseling, Parental Support in Grand Rapids


3300 36th Street SE, Grand Rapids, MI 49512
12930 James Street - Suite 120, Holland, MI 49424



Wedgwood's Autism Center for Child Development provides individualized, center-based comprehensive early intensive behavioral intervention for young children and focused skills support for school-aged children in a fun, engaging environment.
Applied Behavior Analysis, Counseling in Grand Rapids


1260 Ekhart St NE, Grand Rapids, MI 49503



Wedgwood's Autism Center for Child Development provides individualized, center-based comprehensive early intensive behavioral intervention for young children and focused skills support for school-aged children in a fun, engaging environment.
Speech Therapy in Grand Rapids


2922 Fuller Ave NE, Suite 107, Grand Rapids, MI 49505



Building Blocks Therapy Services is dedicated to offering the highest quality, research based treatment plans for speech, language and feeding that are individualized to each client.
Applied Behavior Analysis, Diagnostic Testing, Speech Therapy in Jenison


8413 Cottonwood Drive, Jenison, MI 49428



Lighthouse Autism Center offers the highest-quality autism therapy in a beautiful, play-based environment.

Children are immersed in imaginary spaces where they can naturally explore their interests, engage in sensory experiences,
Physical Therapy, Speech Therapy in Grandville


3010 Wilson Ave. SW, Grandville, MI 49418



At Apogee Therapy Center, we service children with Autism who require speech therapy assistance for a variety of needs.

We provide receptive and expressive language treatment, executive functioning treatment, social skills support, and functional life skill training for kids of all ages with Autism.

We will collaborate closely with your child's school to help support your child in every way possible to ensure their success.
Occupational Therapy, Parental Support, Sensory Therapy in Grand Rapids





CAYA Therapies prioritizes the social-emotional experience of development, ensuring patients feel safe and secure as they learn and grow. Services are always relationship-based, sensory-informed, and tailored to the patient's interests.
5 Pointers for Parenting a Child on the Autism Spectrum
#1
Children with Autistic Spectrum Disorder Experience a Wide Variety of Symptoms
Sensitivity to sounds, difficulty relating to others, excessive interest in specific topics or subjects, unexpected emotional responses, and picky eating are just a few. Not every person experiences all of the symptoms, and the degree to which they are experienced will vary.
#2
Children on the Spectrum can Make Great Improvements with Early Intervention
Children on the autism spectrum can make significant improvement in their ability to function at home and school and in the community. Research shows that early intervention for children on the autism spectrum is crucial to their success.
#3
Different Methods Work for Different Kids With Autism Spectrum Disorder
I have learned that certain methods (such as the use of visual supports) work for nearly all children with autism. I have also learned that you have to be creative with each kid. You have to incorporate their intense interests into therapy and start where they are.
#4
You are Not Alone In Your Journey to Care for Your Special Needs Child
Accepting that your child is different but still recognizing all of his or her talents is key. Advocating for your child in all settings (school, child care, the community, with your relatives and elsewhere) is also important. You are not alone and there are local autism services that can help you.
#5
Talk to Your Doctor About Your Child's Development
If you have concerns about your child's development, your pediatrician is a good place to start. Your child's preschool, school, or local ISD are all good resources, too.
Up Next
Could it be a Developmental Delay? West Michigan is teeming with medical professionals who are ready to support you and your kid. They are here for you when things are…