A Bit about Johnson Park
Johnson Park is a beautiful, sprawling park along the Grand River in Walker. It connects to Millennium Park through the Kent Trails system.
The Parks, Playgrounds & Trails Directory is proudly presented by John Ball Zoo. We are grateful for their support!
Covering nearly 260 acres, Johnson Park has a lot of room to spread out, relax, and enjoy the great outdoors.
Because Johnson Park is so large, I'd recommend reviewing their park map before heading out — it'll give you a better understanding of the park and where to find entrances.
Their address will take you to the main entrance near the historic closed shelter, a popular place for rentals. However, sometimes this entrance is closed. There is an entrance off of Butterworth to get to the yellow playground in this part of the park. Further down Butterworth you'll find another entrance to the red playground area, where there is a bathroom and covered picnic shelter.
Locals love the disc golf course and the baseball fields, as well as the paved path for biking and the nature walk. They also love that it's a clean park!
Johnson Park at a Glance
Two playgrounds
popular disc golf area
fishing along the Grand River
Picnicking
Nature trails
Paved pathway
Ball diamonds
Sledding hill
Covered shelters
Picnic tables
Clean bathrooms
Paved trail connects to the Fred Meijer Millennium Park Trail Network for a nice long bike ride or walk.
Tips for Your Trip From Other Parents
This would be a fun place for a picnic, with all the beautiful shade trees. Pick a picnic table or lay a blanket in the grass.
There's a fun sledding hill in winter.
There's a nice walk through the woods, but it is hilly and sometimes buggy.
Watch kids if you play at the yellow playground area. It's not far from the yard of the enclosed shelter, where lots of events take place. My son almost ran across the lawn to the corn hole sets that were set up for a wedding reception!
The main entrance (where the address will take you) can be closed, so you'll have to access the park via Butterworth.
Lots of fishing opportunities along the Grand River.
Johnson Park FAQ's
Is this park good for toddlers?
Toddlers will enjoy the open space to "run" around, as well as the play structures.
How are the bathrooms?
Bathrooms are modern and clean and close to the playgrounds, which parents appreciate!
Are there picnic tables and grills?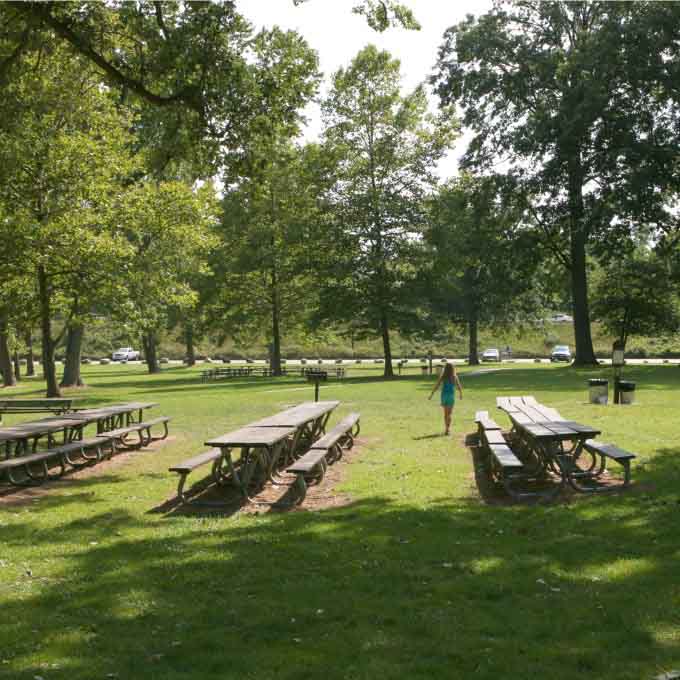 There is an incredible amount of picnic tables at Johnson Park, and grills can be found throughout. The historic enclosed shelter is often rented out, but there's an open shelter at the red playground, as well as lovely shade trees galore.
Is there any shade?
This is the kind of playground to hit up on a hot summer day – there are shade trees everywhere! The kids can play without feeling like they're stuck in the Mojave desert without water. I imagine Johnson Park is quite beautiful in the fall. Or really, any time of year!
Can I fly a kite here?
Johnson Park has plenty of open space for kite flying.
Is there an admission fee?
No admission fee for Johnson Park, unless you wanted to reserve their enclosed shelter.
When is this park open?
As part of the Kent County Parks system, Johnson Park is open May 1-October 31, from 7 AM-dusk.
What is parking like?
There is ample parking near the red and yellow playgrounds. Parking near disc golf seems ample, but if there's a tournament you may have to park down the road at the red playground area.
SaveSave