Port Austin, Michigan
Port Austin, Michigan, is a tucked-away Lake Huron beach town with a laid-back feel, great for anyone that enjoys the outdoors or drinks on the patio. It's like a Michigan version of the Gilmore Girls town of Stars Hallow.

Vibey restaurants and awesome vacation rentals make spending time in this little Michigan town a treat.

Friendly, down-to-earth, locals, foodies, shoppers, adventurers, and quirky lovable shop owners fill the streets.

Everything is within walking distance, making this one of our favorite vacation spots to visit!

In this article, you'll find natural wonders, delicious food, the best place to stay, and fun ideas for family and friends. By the end, you'll want to book a trip of your own, so read at your own risk!

Where is Port Austin MI?
Port Austin MI is located at the top of Michigan's Thumb, 2.5 hours north of Detroit by car. It's just over a 3.5-hour drive from Grand Rapids, MI.
What is Port Austin known for?
Port Austin is known for Turnip Rock, beautiful views of Lake Huron, Grindstone, and its large Farmers Market.
What is the deal with Grindstone City?
Grindstone City is a Michigan ghost town. It's located in the Thumb, near Port Austin. For over 100 years, starting in around 1840, a special rock that was great for sharpening knives was quarried here. These rocks were called grindstones and are the namesake of this ghost town. In fact, you can see grindstones near the Grindstone Beach House (more about that in the next section.)
Where to Stay in Port Austin
Port Austin isn't a place you'll likely stumble upon. It's a fair distance from major Michigan population centers. And chances are, once you make it to Port Austin, you're going to want to stick around for a bit.

In the summer, the area is hopping. Visitors from the Metro Detroit area and beyond find their way up here to see Turnip Rock and drink up the scenery.

Friend groups, family groups, bachelorette groups – wanting a place to stay in this area can choose from a few small hotels or vacation rentals. If you are looking for a sizeable vacation rental in this area for your group, we've found the perfect one: Grindstone Beach House on Lake Huron. It sleeps 20 and is pretty much perfect.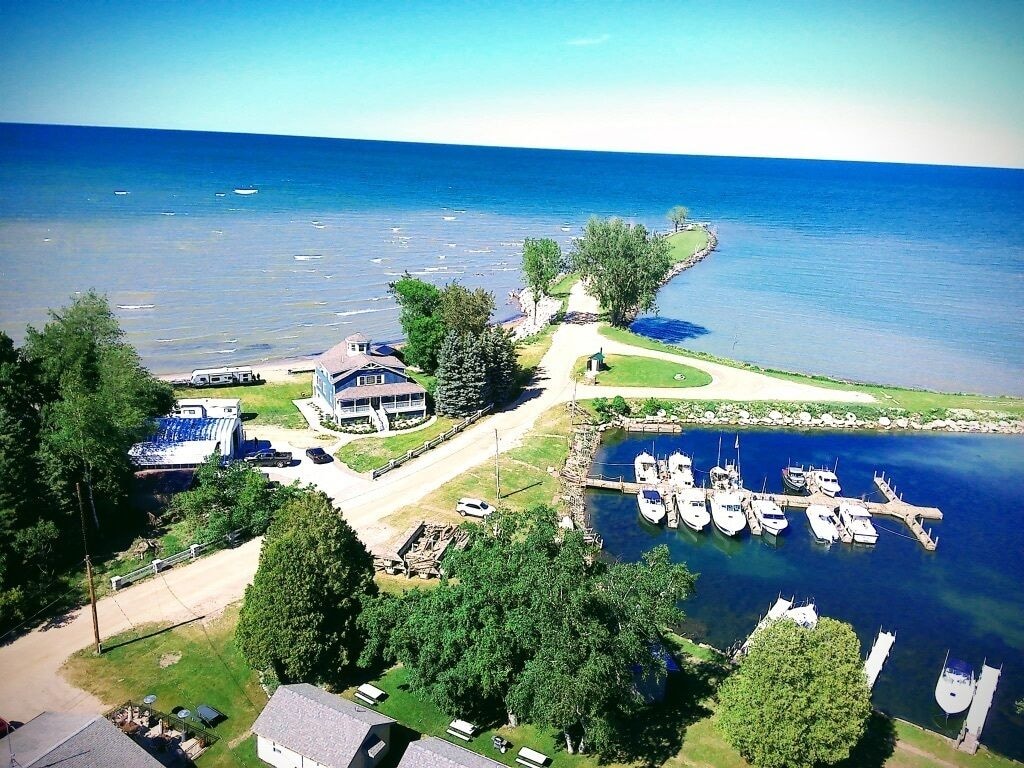 Best Vacation Rental: Grindstone Beach House on Lake Huron
5000 square ft • 8 bedrooms • Sleeps 20 • Private Beach • Tiki Bar
Our stay at the Grindstone Beach House was bliss. And that's saying something. The rental hosts took care of all of the little touches. The house was filled with everything we needed plus a whole lot of extras.

We spent a hybrid weekend at the house, one night with our extended family to celebrate a birthday, then another two nights as our annual besties girls' travel trip. We got to see the house in full action, from kids running around to karaoke to wine time with the ladies.

The open floor plan made it so, that wherever you landed, you could still be a part of the conversation if you wanted to. If not, you could focus on the powerful view of Lake Huron and its rhythmic waves. This made it a perfect place for our family and friends, filled with introverts and extroverts!

The kitchen has all the cooking tools you'll need to make a full-on feast, if that is what brings you joy. The seating in the dining room is so thoughtfully placed. We were able to sit and laugh together over a delicious meal and everyone felt included because of the ample seating.

While our family was visiting, they only left the house once. We had everything we needed right there. Everyone kept saying "I feel like I've been here for a week, I'm so rested," and yet it had only been a few days.

We highly recommend this space if you're needing a true respite, self-care, or special moments with your family.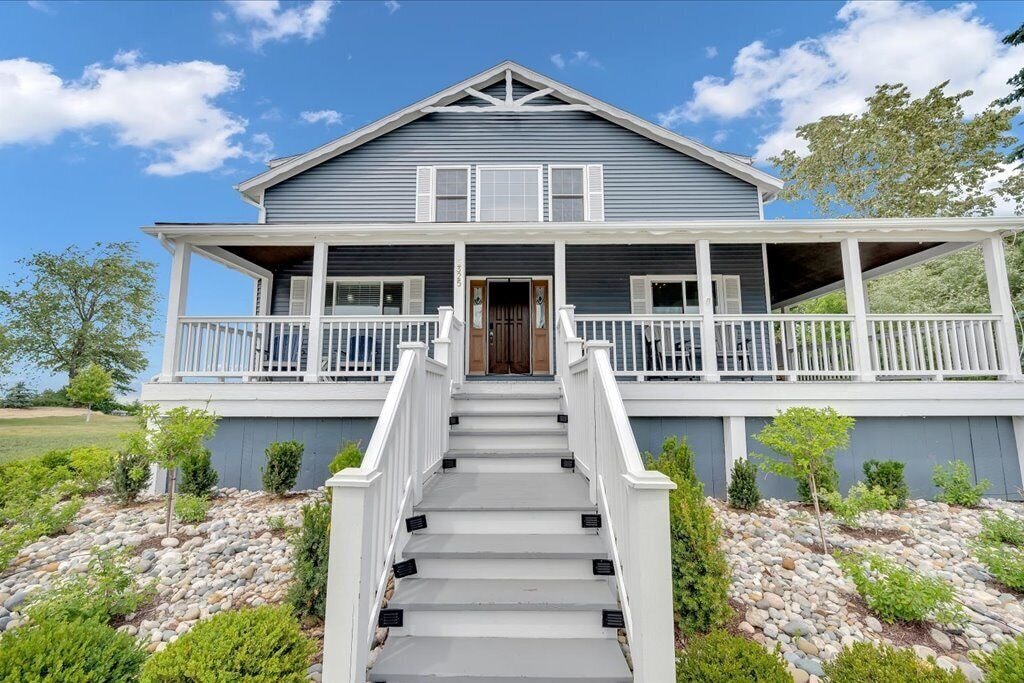 More things people love about this place:

Spacious, Lovely Interiors
• Sleeps 20 comfortably
• Bathroom on every floor
• Very comfortable beds. Everyone said they had a great night's sleep!
• Well-stocked kitchen
• TVs in most of the rooms.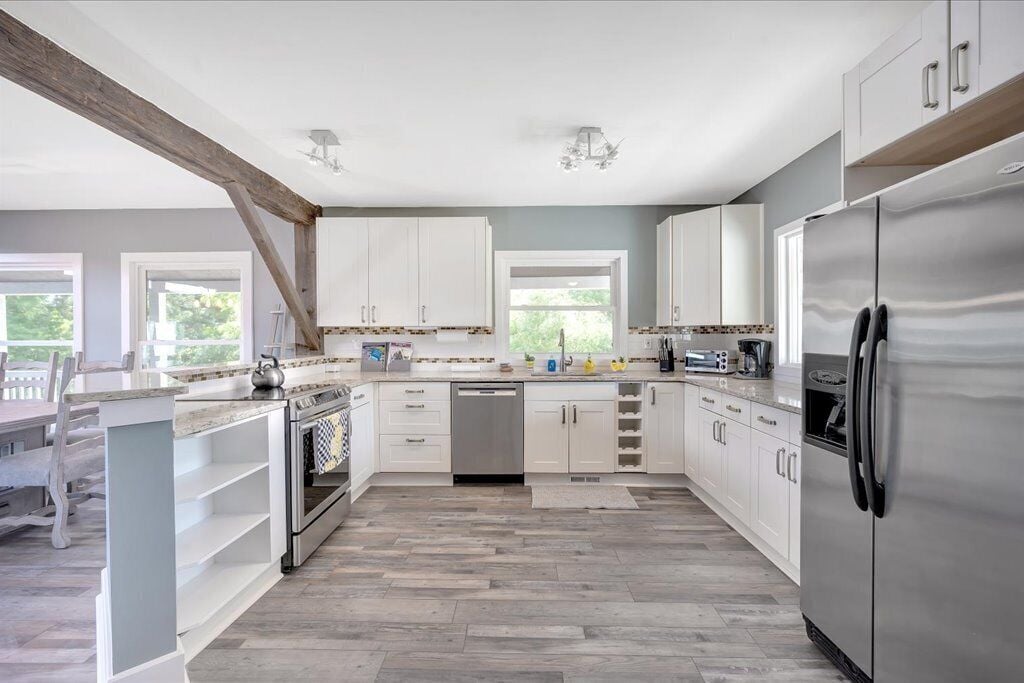 All of the Views!
• Amazing view of Lake Huron in both living rooms, and most bedrooms!!
• Morning coffee views on two porches (one wrap-around) and numerous deck landings =)
• Sunset views from inside the house or out on the beach or deck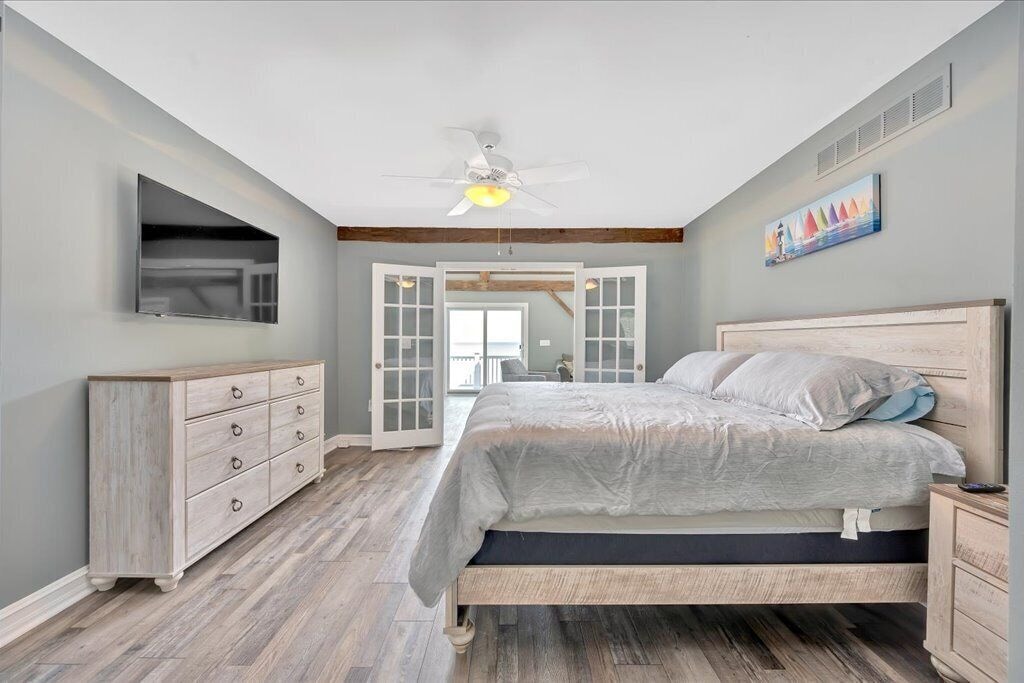 Private Beach & Tiki Bar
• Bonfire pit + Gas fire table in a covered location.
• Tiki Bar with smart tv to make all of your singing and dancing desires come true
• Swimming! Yes, we were surprised to find that shallow waters along the coast are the norm in the Port Austin area.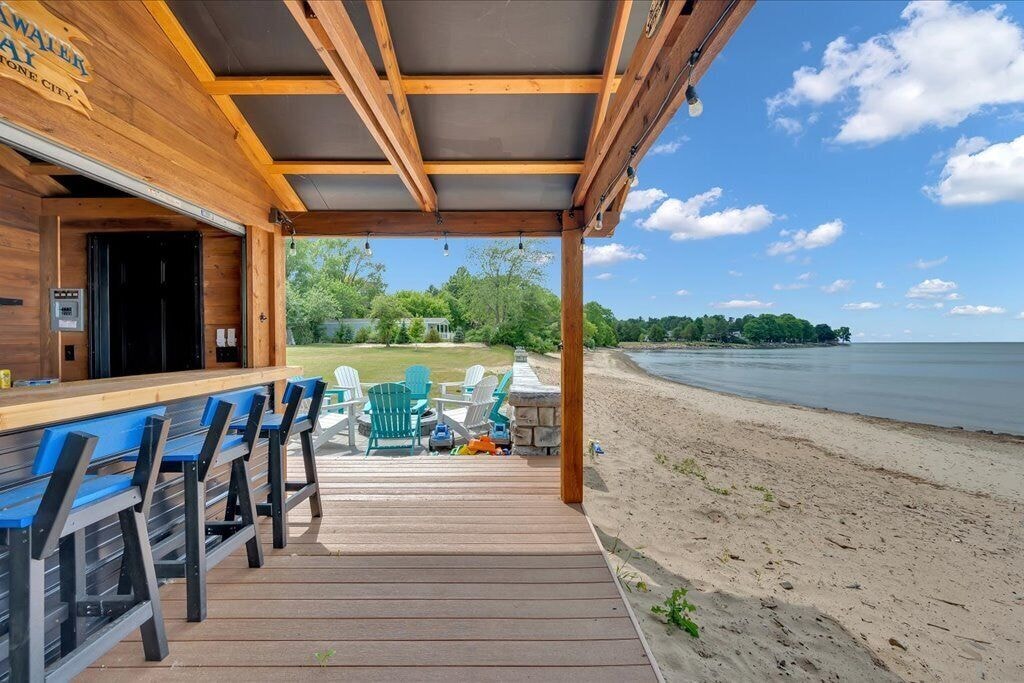 Equipped for – and close to – Fun
• Game room in the garage made it so fun for any type of weather. You can open the garage door or close it during rain or in the evening.
• Fresh Fish marina
• Walk, run or bike at the marina.
• Go out on a charter boat then take it to Days on the Lake and they will cook it right up for you! Both are located directly across the street.
More Places to Stay
Is the Grindstone Beach House booked up?
Here are a few more Port Austin area places to stay:
Best Things to Do in Port Austin
Lake Huron isn't typically known for sugar sand beaches, but in Port Austin, that's just what you get. Marry that with fantastic outdoor adventure, dining, and shopping options, and you'll find yourself wondering just when you can return to this little town on the tip of the Thumb.

Port Austin is a popular summer and fall destination for locals and tourists visiting Turnip Rock, especially in July and August, when the weather and water are the best.

What surprises many people about Port Austin, though, is that it's home to the largest farmer's market in Michigan, and that the market opens in the spring. It runs through summer and into the fall.

Here are the best things to do in Port Austin in the summer, spring, and fall:
1 – Kayak to Turnip Rock
Port Austin Kayak
119 E. Spring Street, Port Austin, MI 48467
Number One on many people's Port Austin list is a trip to Turnip Rock. Sometimes people see photos of Turnip Rock and think they're looking at the Pictured Rocks in the Upper Peninsula. Nope.

Turnip Rock is just off the shoreline in Lake Huron and is a sight to be seen. There's nothing like having your own up-close, face-to-rock, eyes-to-the-sky, moment at the monument.

We're here to tell you that we did this kayak trip and have so much to say. We used Port Austin Kayak but there are other outlets for kayaking in Port Austin as well.

The 4-hour paddle trip starts at $40, and you can choose from many start times.

Although it may have been easier to take a boat to Turnip Rock, we chose the more grounded approach, opting to take the Turnip Rock Trail, a paddling waterway that hugs the rugged, undeveloped shoreline for several miles.

After signing waivers and a brief overview by the staff on how to get to Turnip Rock, we felt ready to start the journey.

We did bring a few things along that were game changers for us and might be for you, too. Our list:

• Waterproof speaker (to set the vibe)
• Drinking water
• Hat (4 hours on the water is no joke, clouds or not)
• Sunscreen
• A packed lunch
• Water shoes
• Dramamine (for those that get seasick)


Paddling to Turnip Rock? Know what you're getting into:
Holy moly, the paddle to and from Turnip Rock trip is long!
There's no way to candy-coat it.

Is it worth it?! Heck yes!!
Go. You'll thank yourself for taking the leap, we promise!

Good to know before paddling to Turnip Rock:
• The water is shallow the entire 4-hour trip.
• There is no tour guide. But, tourists take this loop continuously from 9am – 7pm, making it very clear where to paddle and how to get back.
• When you come across a sand bar, you can get out and swim. This was a welcome relief from the hot sun.

Beyond Majestic
Right about the time we wanted to give up, we passed a few girls who told us "you're right there! It's just around that bend!"

I want to use words like woweeee, majestic, and wonder for what we saw next…but they pale in comparison to what laying eyes on Turnip Rock truly is like in person.

Towering rock formations, sea caves, and rocky cliffs appear as you paddle the shallow waters out to Turnip Rock.

Because this space is protected and is technically located by the shore of private property, they ask that you stay no longer than 15 minutes at the rock.

Don't worry, it's enough time to take it all in.

I would encourage you to stop…breathe…swim…smile…honor…and remember what life's all about here. Living in Lansing, it can be hard to remember that we have nature like this in our state but we do, and it is there for you to explore!

But wait! There's more!!! Paddle about 5-10 more minutes down the shoreline and you'll find mini caves! The cutest little frogs live in the second portion of the caves.

People ask:
Can you hike to Turnip Rock?
No, not that we know of…There is a golf course spanning the coastline and Turnip Rock is smack dab in the middle, off the shore of that private property.

How do you get to Turnip Rock?
You can only access Turnip rock by water. The most common ways are by kayak and boat tours.

Can you see Turnip Rock from land?
No! You can't see Turnip Rock from land. It's set tucked out of view just far enough so that you can't see it from either side of the point.

What is Turnip Rock?
Turnip Rock is a rock formation in Lake Huron, near Port Austin. Made of limestone, it has been shaped into what it is today by thousands of years of relentless wave and wind action.
2 – Port Austin Farmers Market & The Village Green
17 W State St, Port Austin, MI 48467
The Port Austin Farmers Market, with over 50 vendors each week, is of the one of the largest farmers markest in Michigan. Although, I bet Eastern Market, Holland Farmers Market, and a few other Michigan Markets are giving it a run for its money.

If you only hear one message, let this be it: give yourself more time than you think you'll need for a visit to the Farmer's Market & Village Green.

Why?

The market's so large that we found ourselves barely getting past the first round of tents in the hour we had to explore. We were both really disappointed and thrilled all at once because the gems we found were amazing and wouldn't have wanted to spend any less time at each booth.

Produce galore, farm fresh goods, treats, food & snacks, jams, honey, pet items, antiques, African woven baskets, clothes, purses, coffee, and if you can name it, it's probably there.

One of the highlights of the market was the diversity. There were people from all over the world. Hearing many languages spoken, seeing several different types of people and styles made this spot feel safe and like a home away from home.

If you plan to go here, be sure to give yourself lots of time if not the whole four hours so you can enjoy every inch of this unique market that spans two streets and two parking lots!

Farmers Market Hours:
Begins May and runs through Mid-October
Saturdays, Rain or shine, 9am -1pm

Village on the Green Hours:
Mid-May to Mid-Oct
Thurs-Fri: 3 p.m. to 7 p.m. Sat: 9 a.m. to 1 p.m.
The Port Austin Village Green, on the grassy square next to the market, is cuteness overload and we reveled in it all! During the warmer months, little sheds line a section of a parking lot where you can find wine, coffee, goods like purses, clothes, cheeses, and other foods.

They are open Thursday through Saturday.
On Saturdays, the Village Green and The Port Austin Farmers Market blend into each other. These sheds are nestled into the massiveness of the market so if you go on a Saturday between May and October, you can't miss it!

3 – Port Crescent State Park & Dark Sky Preserve
1775 Port Austin Rd, Port Austin, MI 48467
Welcome to one of Michigan's best-kept secrets!

Port Crescent State Park is set along 3 miles of sandy Lake Huron shoreline and like the Dixie Chix say, it has "Wide open spaces!"

Before visiting Port Austin, we researched Port Crescent Park but were on the fence about fitting it into our trip. Then, while eating at Pak's, we met a lady who gushed about the park, ending by saying, "Oh look at me, I must sound like a travel writer." We laughed and responded that we were actually here to write a travel article and promised her we'd go. We're thankful we did!

There's something magical about this spot and I can't wait for you to experience it yourself.

Here's what we loved:
The Beach:
With mini-dunes, shallow waters swimming water along a sandy beach perfect picture spots, this quiet park feels like you're at a private beach.

It's great for families as the shoreline is sandy and not busy, making it easy to keep an eye on kids in the water. Visit this beach to chill and take in the sound of the waves.

Many Types of Camping
At Port Crescent State Park, you can choose from five different cool kinds of camping!
• Geodesic domes
• Full amenity Cottages
• Cabins and Mini-Cabins
• Hammock-only sites
• Modern Campground

It's a Dark Sky Park
If you want to see the northern lights, shooting stars, or constellations, you improve your odds by going to the Port Crescent State Park Dark Sky Preserve.
4 – Bird Creek Park & The Breakwall
8746-8774, Lake St, Port Austin, MI 48467

Bird Creek Park is one of the attractions that is located along Port Austin's shoreline and offers lots of fun including a boardwalk, beach, splash pad and kayaking.

And, calling all runners, this is a great place to run! When we were there at dusk we saw many runners. Just imagine how beautiful an early morning run here could be.

This is also a fantastic place to enjoy the lovely view while casting out your lines to fish.

We found the locals to be very welcoming. Questions like, "What type of fish are you fish'n for today?" or " isn't that view gorgeous?" or "have you been to Pak's yet?" all invited us to dive into this adventure even more.

Bonus: If you end up hungry after exploring this area, have no fear, the local restaurant Pak's Backyard is near!

The Breakwall starts off with a bright steel blue bridge and transitions into a cement walkway with brilliant blue guard rails.

This is a great place for a sunset walk, but don't forget a sweatshirt, light jacket, or perhaps a warm beverage. Even with perfect weather, the wind might come up out of nowhere.

On windy days it's cool to see the wall in action!
While we were there, tall waves crashed into one side of the wall, making fun bursts that brought to mind a firework-like water show. On the other side, the calm waters were only bothered by small ripples. What a mesmerizing contrast.

5 – Huron County Nature Center & Wilderness Arboretum
3336 Loosemore Rd, Port Austin, MI 48467
On the list for a future visit: Huron County Nature Center & Wilderness Arboretum is 280 acres of untouched land set aside for hikes on trails, boardwalks, bird watching, and wildlife viewing. It's located in Hume Township.

Trails are open all year long, from dawn to dusk, and admission is always free.
Also, they often host special educational events.
6 – Boat Rides to Turnip Rock
4265 Lone Eagle Trail, Sand Point MI, 48755
(586) 907-6422
Taking a boat ride out to Turnip Rock is a great option for people who want to see Turnip Rock, but don't want, or may not be able to, kayak.

Turnip Rock Boat Tours operates rides seasonally. In 2022, they were open through Sept 11. Reservations are recommended.

2022 Rates: $60 per person of all ages. Contact Larry at 989-550-9445 for reservations.
7 – PAK's Backyard Restaurant & Beer Garden
119 E. Spring Street, Port Austin MI
PAK's Backyard. Overlooking Port Austin Harbor, this is your place to chill with friends and family.

We loved Pak's so much we went three times. Not due to a lack of options, but because it was so yummy, so convenient, and offered a different experience as the day progressed. Breezy morning coffee vibes, lunch with a view of the water, and dinner under twinkling lights, with live music, brought us back again and again.

PS – If you are a french fry lover this is the place to be! They are not shy with their basket of fries and let us tell you, they do not disappoint!

Here you'll find:
• Food & Coffee
• Bike rentals
•Kayak rentals right next door

8 – Bird Creek Farms
282 Grindstone Rd, Port Austin, MI 48467
An outdoor porch bar with Michigan brews? Yes, please!
Add frog legs, walleye bites, steak frites, perch tacos, quinoa salad, a bucket of donuts – the menu, and tap list here at Bird Creek Farms will keep everyone guessing – and delighted.

Walking onto the farm felt like a home or a happy scene from Anne with an E rather than a business.

I'll set the scene as best I can and the pictures will hopefully transport you as well!

(You should know this place is truly a farm in every sense. Expect chickens, animals, and all the natural things that come with a farm.)

We were met with a 25-minute wait but you can order a drink from the bar and explore the farm while waiting for your table. Waiting doesn't feel like waiting when you're playing corn hole and badminton, visiting the chickens, taking pictures, and watching the sunset with a drink in your hand.

Their food was delicious with lots of options for all types of eaters. I was able to order a gluten-free bun. Some of the fun choices on their menu are frog legs, steak bites, fried halloumi, and grilled hotdogs for the kiddos.

We sat at a large square table that somehow had a round-table feel, giving way to conversations without pause. just an eb and flow of laughter and depth. We laughed together, cried together, then laughed some more – this was honestly the highlight of my trip, learning something new about my lifelong friends. I tell you all of this to say, this space felt safe, inviting, and a place where you'll want to stay and linger.

Time stood still at Bird Creek Farms…and we thank them for that gift.
9 – More Food!
Huron, Sanilac, & Tuscola Counties in Michigan
Port Austin may not have metro city options, but the food choices they do have are on point.

Food options that looked adorable and delicious:
Pirates Cove at Lake Street Local
8706 Lake St, Port Austin, MI 48467
Super cute outdoor patio at night.

The Bank 1884 Food & Spirits
8646 Lake Street, Port Austin, MI 48467

CatBird at the Garfield Inn
8544 Lake Street, Port Austin, Michigan 48467
Farm-to-table menu.

Coffee and Treats:
Green Clean Bean
124 E Spring St, Port Austin, MI 48467
Need a sweet greeting from a dog & a friendly experience, this is your place.

Murphy's Bakery
35 W Spring St, Port Austin, MI 48467
Baked fresh daily!

Anna B's Cafe
42 W Spring St, Port Austin, MI 484

Pak's Backyard has a pop-up coffee bar in the mornings
9 – Thumb Quilt Trail
Huron, Sanilac, & Tuscola Counties in Michigan
While you're driving around the rural area surrounding Port Austin, be on the lookout for Barn Quilts.

There are over 100+ Barn Quilts on The Thumb Quilt Trail to find. Community members regularly create these quilt squares and hang them in prominent places on the outside of notable barns.

The quilt trail helps tell the story of a small agricultural community and to showcase the art, craft, and legacy of quilt making in the Thumb region. Trail Map
Do you have Port Austin tips to add? Drop a comment below – thanks!
About the Co-Author
Rebekah Pumphrey
Rebekah,Michigan born and raised, has an avid love for exploring nature and cities alike. She thrives on running, eating, meeting people, and learning historical facts. Rebekah has two kids and works along side her partner Ozay Moore as the administrative coordinator at Lansing local non-profit All Of The Above Hip Hip Academy.