I Never Thought I'd Need a Cleaning Schedule
But… cleaning with kids around is like brushing your teeth with Oreos.
Before having kids I had a fairly clean house.
Most Fridays you could find me dancing to 80's music with the vacuum and tackling my cleaning to-do list, on a mission to reveal sparkling results…in under an hour. Here's the crazy thing (okay, crazier than that comment about it taking less than an hour): the clean house stayed that way all week! These days might be a little bit different.
Three kids, one husband, a few more square feet of space, and a four-legged barking pet have changed my goal from 'sparkling' to 'good enough.'
For awhile I was ok with the change.
After all, I was a mom and my dirty house was a just sign that it was well lived in. However, I soon discovered that I was either stressing out and wasting valuable time cleaning for hours on end every time someone was going to stop by or bouncing around in cleaning mode all day long, leaving my poor kids in 'wait a minute' mode indefinitely.
It was time for something new.
I Created My Own Cleaning Schedule
I searched online for cleaning schedules to conjure up something brilliant, but what I found only devastated me instead.
The list of 'daily' tasks completely overwhelmed me and made me feel like a failure before I even began. Hopefully, I don't do that to you with this article!
In order to be successful in the cleaning game, I had to create my own plan.
My cleaning schedule incorporates all of the cleaning schedules (weekly, biweekly, monthly, quarterly, semiannually, and annually) into one simple form.
Below you'll see a copy of my personal plan — I encourage you to modify this cleaning schedule to fit your own cleaning style.
If you don't want to dust your living room every Thursday, make it a biweekly occurrence. What matters, in the end, is that you have a realistic, stress-relieving schedule for you.
I'm going to show you how I made my schedule and then give you tools to make your own with our free Cleaning Schedule Template.
HOW IT WORKS
The Secret Cleaning Schedule Sauce: Prioritize and Organize
1) Start By Making a List of What Needs to Be Cleaned
I went room by room and tried to figure out what should be cleaned in each, and how often. I put these on a list.
I didn't go crazy, but I did include things that were a bit out of my regular habit (i.e. cleaning the blinds – the worst task ever.)
2) Break the List Down Into Sections Based on Cleaning Frequency: Weekly, Biweekly, Monthly, and Seasonal
For this step, you need to create new lists from your larger list of cleaning tasks. I started with the weekly items.
SCHEDULING WEEKLY TASKS
I assigned the tasks on my weekly list to separate days of the week. I included two tasks to tackle each day, in addition to one designated load of laundry, under a specific day of the week.
Although most of these chores don't require daily work, they typically should be done once a week to keep the house visitor-friendly.
For me, those things included dusting, vacuuming, cleaning appliances, cleaning bathrooms, etc. I chose tasks that my husband typically assists with on the weekend and we usually bust these out first thing Saturday. These items are shown here (this is the top of my cleaning schedule.)
---
How I Constructed the Rest of the Cleaning Schedule
I broke the remaining chores down into bi-weekly, monthly and seasonal categories and divided them into a four-week rotation.
Doing this is much harder than the cleaning itself, so hang in there. (Going slow here will help you go fast later.)
BI-WEEKLY TASKS
The tasks I added to my bi-weekly list are things that show if I ignore them, but that aren't crucial.
Included are such items as
vacuuming the stairs
washing slider windows
cleaning hand-prints off entry walls
These were added to the schedule on alternating weeks – for example, if you look at the Monday schedule, dust & vac basement is listed every other week.
---
MONTHLY TASKS
Here come the tough guys…the ones I really don't like doing, but really need to be done every once in a while.
These tasks include:
organizing the shoes
organizing the refrigerator and pantry,
cleaning the dreaded blinds.
You can see an example of these tasks assigned to Thursdays – the tasks repeat once every four weeks.
---
SEASONAL TASKS
There were some tasks left that I decided could be done once every few months (and that was being generous.)
Included are:
washing windows
organizing closets
cleaning the oven
vacuuming under cushions
I tried to mix in some easy ones, such as vacuuming under cushions and washing the inside of our garbage bin, so that every weekend I wasn't taking on a major task.
In addition, I left openings in the first weekend of the month for things such as putting up and taking down the Christmas tree, weeding, raking, etc. These are labeled 'SEASONAL' tasks.
Although some months have five weeks, I left the schedule with four, leaving the fifth to catch up or simply relax.
Each column corresponds to a day of the week, with the last column dedicated to weekends.
There are some things that I do daily (i.e. wiping down crumbs, sweeping up dog hair and cleaning dirty dishes,) but I chose not to add those to my schedule. Those undone items staring at me by the hour were reminder enough!
I also tried to group chores by area so that I wasn't running from the bedroom upstairs to the craft room downstairs.
I organized the schedule with the main floor placed toward the end of the week so that it was cleanest over the weekend when we tend to have the most guests.
Reading the Schedule
I post the schedule on our refrigerator and refer to it daily.
If you're looking at it now, you'll see that on the fourth Thursday in January, I dusted the living room, vacuumed the main floor, washed towels, and washed my slider door windows.
Change It Up
If this has completely overwhelmed you, please know that although the initial set-up takes a little time, this has made my family's life so much easier.
There is an expectation that comes every day. The kids know what has to be done. I know what has to be done. It's emotionally rewarding, and when it's done consistently…it gets done so fast!
DOWNLOAD CLEANING SCHEDULE
This is a look at the complete, personalized cleaning schedule.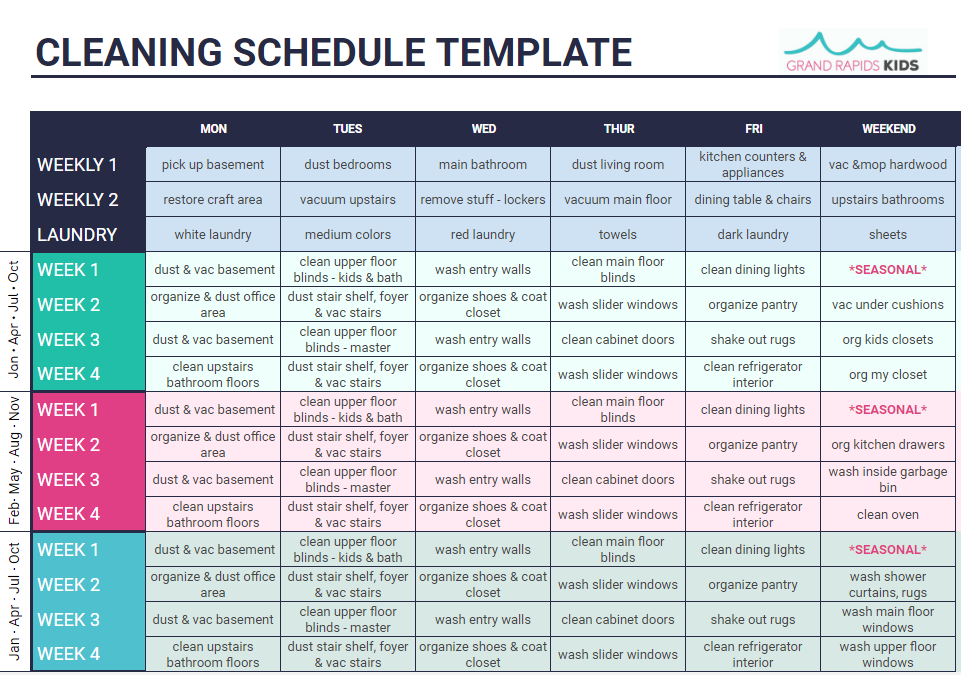 You may download a PDF copy of this version, or you can EDIT and CREATE your own by making a copy of our free cleaning schedule template.
(To use the template, click here. This will open a file in Google Sheets. If you do not have a Google account, you will need to make one. If you do have a Google Account, log in. After that, make a COPY of the file. You may then edit/modify your own copy of the file.)
PRO TIPS
If you do decide to make your own schedule, please remember these things:
1) No one schedule will work perfectly for the same two people. Make it work for you, your house, and your family. This is pretty type A, so if you're not, maybe try something else. Not everybody cares about the dust on their silly dark blinds.
2) Be ok with skipping a day. Skip two. The best part about this is you'll be starting over in a week; so if you don't get it done, you can catch back up soon enough.
3) Involve the whole family. Assign tasks, or let the kids pick their own. By doing so, you are instilling great habits and a sense of responsibility.
4) Remember your goal – mine was to organize my time so that I didn't pull away from my family all day long. The clean house was just a bonus.
Do you have a current cleaning schedule? What does it look like?
If you're looking for a looser cleaning routine for the whole family, try this GET STUFF DONE System for Household Cleanup »