Zoo Goes Boo & West MI Halloween-Themed Animal Events
Get ready, West Michigan, spooky season is on its way and Halloween activities are starting to sell tickets.

Zoo Goes Boo at John Ball Zoo is one of those popular local Halloween events that families return to year after year. Similar "Halloween with the animals" events have also popped up in West Michigan over the past few years.
This year, John Ball Zoo Goes Boo is bigger and better than ever!

Read on to find out about exciting new additions, changes and character visits for 2023.
Zoo Goes Boo is Now Three Weekends of Fun
John Ball Zoo's time-treasured Halloween Zoo Goes Boo event will once again transform the zoo into the ultimate Halloween destination.
Zoo Goes Boo historically ran for the two weekends leading up to Halloween.
But this year, it's running for three!
Zoo Goes Boo will be Fridays – Sundays, October 13 – 29. Families have NINE days to get in on the fun this year!
Watch Out for Whimsical Skeletons and Other Spooky Friends
As you walk the zoo, don't blink or you might miss something!
Amazing kooky (and only a little spooky) decorations and displays line the paths at the zoo.
Displays are different every year, though you can always count on seeing your favorites somewhere in the zoo.
Bring your Halloween Buckets for the Treat Stations
Treat stations will be set up throughout the zoo.
Along with their favorite candy, kids can may also get little toys and other non-food items.
Face Painting, Entertainers & More are at Zoo Goes Boo
Zoo Goes Boo isn't just about the treats. There's also plenty of entertainment.
Kids can get their face painted.
Or watch singers, dancers or a magician.
You may also see your favorite villains roaming the zoo streets.
Don Your Costume
Guests are highly encouraged to get in on the Halloween fun and wear costumes to this Grand Rapids Halloween event.
And costumes aren't just for kids! Adults are encouraged to dress up, too.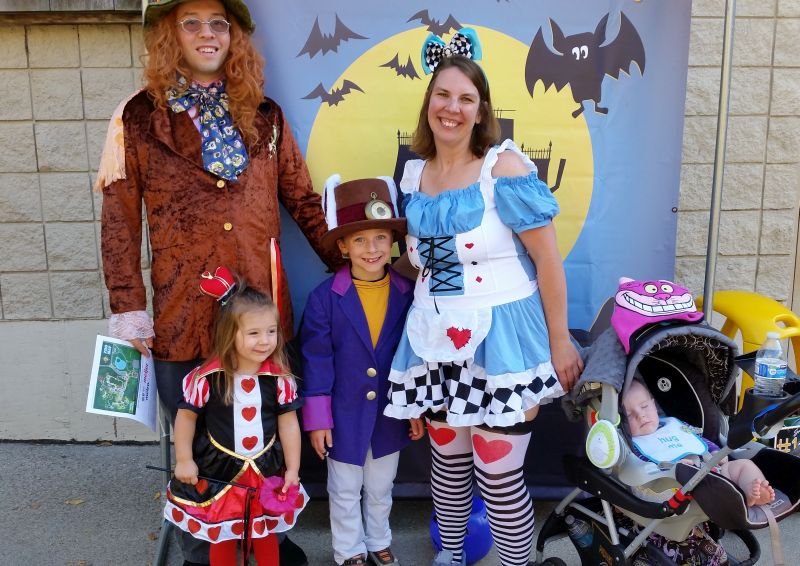 **Please, keep costumes appropriate for a children's event. The zoo also asks that no masks cover faces.
It's Halloween for the Animals, Too!
And of course, don't forget to visit the animals while you're making your way through John Ball Zoo Goes Boo.
They might just be having treats of their own!
Also, John Ball Zoo is always looking for ways to be a friend of the environment, so they request that guests bring their own reusable treat bags or purchase one from their gift shop.
John Ball Zoo Goes Boo 2023 Details
FRI – SUN: OCTOBER 13-15
FRI – SUN: OCTOBER 20-22
FRI – SUN: OCTOBER 27-29
10 AM – 5 PM each day
Adult tickets: $20 (Ages 13-61)
Senior tickets: $15 (Ages 62+)
Youth tickets: $15 (Ages 3-12)
Child tickets: FREE (Under age 3)

Non-members will need to purchase dated tickets for this event, but there is no longer a specified entry time.

Members are free.
Full List of Halloween with Animals Events
Wondering where you can find all the best Zoo Goes Boo events or other places to celebrate Halloween with animals? Check out our full list below!
Did we miss something? Submit your event here.