Fall Comes to Life at Olin Farm in Lowell
If you're overwhelmed by fall activity options—orchard visits, pumpkin patches, cider runs, hayrides and beyond – Olin Farm may just be what you're looking for.
The 120-acre family-owned farm has a less commercial, more intimate vibe that laid-back folk will appreciate.
And because it's located just four miles from both Ada and Lowell, it's easy for many to get to.
We're going to take a minute to talk about what this farm offers and what sets it apart, so you can make the most of your valuable time this fall.
Where Olin Farm Excels
Run by warm and welcoming folks, Olin Farm offers a great experience that's been carefully crafted for visitors.
With over 70 years under the Olin family's belt, this farm is more than just a business—it's a cherished living tradition.
When you visit, look for:
A Standout Pumpkin Patch
If there's one thing Olin Farm absolutely nails, it's the adventure pumpkin patch experience. This isn't just a patch of grass or a field with some pumpkins scattered around; it's an all-out pumpkin-finding event.
Picture a variety of pumpkins, some gigantic, hidden in fields straight out of "Where the Wild Things Are."
You'll want to put on boots (or at least athletic shoes) and wear pants to go hunt in the sprawling pumpkin patch.
Ready? Spend the next half-hour looking under, over, and between the vines. Once you've picked your prize, flag down one of the helpful cart drivers. They'll help you haul your find back to civilization.
Olin Farm's 30-Minute Hayride
Leave plenty of time for this 30-minute roll. Traveling down a rustic two-track through woods and fields, this hayride is not designed for people in a hurry.
Climb a few steps into the back of the hay-lined wagon and pick a seat. The tractor and driver know the way.
Far from city or highway noise, the route lets you focus on the fresh air and lovely views.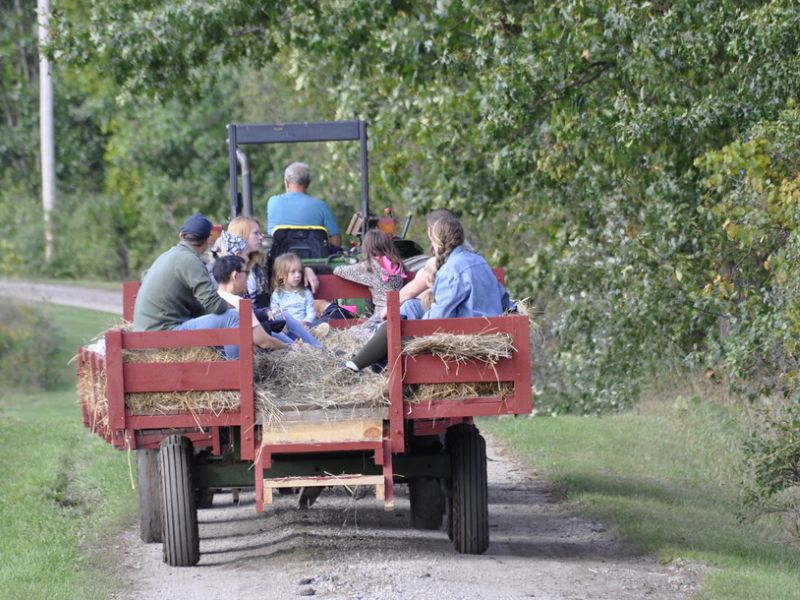 As the wagon climbs up the hill and disappears around the bend, keep your eyes peeled. You might just spot a red fox, known to make occasional guest appearances! The farm offers rides several times a day on fall weekends.
Unique Photo & Hangout Spots – With Donuts & Cider & Clydesdales
When it comes to photo ops, Olin Farms went with "out-of-the-box" for their theme.
From a giant hay-bale Raggedy Andy to a covered wagon and an old-timely log cabin, your camera roll will thank you.
And, while you may not find a bakery or cider mill on-site, Olin Farm offers a cozy, rustic touch that complements its beautiful setting. At the log cabin checkout center, you can pick up locally-sourced apple cider and donuts to enjoy.
Picture this: you're sitting by the fire pit with a cup of warm apple cider in one hand and a delicious donut in the other, all while watching the farm's friendly Clydesdale horses, Moses and Solomon, grazing nearby.
Family-Friendly Corn Maze
If you have younger kids, Olin Farm's corn maze will be a highlight of your visit. While many corn mazes can be daunting or complicated, this one is crafted to offer a fun challenge for younger adventurers.
The maze has a hidden challenge that maze-goers will have to complete to earn a special treat. Be sure to ask about the challenge when you check in for the maze.
Maze Summary
• 2023 Prices: $7/adults, $5/child, 2 and under free; Combo with hayride: $16/adults, $10/child
• Opening Day: September 30, 2023
• maze is good for kids or those wanting an easier maze to complete
Mark Your Calendars
When to Visit
Olin Farm is only open on the weekends (Saturdays & Sundays)
September 30 – October 29, 2023
Noon to 7 PM
What It Costs
Corn Maze: $7 for adults, $5 for kids
Hayride: $10 for adults, $6 for kids
Combo of Corn Maze & Hayride: $16 for adults, $10 for kids
Quick Details
Address: 10991 Vergennes St., Lowell, MI 49331
Contact: (616) 970-3251
Operating Hours: Open Saturdays & Sundays, September 30 – October 29, 2023, Noon-7 pm
Social Media: Olin Farm on Facebook
Summing It Up
Head here for a simpler fall fun experience. Unwind by the fire pit with local apple cider and donuts or meet their friendly Clydesdale horses after you pick a pumpkin or go on a hayride.
Have you had the pleasure of stopping at Olin Farm? We'd love to hear about it in the comments!