Romantic Getaways in Michigan for Couples
If there's anything true today, it's that one size does NOT fit all, and that includes what you might consider a romantic getaway.

Some of us long for a weekend in the city, where others consider the best romantic weekend one spent tucked away, cozied up in front of a fireplace, or lounging on a beach with stunning lake views.

Fortunately, there really is a weekend getaway in Michigan for every couple.

Whether you're looking for an adventurous romantic package or just want to stay in, there's an option for you.
Use this list to find that perfect hideaway cabin in the woods, the best wine country B&B, a room with its own hot tub, or the couples foodie getaway in the city.

Honeymoon, anniversary, or just because – take some time out to enjoy your favorite person and our wonderful state with a visit to one of the most romantic Michigan places around.

(And if you find yourself in Grand Rapids, be sure to consider these date night ideas and date night restaurants for your adventure.)


*feature image is of Delmar Traverse City.
Battle GR Tactical Games
Featured Partner

284 Dodge NE Suite 100, Comstock Park, MI 4932

BattleGR is a fully immersive, hands-on experience where it feels like you have endless options for action.

Have fun with your friends or special sweetheart with laser tag, axe throwing, fowling, basketball or watch your friends play while you enjoy a craft beer or mixed drink from their concessions.
Upscale Romantic Getaways
Treat yourself to the good things in life and splurge a little when you book a getaway at one of these upscale Michigan destinations.

The best in everything from lodging, amenities, and more, these couples retreat destinations are perfect if you want all of your whims and wishes take care of.
UPSCALE ROMANTIC GETAWAYS - Lower Peninsula
3600 Village Harbor Dr, Bay Harbor, Petoskey, MI 49770

What Makes it Romantic
Nestled upon the alluring shores of northern Michigan, lies a place like no other: the majestic and romantic Inn at Bay Harbor.

Heralded as one of Travel + Leisure's Top 500 hotels in the world, this modern resort oasis spins luxurious comfort with a welcoming smile and gracious hospitality that lets you know you have arrived somewhere special: a place you want to call home.
The Rooms
Choose from Hotel rooms, Hotel Suites, and Cottages.

All accommodations have been recently renovated and offer top of the line amenities.

Look for a room with a fireplace, jetted tub, or private balcony as your preferences dictate.
Weekend Getaway Tips
Try dinner for two at their intimate restaurant, Vintage Chophouse.

Set in a beautiful lakefront location central to local wineries, ski resorts, quaint shopping districts, and more!


UPSCALE ROMANTIC GETAWAYS - Lower Peninsula
39475 Woodward Ave, Bloomfield Hills, MI 48304

What Makes it Romantic
The reimagined boutique property formerly known as the DoubleTree by Hilton Bloomfield Hills is now The Kingsley, offering an elevated guest experience perfect for couples.

With contemporary interiors, featuring edgy original artworks by Yigal Ozeri and Peter Tunney, think super Instagrammable!

Romantic highlights include the stunning and intimate outdoor courtyard with firepits, as well as Bloomfield Hills' only indoor saltwater pool and spa oasis for all your pampering needs.
The Rooms
Each of the contemporary style guest rooms include a spacious sitting area, plush bedding and high speed internet access.

Rooms are adorned with boldly patterned carpet, modern artwork and design touches such as upholstered headboards and midcentury furnishings.
Weekend Getaway Tips
Make use of the hotel's stand-out dining experiences:

- The Duke Lounge, a premier bourbon, whiskey, and tequila lounge that serves hand-crafted cocktails and superior wines.

- Zalman's on Woodward, an upscale, trendy 50's style diner designed with a modern spin.

- Joe Muers, serving Michigan's freshest seafood delicacies.


UPSCALE ROMANTIC GETAWAYS - Lower Peninsula
515 Williams St, South Haven, MI 49090

What Makes it Romantic
Old Harbor Inn is all about the location, location, location.

Located on the Black River, visitors love the river and harbor views and watching the drawbridge at work.

They also love that adventure is only steps away. Find beaches, a lighthouse, shopping, dining and more all within walking distance.

Old Harbor Inn means days full of exploring, and lazy nights watching the river or hopping in the jacuzzi.
The Rooms
Spacious rooms with jacuzzis are available, so you can cozy up with your favorite person when you're done lounging on the deck or finding adventure downtown.

Old Harbor Inn is known for comfortable, clean accommodations.
Weekend Getaway Tips
Being downtown, Old Harbor Inn doesn't offer parking, so plan to find your own nearby.

There is free parking around the corner, but in peak months spots could take a minute to find.


UPSCALE ROMANTIC GETAWAYS - Lower Peninsula
187 Monroe Ave NW, Grand Rapids, MI 49503

What Makes it Romantic
The historic Pantlind section of the hotel wins when it comes to character and ambiance.

Many onsite restaurants are destinations in and of themselves.

Get the special code to speakeasy balcony bar IDC, or ride the elevator to the 27th floor for skyline views while you dine at MDRD.

The spa & salon is an escape, too. How about a massage for two?
The Rooms
Rooms range from Classic Guest Rooms to Luxury Suites and can be located in either the historic Pantlind Wing or the Glass Tower.

Modern design, great views, and plush bedding are standard here.

Luxury suites come with larger spaces and extraordinary views.
Weekend Getaway Tips
Staying in the heart of downtown Grand Rapids is something special.

Beyond the hotel walls, you'll find museums, walking paths, murals, Rosa Parks Circle, and a load of nightlife.

Great restaurants surround you as well. It's hard to be bored with you're in Grand Rapids.


UPSCALE ROMANTIC GETAWAYS - Lower Peninsula
14710 Northwood Highway, Arcadia, MI 49613

What Makes it Romantic
This small, upscale lodge is located at the Arcadia Bluffs golf course on windswept bluffs overlooking the spectacular Lake Michigan shoreline.

As a guest, you have access to the bar, deck, restaurant, and the amazing Adirondack chairs by the 18th green.

This is the perfect weekend getaway if you're looking for great restaurants, great sunsets, and great golf.
The Rooms
There are 15 rooms in the Lodge at Arcadia Bluffs, located on the second level of the Nantucket coastal style clubhouse.

Each guest room is furnished with a king bed, desk and chair, flat screen television, stand up shower, and a private walk-out porch.

Ten of the rooms face west with breathtaking views of Lake Michigan, while the other five offer sunrise views.
Weekend Getaway Tips
If you enjoy golf, this is a beautiful, challenging course. You can add-on a round to your weekend stay, if desired.

Special Occasion Food & Beverage packages also are available, including Chocolate Covered Strawberries, Sparkling Wine & more.

In addition to golf, enjoy dinner at the lodge restaurant. Head into downtown Frankfort for some shopping and follow that up with drinks in the Adirondack chairs on the 18th hole.

Watch the sunset and definitely stay for the bagpiper as he plays til the sun goes down.


UPSCALE ROMANTIC GETAWAYS - Upper Penisula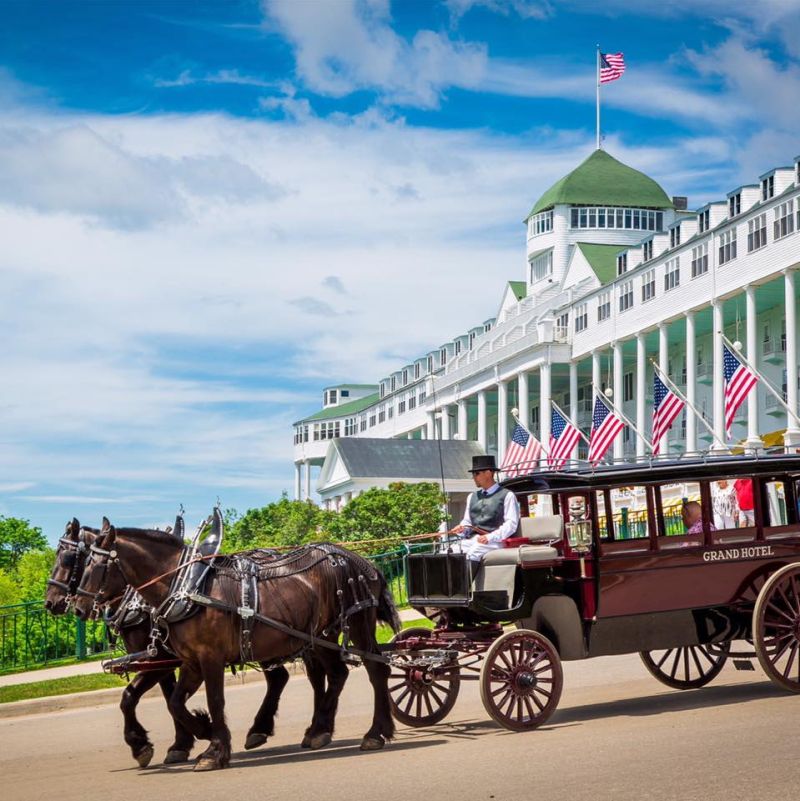 286 Grand Avenue, Mackinac Island, MI 49757

What Makes it Romantic
Grand Hotel has been welcoming guests to Mackinac Island in Northern Michigan since 1887.

Located on a bluff overlooking the Straits of Mackinac there is no better way to spend your day than in a rocking chair on the world's longest porch.

Bikes and horse-drawn carriages are the favored modes of transportation - there are no cars allowed on Mackinac Island.
The Rooms
Rooms, Suites, Named Rooms, and Cottages have been colorfully decorated and no two rooms are alike.

Every room showcases a specific theme, brought to life with colorful décor, historical memorabilia, curated paintings, and distinctive furnishings.
Weekend Getaway Tips
A weekend getaway on Mackinac Island should be filled with bike rides, carriage rides, historical tours, and time on the porch.

Swim, golf, explore the gardens, play lawn games and pickleball - there are so many things to do here!


UPSCALE ROMANTIC GETAWAYS - Lower Peninsula
235 Louis Campau Promenade, Grand Rapids, MI 49503

What Makes it Romantic
Out of the two upscale hotels in downtown Grand Rapids, the JW Marriott is the on-trend, up-to-date option.

Their 23-floor riverside location means that most rooms have spectacular city views.
The Rooms
The rooms here are thoughtfully decorated with amazing bedding.

Pictured here: King Guest Room - Grand River Corner View.

It has an oversized tub in addition to the fantastic view.

No matter which room you choose, the JW is known for its hospitality and offering a quiet retreat for those who want to getaway from life's bustle.
Weekend Getaway Tips
If you're at the JW, you're in the heart of GR and can walk to most everything.

Try new restaurants, walk the river, take in a show, tour the murals, visit a museum, shop Monroe Ave... just leave time to relax in your room or the Spa, too!


UPSCALE ROMANTIC GETAWAYS - Lower Peninsula
What Makes it Romantic
Set in the heart of Charlevoix, this beautiful hotel offers an unforgettable experience.

The thoughtful design of wood and stone is woven throughout the rooms, while the modern amenities including a hot tub and indoor pool sets the stage for a relaxing getaway.

Conveniently located within walking distance from Michigan Beach Park and to the shops and restaurants downtown, guests are able to enjoy all that Charlevoix has to offer.
The Rooms
Each spacious room is air-conditioned, has a flat-screen TV, and a private bathroom with a shower.

Guests are invited to enjoy the indoor pool and spa-inspired hot tub, with highly rated staff at the 24-hour front desk service, and free WiFi throughout the property.

The suites come with a deck and beautiful views of the surrounding area.

Many guests enjoy getting drinks at the lobby bar and spending time at the lounge.
Weekend Getaway Tips
Visit the magical "gnome homes" on the Mushroom House Tours--a definite must-see in Charlevoix!

Enjoy fun water activities at Michigan Beach Park, or take a different mode of transportation and appreciate the views aboard a boat.

Take a break from the lake and check out the cute local shops and eateries downtown. Everyone is bound to find something to enjoy in Charlevoix.


Romantic Winery Getaways
Weekend getaways for couples don't get much better than taking up residence at a winery.

Vineyard stays on Leelanau Peninsula and Old Mission Peninsula invite you to traipse through the vineyard with a glass of bubbly in hand.

Or share a charcuterie board with fruit, wine and cheese.

Or sit on the deck and sink into views of Grand Traverse Bay.

There's no wrong answer.



Chateau Chantal on Old Mission Peninsula

A couple's getaway to the wine regions of Michigan simply can't be beat. Here's where to book your next romantic stay:
WINERIES - Lower Peninsula
15900 Rue de Vin, Traverse City, MI 49686

What Makes it Romantic
Some of the best views in Traverse City are right here at Chateau Chantal.

It's a wonderful place to drink wine, relax, and soak up the views.

You're right in the middle of the vineyard and winery when you stay at this little B&B. The breakfasts are divine.
The Rooms
Most of these tastefully furnished rooms are equipped with whirlpool tubs and granite wet bars.

Some rooms have a fireplace and just one comes with sweeping views of the area. Rooms, suites, or apartment-style accommodations are available.
Weekend Getaway Tips
Book your room and then choose an add on package like the Celebration Package.

Champagne, flutes, fresh flowers, a gourmet chocolate assortment, and dinner at a local restaurant will all be waiting for you when you arrive.


WINERIES - Lower Peninsula
0844 E Revold Rd, Suttons Bay, MI 49682

What Makes it Romantic
To start, it's nestled in the heart of Michigan's Leelanau Peninsula Wine Country.

A stay at the B&B Inn includes a farm-fresh breakfast, wine hour at night, and access to the sauna room and hiking trails.
The Rooms
Large contemporary, private rooms. Some with fireplaces, others have outdoor patios.

A complimentary bottle of house wine, as well as robes for use during your stay, are provided.
Weekend Getaway Tips
Special events and themed packages are held throughout the year.

Choose one of these for an amazing weekend where all of the preparation has been done for you.

In the winter, choose the fat tire and snowshoeing package. In the summer, pick the bike and paddle package.

Or, go all out with the Ultimate Experience package that includes an in-depth cooking demo, guided tour, wine tasting, and a three-course wine-paired dinner. Oh, and gourmet breakfasts are included as well.


WINERIES - Lower Peninsula
12301 Center Rd, Traverse City, MI 49686

What Makes it Romantic
Contemporary rooms in a vineyard setting on Old Mission Peninsula, The Inn at Chateau Grand Traverse is a friendly, welcoming escape.

The many windows and wraparound porch allow incredible views to take center stage.

And... Adults only, please. If you're looking for a break from children, this is your place.
The Rooms
Six rooms are available for rental.

Rooms include a microwave and refrigerator. A deluxe self-serve breakfast is provided.
Weekend Getaway Tips
Follow their Facebook page or sign up for their newsletter to be alerted to special events like Corks and Forks, where wine, lodging, food, and stunning views come together.

You'll also want to take in one of their free vineyard tours.


Historic Romantic Getaways
If the walls could speak!
Steep yourself in history when you book a room at one of these cultured, old places.

When you book one of these weekend getaways for couples you are stepping into a story and making it your own. How romantic!
HISTORIC ROMANTIC GETAWAYS - Lower Peninsula
250 West Larned Street, Detroit, MI 48226

What Makes it Romantic
Choose the Detroit Foundation Hotel for its great location and historical significance.

This historic (built in 1929) fire-station-turned-boutique hotel scores top marks in the romantic getaways category for so many reasons, including:

- impeccable service
- chic furnishings
- a swanky bar/lounge
- world-class restaurant

Plus, it's located in the heart of downtown Detroit, surrounded by restaurants, cultural attractions, and the Detroit Riverwalk.
The Rooms
There are 100 lovely rooms in this unique hotel, each filled with beautiful details.

Choose from a variety of guest rooms, the majority featuring a luxurious king-sized bed with reclaimed wood headboards.
Weekend Getaway Tips
When you're staying here, be sure to make a reservation for the on-site restaurant, the Apparatus Room.

It's a great place for breakfast, dinner, and cocktails. Open Wednesday-Sunday.

Take advantage of the hotel's great location while you're here - it's is perfect for hanging out downtown

If the weather is nice, rent bikes from the hotel and ride them to Campus Martius and the nearby Detroit Riverwalk.

You're also close to many museums, attractions, and sporting venues. Make reservations at your favorite and have a blast.


HISTORIC ROMANTIC GETAWAYS - Lower Peninsula
8567 Portage Point Dr, Onekama, MI 49675

What Makes it Romantic
It's nestled on a peninsula between Lake Michigan and Portage Lake.

The historic Inn has sat for more than a century and was designed by the same people that designed Mackinac Island's Grand Hotel.

Plus, the Infinity Pool is to die for!
The Rooms
All rooms are condos or cottages.

Choose the Avalon Cottage for the most up-to-date, cute little cottage right in the heart of it all.
Weekend Getaway Tips
You're on the famous M-22 scenic route when you stay here.

Head up to Sleeping Bear Dunes, tool around Manistee - this is a delightful part of Michigan for outdoor activities any time of year.


HISTORIC ROMANTIC GETAWAYS - Lower Peninsula
What Makes it Romantic
The attention to detail and historic charm of this rustic, yet modern, loft space will make you never want to leave.

Restored 110-year-old hardwood maple floors add warmth and character to the space.

Bonus - the loft has NO NEIGHBORS for the ulitmate private location.
The Rooms
Rent the whole loft or just one side. In total, the loft is 2,260 sq ft of space.

One side features a chef's kitchen, while the other side has a lovely bedroom with a mini-kitchen.

Both sides have their own bathroom and everything has the same handmade, reclaimed, upscale decor.
Weekend Getaway Tips
Restaurants, outdoor activities, wineries and breweries, plus a variety of cultural attractions are drawing people to this waterside town in record numbers.

Surrounded by quaint shops, cafes, restaurants, bars, coffee shops, parks, theaters, farmers market, and more, the loft is convenient to just about anything you could want or need when visiting Downtown Traverse City.

The rustic/modern loft space is located just behind Front Street, a short block from public beaches at Clinch Park and West End Beach on the west arm of Grand Traverse Bay.

You are steps away from everything that Downtown Traverse City has to offer.


HISTORIC ROMANTIC GETAWAYS - Lower Peninsula
624 W Alexandrine St, Detroit, MI 48201

What Makes it Romantic
El Moore dates back to 1898 when it opened as a luxury apartment building for well-to-do Detroiters.

After many ups and downs, it's been rehabbed into sustainable, urban apartments and a guest lodge.

The updates are thoughtful and tasteful.
The Rooms
Most rooms are perched atop the building. You could even stay in a Rooftop Urban Cabin.

Most all have expansive windows with a private balcony. Panoramic views of downtown Detroit are part of the package.

Rooms have been decorated with many reclaimed items and custom features.
Weekend Getaway Tips
When you stay here, you are staying within reach of all of the amazing things Detroit has to offer.

Head downtown to Campus Martius Park, watch a ball game, ride the Dequindre Cut, visit museums, tour murals, eat all of the food... so many things to do in this wonderful city!


HISTORIC ROMANTIC GETAWAYS - Lower Peninsula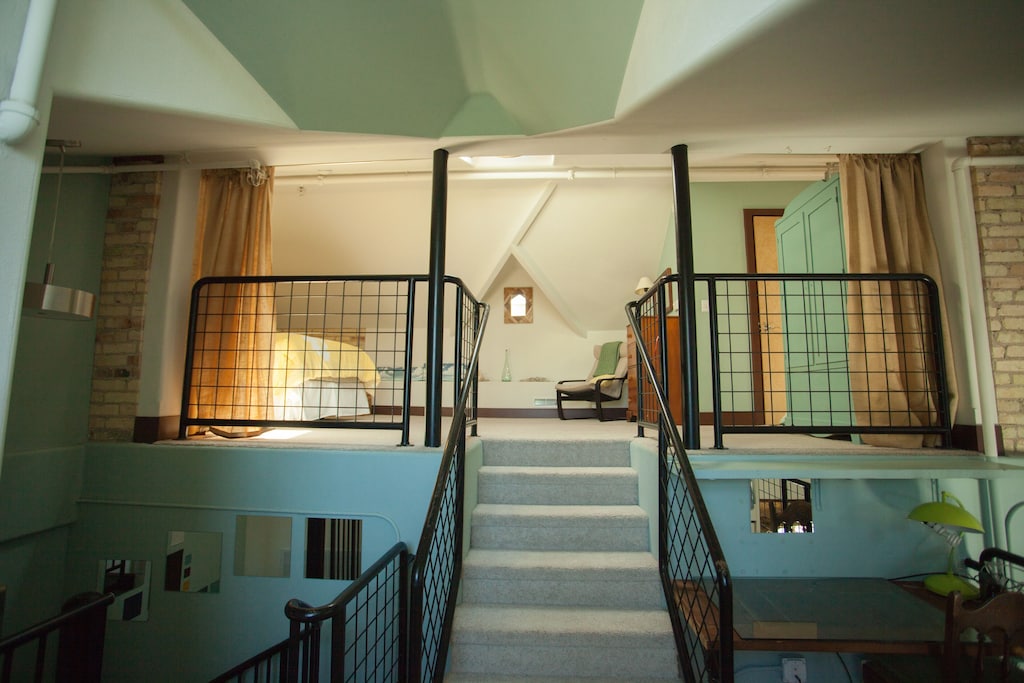 What Makes it Romantic
You get your own room in a place loaded with history.

This is the perfect getaway located just 2 miles from the beaches of Grand Traverse Bay and picturesque downtown Traverse City.

Located in the center of the Commons, overlooking the park-like grounds and sitting 2 floors above world-class dining, shops, art gallery, salons, and coffee shops.

Hiking and biking are available right outside your room, too.
The Rooms
A luxurious loft condo located in the heart of the Village at Grand Traverse Commons.

The place is a 790 square foot upscale, modern studio with 18-foot ceilings, an efficiency-style kitchen, beautiful bamboo flooring, all on the top floor.

Up the spiral staircase, the 10x9 ft mezzanine/office divides the living room and bedroom (trundle bed, 2 twins).

The large loft style bedroom has full bath, queen bed and two skylights. Two original dormers provide tons of sunlight.
Weekend Getaway Tips
Traverse City is the hub of Northern Michigan.

Head downtown for shopping and restaurants, hit the beach, go sailing, bike riding, or skiing in the winter.

There's usually something going on around town, too, whether a festival, play, or community happening. Be sure to visit the Farmers Market on the weekend and try as many different restaurants as you can - TC is a foodie destination!


HISTORIC ROMANTIC GETAWAYS - Lower Peninsula
4127 N M-75, Walloon Lake, MI 49796

What Makes it Romantic
Spacious and comfortable rooms enjoy the charm and hospitality of the early nineteenth century along with the comforts of every modern amenity at this boutique hotel settled against the breathtaking backdrop of Walloon Lake.

(4) Daily Food Presentations in our Lobby Area, including light breakfast items, fresh fruit and snacks throughout the day, hors d'oeuvres in the evening provided by the Walloon Lake Inn, followed by a dessert presentation.
The Rooms
32 unique guest rooms decorated with vintage elegance.

Heated marble bathroom floors, plush terry cloth robes, heated outdoor spa, and complimentary valet parking make this place a sought-after destination.
Weekend Getaway Tips
Centrally located between Petoskey, Boyne City, Charlevoix, Traverse City and Mackinaw, Hotel Walloon is the perfect "home away from home" to enjoy all the adventure Northern Michigan has to offer.

When you book, look for the Romantic Getaway package. It includes chilled sparkling wine, decadent chocolate assortment, 10 flameless tealight candles, a bouquet of fresh flowers and scattered rose petals.


HISTORIC ROMANTIC GETAWAYS - Upper Penisula
21830 S Birch Lodge Dr, Trout Lake, MI 49793

What Makes it Romantic
Cuddle up in the updated 1912 historic lakefront lodge or mid-century modern motel building in the Upper Peninsula.

The 1964 vintage motel has been decorated with 60s furnishings.

You'll be treated to a luxurious experience that lets you reconnect while you disconnect from daily demands.

Take in a gorgeous sunset or get cozy around the bonfire.
The Rooms
Described by the destination as "boutique hospitality," the rooms are up-to-date, yet down-to-earth.

The rooms in the motel are classic 60s style, while the rooms in the inn are fashioned to the early 1900s.
Weekend Getaway Tips
Come prepared to spend some time outside - it's gorgeous here.

Use the lodge's kayaks or paddle boats on Trout Lake or snowshoe trails in the winter.

Day trips to Tahquamenon Falls, Paradise, and Whitefish Point make fun excursions.

Sign up for their newsletter to get special offers and seasonal tips sent your way.


Unique Romantic Getaways in Michigan
Why sign up for a cookie-cutter vacation when your romantic weekend getaway could be one of a kind?

Hidden gems at boutique hotels and other specialty lodging locations are scattered across Michigan just waiting to be discovered. Use this list to find your next special weekend away.
UNIQUE ROMANTIC GETAWAYS - Lower Peninsula
What Makes it Romantic
Pack your bags for a magical stay at this historic stone cottage on Lake Michigan in a prime historic Charlevoix location. Built by Earl Young, this 2-bed, 2-bath vacation rental boasts stunning Lake Michigan views. This cozy 1928 cottage gem promises an unforgettable stay.
The Rooms
Master Bedroom: King Bed | Bedroom 2: Queen Bed
Crack open one of the arts and crafts-style windows to let the fresh air drift in, or simply step out to the deck to kick back in an Adirondack chair! While you're outside, throw some burgers on the gas grill for a quick, summery meal! The gourmet kitchen is fully equipped.
Weekend Getaway Tips
When you're not lounging in the house, tour past the other Mushroom Homes nearby, peruse downtown Charlevoix 1 mile away, tour Castle Farms, take a ferry to Beaver Island and relax in your paradise Up North.


UNIQUE ROMANTIC GETAWAYS - Lower Peninsula
What Makes it Romantic
This beautiful private island property with stunning views and luxurious amenities is the perfect getaway.

Relax on your very own private island paradise in upper Michigan.
The Rooms
This place is spacious! You could easily make this a couples weekend away with other adult friends.

Leave the kids home with grandma or bring them along - there are 3 bedrooms in the upscale log cabin if you want to share the space.
Weekend Getaway Tips
Bring everything you'll need foodwise for your weekend away - you're on a private island!

Everything else is right at your fingertips. Rent a pontoon boat for island cruising - the lakes are fun to explore, and you'll need a way to motor back and forth to the dock, anyway.


UNIQUE ROMANTIC GETAWAYS - Lower Peninsula
What Makes it Romantic
This magical hobbit house is one of the whimsical stone cottages in Charlevoix designed by architect Earl Young.

Enjoy the beautiful view of Lake Michigan, the lighthouse, and breathtaking sunsets in the evenings.
The Rooms
This cozy 2 bedroom mushroom house has everything guests need for a comfortable stay.

Find luxurious linens and towels, firewood and kindling, free wi-fi, books, music, two flatscreen TVs with Charter cable and DVD player, kitchenware, beach chairs, plus an endless supply of hot water.
Weekend Getaway Tips
Half House is just a couple blocks away from downtown Charlevoix, so guests can easily experience the quaint village shops and dining options.

If you're looking to enjoy the outdoors, there's also a lovely nature trail close by that would be a quiet place to go for a walk.


UNIQUE ROMANTIC GETAWAYS - Lower Peninsula
133 Evergreen Avenue, East Lansing, MI 48823

What Makes it Romantic
Across the street from the scenic Michigan State University campus and overlooking Spartan Stadium, The Graduate mixes classic style and campus spirit, with nods to MSU icons.

Couples will want to check out the Rock Bar, their rooftop bar and lounge, for bites, brews and 360 degree views of MSU.

Whether you're in town rallying for a Spartans win or exploring campus, the warm, friendly and whip-smart staff will make you feel like a local, even if it's your first time in town.
The Rooms
Guest rooms celebrate the region's flora and fauna with pops of pine and classic plaids. Discover custom art inspired by MSU traditions and campus legends.

Alumni will want to check out the Campus rooms - these are a Spartan's ideal home away from home, with a view of the campus.

Head back to the glory days of college with a few creature comforts you didn't have the first time around, such as HD TV, complimentary WiFi, RightWater canned water and Malin + Goetz Toiletries.
Weekend Getaway Tips
Turn back the clock and embrace the local collegiate vibe with the vintage upscale college dorm feel.

Despite no parking, the hotel is walking distance to MSU campus, restaurants, bars and shopping.

Popular points of interest near the hotel include Wharton Center, Michigan State University and Spartan Stadium.


UNIQUE ROMANTIC GETAWAYS - Lower Peninsula
1509 Broadway St, Detroit, MI 48226

What Makes it Romantic
The Siren hotel is perfect for couples. A gorgeous boutique hotel created in Detroit's Wurlitzer Building, the glorious art deco decor charmingly reflects the building's history.

Perfectly situated to explore downtown Detroit and with a quirky, vintage vibe to die for, the beautifully appointed rooms definitely have the romantic wow factor.
The Rooms
It is an old building, so the rooms are on the small side. But what they lack in size, they more than make up for in character, stylish furnishings, comfy beds, and stunning custom terrazzo-tiled bathrooms with large walk-in showers.
Weekend Getaway Tips
Don't miss The Siren's very own cocktail lounge, the Candy Bar, serving handcrafted drinks in opulent surroundings. Relax into the plush pink seating and admire the chandeliers and disco ball, whilst sipping on your drinks.


UNIQUE ROMANTIC GETAWAYS - Lower Peninsula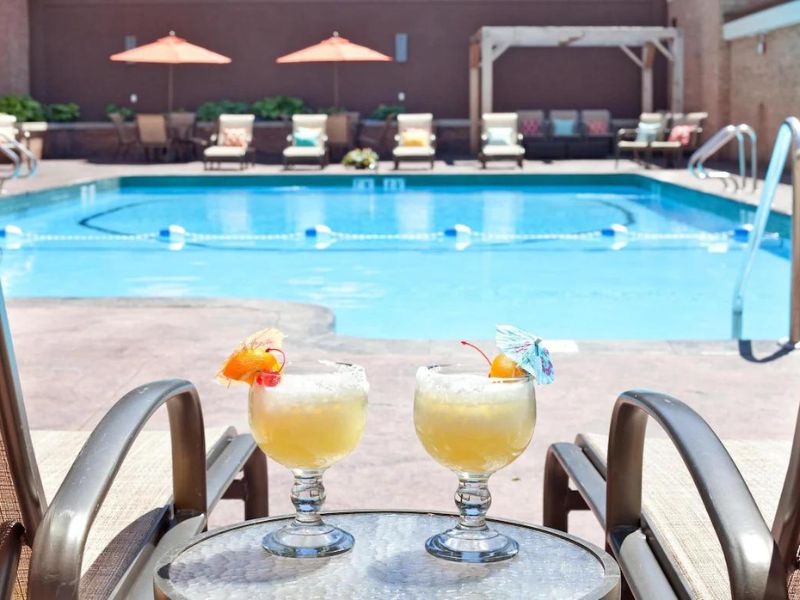 615 E Front St, Traverse City, MI 49686

What Makes it Romantic
The heated outdoor pool is lit with string lights at night, making it quite romantic. Cooler months see outdoor heaters and fireplaces that lend ambiance to a visit, too.

That plus the bayside location, waterfront views, and evening music on the patio are the cherry on top.
The Rooms
Rooms are modern and lake view rooms are available - be sure to ask for a view when booking!

The hotel was renovated a couple of years ago.
Weekend Getaway Tips
The Delmar is located on the water in downtown Traverse City. It's a short bike ride to the restaurants on Front Street.

Be sure to make reservations for any of the sit down restaurants you'd like to eat at - they are often at capacity, especially on the weekends.

If you have a chance to go for a boat ride, take it!


UNIQUE ROMANTIC GETAWAYS - Lower Peninsula
62 Dunkley Ave, South Haven, MI 49090

What Makes it Romantic
Step back in time when you stay in the historic Caboose Inn.

Located next to the draw bridge on the Black River, you can watch the boats slip by while sipping your morning coffee.

These accommodations also feature an in-ground heated pool, private parking, decks, covered porches, and more.
The Rooms
Enjoy the novelty of sleeping in refurbished Cabooses from the 1920s or the Pomeroy Building, located at the original train depot in downtown South Haven.

Sleeping up to two people, these rooms offer one Queen-size bed, kitchenettes, small living areas, and both Cabooses have an attached screened-in porch.
Weekend Getaway Tips
If the caboose is not for you, consider a stay at their parent hotel - the Old Harbor Inn.

Staying at either puts you in the heart of South Haven, a lovely Lake Michigan town.

If weather permits, book a romantic sunset sailing adventure as part of your weekend getaway.

Ready to book? Click on the "Queen Studio" option in the booking link to pick your caboose.


B&B Romantic Getaways
Bed and Breakfasts come in so many shapes and flavors.

Do you like Victorian lace, or do you prefer something modern?

Would you like to book the spa suite?

Do you want to interact with your host/hostess, or would you prefer a more private experience?

Keep these variations in mind as you choose your couples getaway stay. The one thing you can expect are scrumptious breakfast provisions.
B&B ROMANTIC GETAWAYS - Lower Peninsula
900 5th St, Bay City, MI 48708

What Makes it Romantic
This historic bed and breakfast specializes in romantic getaways.

Their accomodations are anything but cookie cutter.

Do yourself a favor and take a look at their amazing suites.

Then book a room, let them know you are coming and they will take care of the rest!
The Rooms
If you can, stay in the newest room - a 5 room suite named "The Keep."

It's luxurious and romantic, a blend of old and new - with a real fireplace at your bedside.
Weekend Getaway Tips
When you rent "The Keep" Suite you will have access to the entire lower level.

This includes the 2 room bedroom area with gas fireplace and sleeping for up to 4 guests.

You also have unlimited access to the exclusive spa/sauna room and a separate bar area.

A gourmet, made from scratch breakfast & welcome basket are included, too. They deliver breakfast to your room at no extra charge.


B&B ROMANTIC GETAWAYS - Lower Peninsula
3124 N US Highway 23, Oscoda, MI 48750

What Makes it Romantic
This B&B is on the shores of Lake Huron and was designed specifically for romantic couples' getaways (no kids allowed!)


They serve a delicious breakfast, too.
The Rooms
King-sized beds, private outdoor hot tubs or indoor jacuzzi tubs, waterfront rooms, private decks, spectacular sunrises... these are all available at Huron House Bed & Breakfast!
Weekend Getaway Tips
Order flowers and the couples massage in advance.

Plan to enjoy the hot tub, walk the beach, and spend time at the beachside firepits.


B&B ROMANTIC GETAWAYS - Lower Peninsula
233 Dyckman Avenue, South Haven, MI 49090

What Makes it Romantic
Located in South Haven, Inn at the Park is conveniently just a block away from Lake Michigan.

This modern luxury inn is inspired by the Victorian era complete with antiqued decor.

With each of the spacious suites featuring a fireplace, this bed & breakfast is the perfect place for a romantic getaway.
The Rooms
All of the suites features a cozy fireplace, and select suites also include a whirlpool Jacuzzi.

Guests can enjoy a gourmet breakfast in the outdoor breakfast bistro or the bright breakfast room with a great view of the garden.
Weekend Getaway Tips
Inn at the Park is centrally located so guests can easily enjoy all that South Haven has to offer.

Or stay at the inn and relax with a "Pamper Yourself Massage Package" which includes a massage, chocolate-covered strawberries, and bath salts.

Add a bottle of champagne to make your stay even more special!


B&B ROMANTIC GETAWAYS - Lower Peninsula
1100 South Harbor Drive, Grand Haven, MI 49417

What Makes it Romantic
This small five bedroom Bed & Breakfast sits atop a sand dune and overlooks Lake Michigan, the pier, and the lighthouse in Grand Haven, MI.

Plus, they are directly across the street from the beach, which you can see from the fabulous deck.
The Rooms
Rooms vary by lake view, size, and bathroom amenities, but all are tastefully decorated and come with a fresh-made breakfast.
Weekend Getaway Tips
Grand Haven is a summer dream! Check the festival schedule to see if you're in town during one of the area's big productions.

Otherwise, enjoy the charming shops, expansive Lake Michigan beach, and be sure to eat at the The Toasted Pickle!

Bring your bikes for an easy ride into town.


B&B ROMANTIC GETAWAYS - Lower Peninsula
473 Blue Star Hwy, South Haven, MI 49090

What Makes it Romantic
This 1852 South Haven home has been lovingly restored.

Guests staying in the Main House enjoy a seated, served breakfast each morning on antique china with silver, crystal, and cloth linens.

The charming little town of South Haven itself is a romantic destination. A room at this hideaway amplifies it moreover.
The Rooms
Rooms are either in the Main House or Guesthouse.

Each room has a private bath and fireplace. Many rooms have 2-person whirlpool tubs.
Weekend Getaway Tips
Go for one of the packages to up the romance factor! Perhaps an in-room massage?

Or, choose the The "Make It Special" package, which means your room will have chocolate-dipped strawberries, a cheese tray, and wine standing by - in addition to rose petals on the bed!


B&B ROMANTIC GETAWAYS - Lower Peninsula
226 N Bridge S, Bellaire, MI 49615

What Makes it Romantic
Up North small-town charm combined with remodeled rooms add to the romance of Stone Waters Inn.

The B&B is situated on a river and is also right downtown, so you can walk to the local shops and brewery (Short's is amazing) or just lounge waterside.
The Rooms
The Inn's 10 unique rooms have different themes, views, and amenities.

Check for jacuzzi tubs, riverside views, and balcony or patios when booking.
Weekend Getaway Tips
This B&B is in downtown Bellaire, a cute small town Up North that happens to be really close to fantastic year-round mountain biking and downhill skiing.


B&B ROMANTIC GETAWAYS - Lower Peninsula
900 Lake St, Saugatuck, MI 49453

What Makes it Romantic
Slip away to this stylish boutique hotel with beautiful views of Lake Kalamazoo.

Enjoy the homemade gourmet breakfast delivered directly to your guest room (at a time of your choosing) along with the tempting desserts in the evening that follow.

Special Packages like a Dozen Roses, Chocolate Dipped Strawberries & Prosecco, or a Local Cheese Board can be added on to your weekend getaway.
The Rooms
Each of the 17-rooms at this bed & breakfast feature a:

- spa tub for 2
- fireplace
- flat-screen TV
- gourmet in-room breakfast
- concierge services
Weekend Getaway Tips
The Hotel Saugatuck is located on Michigan's Art Coast, close to downtown Saugatuck and Douglas.

The B&B is at the gateway of Saugatuck's Historic District, which will remind you of vintage, small-town America.

Bring your shopping shoes, because you're in walking distance of many unique shops, art galleries, and fine-dining establishments.


B&B ROMANTIC GETAWAYS - Lower Peninsula
9076 Helena, Alden, MI 49612

What Makes it Romantic
These delightful accommodations come with scrumptious breakfasts.

Tucked away in the quaint Northern Michigan village of Alden, Harvey Bartel's Inn has stolen the hearts of travelers.

Show up here and you're instant family. Spend time exploring nature at your doorstep or relaxing in your room.
The Rooms
Each of the five rooms features private baths, comfortable beds, and tasteful decor.

Two have a spa tub, most have fireplaces and private decks. One apartment-style room is available.
Weekend Getaway Tips
If you're visiting in the summer, take advantage of the Inn's proximity to Torch Lake.

Tennis courts in the park are just across the street.

The village of Alden provides a public dock and boat parking, an adorable general store, a bar and restaurants, a coffee cafe, a small museum, hiking trails, and unique gift shops.

Rent a boat for a day, try paddling, or just browse the shops. This is one of Michigan's undiscovered hidden gems.


B&B ROMANTIC GETAWAYS - Lower Peninsula
506 S Oakland St, Saint Johns, MI 48879

What Makes it Romantic
A stay in this historic 1861 home is far beyond the typical hotel lodging experience. You will be surrounded by history while feeling like you're relaxing in the home of a close friend, with attentive innkeepers, Kjersten & Greg, ensuring your visit is everything you dreamed about.

Curl up with a book in the library, relax in the sitting room by the fire, watch the world go by on one of the porches with a coffee, or wash away your cares in your own jetted tub. Bliss!
The Rooms
The inn features seven spacious guest suites all named after different colors and beautifully decorated accordingly.

Each suite includes a private ensuite bathroom, smart TV, complimentary fiber optic Wi-Fi, ceiling fan, central air conditioning and heat.

Each bathroom features a jetted tub, walk-in shower, plush towels, toiletries and hair dryers.
Weekend Getaway Tips
Special mention for the Pink Pumpkin room. This charming suite has a white wrought iron bed, and exclusive use of a private outdoor balcony. You can even request breakfast in bed!

Looking for something a bit different? The Nordic Pineapple offer special events throughout the year, including euchre tournaments, murder mystery weekends and newly introduced Pizza Fridays with handmade pizzas cooked in the B&B's own wood-fired oven.

For a truly romantic night away, book the Stargazer Package, which includes a blanket, bottle of wine, cheese and crackers or hot chocolate and cookies, plus a detailed stargazing map with all the key nearby places for night sky viewing.


B&B ROMANTIC GETAWAYS - Lower Peninsula
565 W West Branch Rd, Prudenville, MI 48651

What Makes it Romantic
The Springbrook Inn rests on 5 beautiful wooded acres of pines, and is located near Houghton Lake, Michigan's largest inland lake, Higgins Lake and St. Helen Lake.

The Inn offers 7 luxury rooms, an outdoor all-year-round tiki bar, lovely perennial gardens, and a beautiful koi fish pond with waterfall and gazebo.

This ultimate luxury inn is just what you need to rekindle the romance and rejuvenate yourselves.
The Rooms
Springbrook Inn has 7 luxury rooms, each with king size bed, fireplace, bathroom, balcony and HDTV/Cable.

Every morning includes a delicious hot breakfast served right to your door!
Weekend Getaway Tips
Book either the Forest View or Au Sable rooms to enjoy your own private hot tub.

Treat yourself to an in-room massage, champagne and chocolate strawberries from the romantic extras options.

Hop over to The Frog Tiki Bar for delicious food and drinks (don't miss the strawberry margarita), with live music every Saturday night!


B&B ROMANTIC GETAWAYS - Lower Peninsula
4417 Trillium Ridge, Central Lake, MI 49622

What Makes it Romantic
This spacious and charming bed and breakfast is located on Torch Lake with spectacular views.

Relax and enjoy the beautiful lake on kayaks and paddle boards.

Watch sunsets on a boat, from the hot tub, or the deck overlooking the water.
The Rooms
Comfortable king suites, some with private deck areas.
Weekend Getaway Tips
Torch Lake and surrounding area offers many opportunities for shopping and antiquing, resting and relaxing.

Water rec includes boating, swimming, sailing, wind surfing, canoeing, fishing, kayaking, biking and hiking.

Check out the best ways to experience Torch Lake: https://grkids.com/torch-lake-michigan-guide/


B&B ROMANTIC GETAWAYS - Lower Peninsula
512 Albert Ave, East Lansing, MI 48823

What Makes it Romantic
This B&B is a hidden gem in East Lansing.

Decorated in an up north lodge style, you'll feel like you are getting away from it all.

The Inn Keepers get rave reviews for their attention to detail and kindness too.
The Rooms
All rooms include a fireplace, whirlpool jacuzzi, and private patio, plus they serve full made-to-order breakfasts every morning!
Weekend Getaway Tips
Book the romance package. It includes wine, cheeses, strawberries, cookies, crackers, and chocolates.

Then, spend time discovering Lansing - walk the river trail, discover new restaurants, explore MSU's campus, listen to live music, tour the capital, take in a show...

Lansing may be a smaller town, but there's a lot going on here.


Hideaway Romantic Getaways in Michigan
If DO NOT DISTURB is your idea of the perfect weekend getaway in Michigan, you'll want to pick a place from this list.

Most listed are cabin or cottage rentals tucked away on their own little parcel of land, building privacy into your stay.

Some are located in remote parts of Michigan, while others may be in cities or towns but still offer a good deal of solitude.
SECLUDED ROMANTIC GETAWAYS - Lower Peninsula
What Makes it Romantic
Located on a half-acre wooded property, this charming cottage has original pine floors from the 1920's but also has modern touches of romance and has a hot tub and screen-off porch.

The Cottage in the Pines was even featured in Better Homes and Gardens magazine a few years back where it was called "The cutest getaway cottage ever".
The Rooms
The cozy lofted bedroom is tucked away up a narrow staircase with 2 beds.
Weekend Getaway Tips
This cottage offers the privacy and seclusion of a retreat in the woods, where couples can enjoy breathtaking sunsets and walks on the nearby beaches.

There are restaurants, art galleries, and shops just a short drive away, so guests are sure to find everything they need during their stay.


SECLUDED ROMANTIC GETAWAYS - Lower Peninsula
11456 Marsh Rd, Shelbyville, MI 49344

What Makes it Romantic
The NEW cottages at Bay Point Inn are great for a romantic getaway!

It is far enough from the hustle and bustle of city life that it feels like you have escaped but the drive from Grand Rapids is easy.

Being near the water and able to enjoy the beautifully kept grounds is great for couples to unwind and relax.
The Rooms
The Deluxe Suite, Lakeside Ultimate Suite as well as each Woods Cottage is equipped with cozy furnishings (oh, the beds!!!), extra seating, and a fire place.

The Ultimate Suite has an in-room jacuzzi and a luxury three-sided fireplace.

The pool and hot tub are indoors which makes it great year-round.
Weekend Getaway Tips
The Terrace Grille serves wonderful food in a beautiful setting.

In the summer there is often live music lakeside under the tent.


SECLUDED ROMANTIC GETAWAYS - Lower Peninsula
What Makes it Romantic
Secluded cabin on the river perfect for a couples getaway.

Peaceful and quiet in the woods, surrounded by lakes and rivers.

Kayaks available at the cottage.
The Rooms
2 bedrooms in a lofted upstairs, with a queen bed and 2 twins.
Weekend Getaway Tips
Close to Ludington, Manistee, and Traverse City for day trips in to explore the neighboring towns and all they have to offer.


SECLUDED ROMANTIC GETAWAYS - Lower Peninsula
What Makes it Romantic
Tiny home perfect for 2 tucked away in the woods of Harbor Country.

Original pine floors and architectural details that date back to the 1920's.

Private hot tub, screened porch and a 4 block walk to the beach.
The Rooms
2 beds located up stairs in the loft
Weekend Getaway Tips
Enjoy Harbor Country's breathtaking sunsets, pristine beaches, outstanding restaurants, art galleries, and shops.

Warren Dunes State Park is right next door, and the beach is about a four block walk from the cottage.


SECLUDED ROMANTIC GETAWAYS - Lower Peninsula
What Makes it Romantic
Follow a wooded path to a secluded cottage constructed of stone and reclaimed wood to this cute, tucked away modern gem. The cottage is not far from Lake Michigan and St. Joe - and it's right in the middle of wine country.
There are nice hikes and breweries are nearby as well.
The Rooms
The home is airy and bright. The kitchen is well-stocked. The fieldstone fireplace is lovely, and there is a patio with outdoor seating and a grill. The backyard has a firepit.
Queen beds are in each of the bedrooms.
Weekend Getaway Tips
Because you're off the beaten path, you're going to want to bring food along for your stay. Plan to go wine tasting, hiking, or just stay in and enjoy the cottage.
*There is a highway nearby. Read the reviews to make sure you're satisfied with the arrangement before booking. Many people have no problem with this.


SECLUDED ROMANTIC GETAWAYS - Lower Peninsula
1997 Morris Dr, Niles, MI 49120

What Makes it Romantic
These luxury accommodations are tucked away, nestled in a breathtaking setting on a Southwest Michigan historic farm.

Add the riverside terrace overlooking the St. Joseph River and lush rooms and you've got a romantic weekend away.
The Rooms
Rent the full house, a suite, or a cabin in the woods. This destination was made for couples.

The suites are spacious with either a king or queen bed. Views and amenities vary by room.
Weekend Getaway Tips
Spend time exploring the little trails and pathways around the estate.

Enjoy the outdoor hot tub, onsite massage services, riverside patio, and games.

And for a totally secluded vibe, try their rustic (on the outside) Red Inn cabin.


SECLUDED ROMANTIC GETAWAYS - Lower Peninsula
What Makes it Romantic
Part of historic Bird Center Resort.

Screened in porch and chairs on the deck with a partial view of Lake Kalamazoo, outdoor hot tub, and a gas grill.

Two bikes available with the unit.
The Rooms
Studio space with a kitchenette, queen size bed, and TV with DVD player and cable.
Weekend Getaway Tips
Located just three blocks from all the shops, restaurants, and galleries of downtown Saugatuck, and just 5 minutes to any area beach.

Walk or ride bikes into downtown or to the beach.


Map of Romantic Getaways in Michigan
Romantic Getaways Near Me