Trip Planner: Best Things to Do in Kentucky with Kids

feature image is Red River Gorge
Looking for your next family getaway? Kentucky is the hidden gem of Midwest vacations and needs to be on your short list. There are things to do in Kentucky with kids at any time of year.

No matter what the kids love to do, you'll find something fun and exciting in Kentucky – from zipline adventures to horseback rides, hikes to bikes, and all kinds of on-the-water adventures.

Kentucky family attractions include aquariums, amusement and water parks, zoos, and adventure parks where kids can dig for dino fossils and hunt for gems.
And when it comes to finding your perfect home base for adventure, there are countless hotels, lodges, campgrounds, cabins, and other places to stay that can accommodate families of every size.

Read on to learn about 22 fantastic things to do in Kentucky with kids.
Kentucky's Location
Kentucky is that state just north of Tennessee that serves as a gateway to the south for many midwesterners.

Located along the west side of the Appalachian mountains, Kentucky's natural northern border is the grand Ohio River.

Many of you have driven through Kentucky on the way south and now you're going to see why Kentucky is an even closer destination that's loaded with great weather and fun. We just saved you some gas money!


What is Kentucky known for?
When people think of Kentucky, iconic images of horse racing and the Kentucky Derby, bourbon, and Louisville Slugger baseball bats come to mind.

Beyond that, Mammoth Caves National Park is a famous Kentucky place most people have heard of or have visited.

Kentucky's nickname, the Bluegrass State, comes from the bluegrass found in many of its pastures.

Famous people born or raised (or both) in the Kentucky include pioneer Daniel Boone, athlete Muhammad Ali, movie star George Clooney, musician Loretta Lynn, and president Abraham Lincoln.
What is the best time of year to visit Kentucky?
You'll find great things to do in Kentucky with kids year-round.

That said, spring and fall are wonderful times to visit if you enjoy bursts of color. Fall colors typically peak in Kentucky around mid-October.

The weather changes with the seasons in Kentucky, and sometimes, from hour to hour on a given day.

Expect warm summers (87 degrees ave high) and moderately cold winters (23 degrees ave low). Snow and ice do visit the region on occasion, but it's nothing like the snow or cold experienced by the north.
22 Things to Do in Kentucky with Kids

We're pretty sure we've found some of the best things to do in Kentucky with kids.

Read through this list of 22 ideas and see which resonate with your family. At the risk of sounding cliché, there really is something for everyone!
1 – Mammoth Cave National Park
1 Mammoth Cave Parkway, Mammoth Cave, KY 42259-0007
Heading to Mammoth Cave National Park is one of the most popular things to do in Kentucky with kids.

Mammoth Cave National Park is the largest-known cave system in the world with 400 miles explored to date. The park was established to preserve the cave system, nearby scenic river valleys, and a portion of the hilly country of south central Kentucky.



The park offers hundreds of miles of nature trails and rivers to explore

Mammoth Cave may be explored through a variety of guided tours and Ranger-led programs. When you go underground on a cave tour, you'll see amazing rock formations like Frozen Niagara and even an underground river (the River Styx).

Park admission is free, but fees are charged for camping and cave tours – and cave tours sell out well in advance, so reservations are strongly recommended.




Along with awe-inspiring underground tours, the park offers hundreds of miles of nature trails and rivers to explore. Your family will love hiking, horseback riding, biking, picnicking, camping, canoeing, fishing and more, in and around the park.

You can stay overnight in Mammoth Cave National Park at one of three campgrounds or the Mammoth Cave Hotel. Reservations required.

Nearby, more cave fun can be found in the towns of Cave City and Horse Cave.
2 – Hidden River Cave & The American Cave Museum
119 E. Main St, Horse Cave, KY 42765
Speaking of underground adventures, there's also a cave hiding in the middle of Horse Cave, Kentucky. It's open for exploration and you can choose how adventurous you'd like your visit to be.

If you choose a tour, you'll climb down lots of steps to an underground river and learn from the well-trained guides as you go.

Visit the cave and you can walk across the world's longest swinging underground bridge or zipline across or rappel past the cave's sinkhole entrance.

Be sure to visit the American Cave Museum before leaving town – it's the only museum of its kind in the US, dedicated strictly to caves and issues surrounding caves.

3 – Dinosaur World
711 Mammoth Cave Rd, Cave City, KY 42127
Get face-to-face with life-sized dinosaur replicas at Dinosaur World in Cave City.

Where else can you dig up a life-size dinosaur skeleton in the Boneyard, learn about fossils, and walk through Mammoth Gardens among 150 larger-than-life dinosaur replicas? These interactive exhibits are sure to capture your kids' imaginations (and yours!).

The dinosaur models, up to eighty feet in length and based on the latest scientific discoveries, are made of fiberglass, steel, and concrete. The lifelike dinosaurs are arranged in groups in a variety of settings.

Before you leave, be sure to spend time playing on their dino-themed playground.

4 – Kentucky Down Under Adventure Zoo
3700 L and N Turnpike Rd, Horse Cave, KY 42749
Spend the afternoon at Kentucky Down Under, an Australian Animal Park in Kentucky that is all about hands on adventure.

Located in Horse Cave, this amusement park gives families the chance to pet kangaroos in the Outback, feed colorful Rainbow Lorikeets and Australian Budgies, help with chores at the wool shed and learn about life on an Australian sheep farm.

Visitors can also play a didgeridoo while learning about Aboriginal culture and attend hands-on animal shows.

Bonus: You can go 'Down Under' and take a 30-minute guided Mammoth Onyx Cave tour (it was discovered by a young girl in 1799).

5 – Louisville Zoo
1100 Trevilian Way, Louisville, KY 40213
Level up your your travel adventure with a visit to the Louisville Zoo, where you'll get a close-up view of more than 1,700 exotic animals in naturalistic habitats on 134 rolling acres.

This iconic stop is one of the most beloved things to do in Kentucky with kids.

Get close to an Amur tiger during a training demonstration or spend time watching gorillas play at Gorilla Forest. Or sign up for the Sloth Experience, where you'll have an encounter with Sunni the Sloth, photo ops included.

Also, don't miss the Zoo's newest exhibit – the polar and grizzly bear habitat.

In addition to seeing animals, visitors are also invited to experience their dynamic 4-D theater, ZooTram, a High Adventure Ropes Course, and a children's waterpark.

Playgrounds, the African petting zoo, gift shops, restaurants, and fun rides on an antique carousel are more things to look forward to.

This Kentucky zoo has everything kids and parents could ask for!

6 – Belle of Louisville
401 W. River Rd., Louisville, KY 40202
You can step onto the oldest Mississippi River-style steamboat in the World, the Belle of Louisville, and go sightseeing.

Built in 1914, this steamer is a National Historic Landmark. Going on the riverboat and having dinner is one of the great things to do in Kentucky with kids.

Visitor opportunities include weekend sightseeing and meal excursions, Memorial Day through the end of October. Check their website for an up-to-date cruise schedule.

7 – Louisville Slugger Museum
800 W. Main St., Louisville, KY 40202
This tour packs a punch. It's not too long (a little over 30 minutes) and it's interesting, making it one of the best things to do in Kentucky with kids.

The Louisville Slugger Museum & Factory guides visitors through the process of making the Official Bats of Major League Baseball, starting with how they select the trees used in making the bats.

Informative and educational, even for those that aren't big baseball fans, the Louisville Slugger Museum is a hit with everyone.

While you're there, you can also see the World's Biggest Baseball Bat and get a free mini-bat at the end of your tour.

Bonus: Create your own personalized full-sized bat at the museum store.

8 – Kentucky Horse Park
4089 Iron Works Parkway, Lexington, Kentucky 40511
If horseback riding is on your list, visit the Kentucky Horse Park just outside of Lexington for trail rides and pony rides.

Bonus: This expansive, picturesque working farm doubles as an equine theme park.

You'll learn about Kentucky's famous horse culture firsthand: get up close and personal with many breeds of horse, visit museums and take barn tours and horseback tours through 1200 acres of lovely rolling hills.

All of this, plus the kids barn and playground, make a stop at the Kentucky Horse Park one of the fantastic things to do in Kentucky with kids.

9 – Old Friends Thoroughbred Retirement Farm

1841 Paynes Depot Rd, Georgetown, KY 40324
After giving their best on the race track, thoroughbred race horses are cared for at this 136-acre Thoroughbred Retirement Farm sanctuary.

Get up close and personal with racings stars like Silver Charm (Kentucky Derby winner) or Popcorn Deelites (star of the film Seabiscuit).

Old Friends tours will have you interacting with the horses and learning their stories. Visitors are provided with carrots to feed the horses as you walk through the farm.

The $25 general guided walking tour is 1.5 miles long and takes you to 10-15 retirees.

If Old Friends Thoroughbred Retirement Farm is on your list of things to do in Kentucky with kids, please know that tour reservations are required and only children ages 10 and up are permitted.

10 – Newport Aquarium
1 Levee Way, Newport, KY 41011
Newport Aquarium is very family-friendly and exciting, making it one of the top things to do in Kentucky with kids.

There's a reason the aquarium has been ranked among the top aquariums in the country – it has 70 exhibits and 14 galleries, including five see-through, walk-through tunnels!

You can touch a shark, turtle or stingray, play in the interactive frog bog and even pet a penguin during the Penguin Encounter.

Each day begins with a special penguin parade, a show featuring one of the aquarium's African Penguins. There are dive shows, feedings and 'meet the biologist' sessions scheduled throughout the day, too.

The bridge over the shark tank is a family favorite.

Plan to spend at least 1.5 hours on your visit. You'll likely stay much longer.

Newport Aquarium is open 365 days of the year and is only two minutes from downtown Cincinnati, Ohio.

11 – Earthjoy Treehouse Adventures
3400 Bridgeville Rd, Brooksville, KY 41004
Looking for an incredibly cool, incredibly unique outdoor adventure for your family? Check that box with a visit to Earthjoy Treehouse Adventures in northern Kentucky (near the Indiana/Ohio/Kentucky state line).

Choose your level of adventure, from staying in a treehouse to participating in tree climbing adventures and tree climb training.

Guided canopy tours are available for children, teens and adults. Contact them to learn what the best tour is for your group. They will take you safely, step by step into the trees where swinging in tree chairs, surfing branches, and high-up hammocking await.

It safe to say that this is one of the most thrilling things to do in Kentucky with kids.

When you return to land, enjoy hiking the trails through 200 acres of rolling woodlands.

12 – Ark Encounter
1 Ark Encounter Drive, Williamstown, KY 41097
The jaw-dropping, bible-scale replica of Noah's Ark is tucked away in Williamstown, KY, and is home to a hands-on animal park.

Ark Encounter features a full-size Noah's Ark (largest timber-frame structure in the U.S.) that was built according to the dimensions listed in the Bible.

At 510 feet long, 85 feet wide, and 51 feet high, this is one of the Northern Kentucky Biblical Wonders.

For an immersive encounter, sign up for the 4K virtual reality experience. Visitors travel back to the time of Noah, visually experiencing the ark via a state-of-the-art VR headset. A moving seat, coordinated with what you see and hear, adds to the sensory adventure.

13 – Smothers Park
199 West Veterans Blvd, Owensboro, KY 42301
Smothers Park is in the mid-sized Kentucky town of Owensboro and is a wonderful example of how a public space can transform an area.

In 2012, the riverfront park was renovated and expanded as part of a multi-million dollar upgrade. At five acres in size, it spans five city blocks.

The park now features:
– An outdoor children's museum and award-winning, huge playground with accessible overhead ramps
– Splash pad
– Three signature fountains with shows every 15 minutes
– A cascading waterfall
– Concessions
– Riverside porch swings for adults
– Concert pavilion

Smothers Park is a true hidden gem and one of the must-do things to do in Kentucky with kids.

14 – Kentucky Kingdom & Hurricane Bay
937 Phillips Lane, Louisville, KY 40209
With more than 70 rides and attractions, including six world-class roller coasters, a huge water park, children's rides, games, shows, and so much more, Kentucky Kingdom is one of the favorite things to do in Kentucky with kids.

King Louie's Playland, the special children's area in the park, is one of the largest in the country, with more than a dozen beautiful rides geared to kids. Many of these rides allow parents to ride along.

To top it all off, there's Hurricane Bay, a huge water park the whole family can enjoy!

Hurrican Bay has two wave pools, over a dozen water slides, plus an adventure river and a lazy river.

In the summer, animal shows round out the experience.

Kentucky Kingdom opens weekends in April and is open daily starting Memorial Day weekend. Visit their website for the complete operating schedule, ticket prices, and other information.

15 – Beech Bend Raceway, Amusement Park & Splash Lagoon
798 Beech Bend Rd, Bowling Green, KY 42101
This family destination repeatedly appears among the Top 5 Friendliest Parks from Amusement Today magazine, likely due to their shorter lines and lower prices compared to the huge theme parks.

It doesn't hurt that visitors also get free parking, free sunscreen and free inner tube use, either.

Favorite amusement park thrill rides include Michael Jackson's Sea Dragon ride and the Kentucky Rambler (the most twisted wooden roller coaster in seven states.)

The most recent thrill ride addition: the VORTEX. On this ride, visitors sit in a revolving swing that rises 60 feet into the air, reaching a gravity-defying 240 degree angle. To add to the experience, riders sit face-to-face, and when the swing reaches its highest point, riders are suspended upside down!
More relaxing experiences include antique cars, miniature golf, go karts, a petting farm, and more.



Beech Bend Amusement Park

Race down 16 waterslides at the adjacent Splash Lagoon water park, float the lazy river, and then then tackle the wave pool. They also have two interactive children's play pools and a giant leisure pool.

Musical performances plus other special shows throughout the season entertain visitors of the park everyday, including fireworks on select dates. A variety of food and souvenirs are available throughout the park.

When you're done at the amusement park and splash lagoon, head over to neighboring Beech Bend Raceway Park to watch racing on one of America's oldest, continuously operating drag strips.

This nationally recognized quarter-mile drag strip hosts over 100 days of on-track excitement each season.

16 – Kentucky State Parks
Forty-five Kentucky State Parks are located at some of the most scenic and culturally significant places in the Bluegrass State, making a State Park visit easily one of the best things to do in Kentucky with kids.

From whitewater rafting at Breaks Interstate Park to hiking through natural wonderlands, adventure and beauty are sure things when you visit. Select State Parks are State Resort Parks as well, offering bonus ammenties to enhance your stay.

A few favorite State Park destinations include:

NATURAL BRIDGE STATE RESORT PARK & RED RIVER GORGE
As the gateway to the Red River Gorge, Natural Bridge State Resort Park is where you go if you're looking for an uplifting adventure.

First – Climb up Natural Bridge, a 65-foot high sandstone arch in the park that bears its name. Or, if your kids are too young for the moderately steep—but short—hike to the top, ride the seasonal Sky Lift. It will will carry you up the mountain and drop you just a short walk from Natural Bridge and its spectacular views.

Next, make your way to the Red River Gorge, known worldwide for its rock climbing. A perfect spot for little monkeys of all ages (the recommended age to start is around six), Red River Gorge has routes for beginners to advanced climbers. Area outfitters offer half and full-day classes as well as guided climbs (equipment included).

Another area opportunity for thrill seekers: Make reservations for the Red River Gorge Zip Line in Compton. This two-to-three hour canopy tour features five zip lines ranging from 330-1,900 feet long. The last two lines are dual-racing zips that get you going up to 50 mph while soaring 300 feet over the gorge.


STATE PARKS IN THE KENTUCKY APPALACHIANS
In the eastern part of the state, you'll find state parks throughout the Kentucky Appalachians.

Narrow ridge tops, deep canyons and rim rock cliffs are the natural beauty backdrop for a variety of family activity options, from caves to country music.

Natural areas like Carter Caves State Resort Park lure visitors to enjoy world-class hiking, caving, fishing, paddling, golfing, boating, and traditional Appalachian cooking.

CARTER CAVES STATE RESORT PARK
344 Caveland Drive, Olive Hill KY 41164

If your kid is cool with getting dirty, it's time to go on a caving tour at Carter Caves State Resort Park in in Olive Hill. The Carter County region has the highest concentration of caves in any area of Kentucky.

Chose from a self-guided cave tour (permit required) or take a cave tour with a State Park guide. On the Saltpeter Kid's Crawl, tour guides lead children, ages 6-12, on their hands and knees through dark passages lit by only the provided flashlights. A wide variety of other cave tours are available.

Also at this state resort park:
– Fieldstone lodge with 28 rooms, all with private balconies or patios
– 12 cottages
– 129-site campground
– Outdoor swimming pool, open in summer
– Onsite restaurant
– Kayak rental
– Gem mining
– 18-hole miniature golf course
– 30 miles of hiking trails over 1,800 acres




CUMBERLAND FALLS STATE RESORT PARK
7351 Highway 90, Corbin, KY 40701

Majestic waterfall? Check!

Cumberland Falls State Resort Park is home to the grandest of them all. Measuring approximately 68 feet tall and 125 feet wide, this impressive waterfall is also known as "the Niagara of the South."

More things to do with kids at this location:
– Stay in the 51-room Dupont Lodge, replete with hemlock beams and knotty pine paneling
– Raft the Cumberland River and get close to the giant waterfall
– Look for a moonbow at Cumberland Falls
– Go horseback riding (ages 6 and up, 45-minute ride, $20 per person)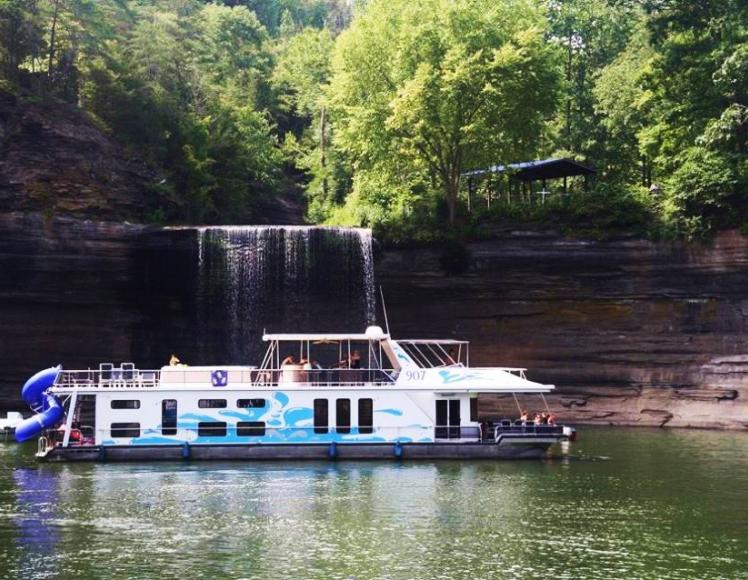 LAKE CUMBERLAND STATE RESORT PARK
5465 State Park Rd, Jamestown, KY 42629

Lake Cumberland State Resort Park is a state park with a spa!

Lodging options at this state park include the 63-room lakeside Lure Lodge. Lake Cumberland State Resort Park also has 129 campsites with utility hook-ups available.

Visitors can choose from a variety of activities, including:
– Boating: Lake Cumberland is known as "The Houseboat Capital of the World." April through October, boaters can rent fishing boats, pontoon boats, houseboats, and ski boats at the marina by visiting State Dock online or calling 1-888-782-8336 (888-STATE DOCK).
– Disc golf
– Geocaching
– Fishing
– Miniature golf
– Swimming in the indoor pool
– Hot tub
– Game room
– Tennis

17 – Forest Giants at Bernheim Arboretum & Research Forest
2075 Clermont Road, Clermont, KY 40110
Stop in to see the larger-than-life sculptures, built using just recycled wood from the region, at this beautiful park.

Follow the easy two-mile walking trail loop to see all three Forest Giants.

As Kentucky's Official State Arboretum, Bernheim is a 16,000 acre wildlife sanctuary, landscaped arboretum and visitor center.

You'll be attracted to the indoor and outdoor exhibits – including the Forest Giants, canopy tree walk, scent and sound mazes, and trails and walkways.

Pro Tips:
– It is free to see the Forest Giants.
– A $5 per car environmental impact fee on weekends and holidays applies for non-members.
– A $10 donation is suggested per car for non-members.
– Photos are allowed and you may touch the giants, but please treat them with respect.

18 – "Big Twigs" at Lake Malone State Park
331 State Route 8001, Dunmor, KY 42339
In addition to the beautiful Lake Malone lake views and neat limestone formations, Lake Malone State Park is also home to "Big Twigs."

Visit with the 14-foot wooden giants "Happy Malone" at his campsite, "Bobber Malone" lakeside, or "Oakley Malone" along Laurel Trail.

After visiting, hike the easy trail and be treated to scenic views of rock walls and a waterfall.

A boat ramp is available for those who enjoy water sports and catching channel catfish, largemouth bass, crappie, bluegill, and sunfish.

This state park also has a 25-site campground.

Hours of Operation
Park Grounds are open March 15 – November 12

19 – Cumberland Gap National Park
91 Bartlett Park Road, Middlesboro, KY 40965
Tucked away at the border of Kentucky, Tenessee, and Virginia, Cumberland Gap National Park is a prime example of Kentucky's wild frontier. In fact, you can see all three states fom the Pinnacle overlook!

Considered the first great gateway to the west, Cumberland Gap National Park is worth your travel time. It's an off-the-beaten path destination that isn't over-trafficked.

It's a Kentucky hidden gem.

Home to Daniel Boone, the park's rich history is entwined with the stunning overlooks, awe-inspiring underground caverns, and dramatic rock formations.

Cumberland Gap National Park offers many family experiences, making it one of the favorite things to do in Kentucky with kids.

Hands-on exhibits at the visitor center museum are popular with kids, as is the exciting two-hour ranger-led adventure exploring Gap Cave, a majestic underground cavern in the park. Definitely take time to see the view at the visitor's center.

Then, take the Wilderness Road Trail (just a fraction of the park's 70 miles of hiking trails) and walk in the footsteps of Native Americans, early settlers and Civil War soldiers.

20 – Abraham Lincoln Birthplace National Historical Park
2995 Lincoln Farm Rd, Hodgenville, KY 42748
The 16th president of the United States, Abraham Lincoln, was born in Hodgenville, Kentucky.

Today visitors from near and far trek to central Kentucky to visit Abraham Lincoln Birthplace National Historical Park. This park preserves two farms, the Sinking Spring Farm (where Abraham Lincoln was born in 1809) and Knob Creek Farm (where he lived from age two until age seven.)



Abraham Lincoln Birthplace National Historical Park

When you visit, you'll learn about Lincoln's early life on the frontier and how his experiences prepared him to lead the US through civil war. Watch the video in the visitor's center, tour Lincoln's Monument and Replica Log Cabin, and walk the trails.

This park participates in the National Park Service Junior Ranger Program – be sure to ask about it at the Birthplace Visitor Center and help your kids start earning Junior Ranger badges.

Lincoln's birthplace is one of the stops on Kentucky's Lincoln Heritage Trail and is one of the educational things to do in Kentucky with kids.

21 – National Corvette Museum
350 Corvette Dr, Bowling Green, KY 42101
If you have a car lover or Hot Wheels enthusiast in your family then you must visit the National Corvette Museum in Bowling Green, KY.

It's literally the only place in the world where Corvettes are made.

Not only will you see over 80 mint-condition Corvettes displayed in period-settings from the beginning of the brand through today, but you'll also get to see futuristic concept cars.




Visiting with kids? Spend time in the KidZone where you'll find hands-on activities for children ages eight and under. Visiting children are encouraged to design, build (using Lego-style bricks), and test their very own car creations.

And, as long as you're tall enough to reach the gas and brake pedal, you're invited to try out the C6 Corvette Racing Simulator ($10 per session, passengers welcome).

After your tour, head over for some family fun with high-speed go kart racing at the NCM Kartplex located at the adjacent Motorsports Park.

22 – NCM Motorsports Park
505 Kimberlee A. Fast Dr, Bowling Green, KY 42103
You've visited the National Corvette Museum and now it's time to rev your own engine at the NCM Motorsports Park.

Choose to watch – or drive – fast cars on the 3.15-mile road course.



You can drive a Corvette around the 3-mile track at NCM Motorsports Park in Bowling Green, KY.

Take a spin around the high speed kart track, too. Adult, Junior and Two-Seater Karts available.

Map of Things to Do in Kentucky With Kids
More Travel Ideas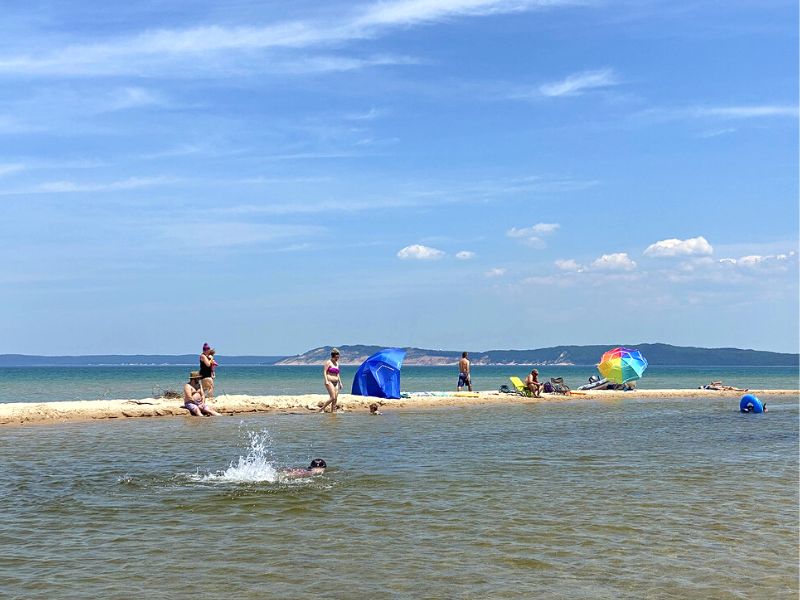 Families have floated the Platte River for generations, and for good reason. It's easy to maneuver a kayak, stand up paddleboard, canoe, raft, or tube…