Looking for Things to Do With Kids in Indianapolis?
It's easy to hit the road to Indy with kids!
What if I told you it's only about four hours from Grand Rapids to Indianapolis, 3 hours from Chicago? or 4.5 hours from Detroit?
And that this city is bigger than you probably imagined?
If you're looking for a new big city to explore and don't want to put too many miles on the car, head to Indianapolis with the kids.
Kid Fun in Indianapolis: The Best List of Things to Do With Kids in Indianapolis
My friend Katy runs Indy with Kids and she helped me sort out the best things to do with kids in Indianapolis. And now that I've experienced a lot of what they have to offer, here's my take on doing Indianapolis with Kids.
This article contains some affiliate links.
1) Spend the Day at the Children's Museum of Indianapolis
Welcome to the World's Largest Children's Museum!
With five floors of fun, the Children's Museum of Indianapolis is number one on our list of Things to Do with Kids in Indianapolis.
First-time visitors should plan on spending the whole day exploring the museum.
The museum has done a great job crafting exhibits for various age groups and interests.
Here are just a few examples of what you can explore:
Sports Legends Experience
This immersive outdoor/indoor experience opened in March 2018. It offers 12 outdoor sports areas and 3 indoor exhibits – all in support of curbing obesity and getting people moving.
We spent almost all of our 2 ½ hours just exploring and playing in this new section.
Amazing doesn't begin to describe what they have created.
The attention to detail blew me away. Even the snack areas are made to look like a vendor at a sports arena. There were plenty of employees facilitating each athletic activity, with sports mini-clinic sessions offered throughout the day. Your kids can kick field goals through full-size uprights, score a soccer goal, pedal cars around a racetrack, shoot a puck through a goaltender's legs, and beat the buzzer to sink the game-winning shot.
Playscape
Babies, toddlers and preschoolers will love Playscape, where playing in water and sand is encouraged alongside making art and exploring music.
Private nursing areas and family restrooms are located here, too.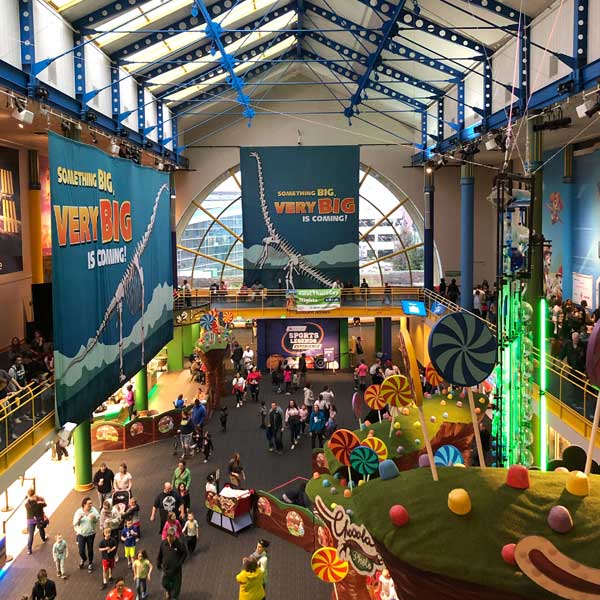 Treasures of the Earth
Treasures of the Earth turns your kids into Indiana Jones sidekick material. From a bumpy elevator ride to an archaeological dig, kids are put into the roles of adventurer and archaeologist and given mysteries to solve.
All ages will enjoy putting together the mummy sarcophagus and checking out the working archaeology lab.
Other Favorites
Beyond that, the Dinosphere is a must for any dino-lovers out there, and China really does make you feel like you're on another continent.
All Aboard has full-size trains you can go in and out of as well as miniature trains, too. Kids can touch and experiment with things everywhere you look. Fantastic.
Children's Museum of Indianapolis Details
Food: An extensive food court is available along with an area of sweet treats.
Lockers: If you want a safe place to stash your stuff, self-serve lockers are available.
Tickets: Prices increase as the visit date approaches. Save up to 25% by buying general admission tickets at least two weeks in advance. Tickets start at $19.
2) Explore 100 Acres at Newfields (aka Indianapolis Museum of Art)
Now on to the rest of the things to do with kids in Indianapolis – starting with Newfields (the Indianapolis Museum of Art.)
This gorgeous outdoor art sanctuary at Newfields is a complete blessing for families.
100 acres of natural beauty married to art that kids can climb on makes for happy parents any day. Add the word FREE to the equation and you might get downright giddy.
The park is open from dawn to dusk and features walking trails, a visitor's pavilion with restrooms, and unique sculptures and artwork your kids will want to interact with. Plan on spending 1-2 hours at this destination or longer if your kids really like to hike.
100 Acres at Newfields (Indianapolis Museum of Art) Details
Parking: Free parking! Noramally you can park at the Museum and follow the walking path to the 100 Acres or drive. Right now, that access is closed. You'll need to enter off of 38th Street and park in the 100 Acres lot at 1850 W 38th St, Indianapolis, IN 46228.
Tickets: FREE admission; no tickets needed.
3) Make Noise at Rhythm Discovery Center
Tucked away in downtown Indianapolis, near Center Circle Mall, is Rhythm Discovery Center.
Interactive is not a strong enough word for this percussion museum.
Kids are encouraged to put their hands on a huge variety of professional instruments from around the world and through the ages. Little do they know they are learning as they pound out a beat or play in a drum circle.
If your kids are musically inclined, they will take to this place instantly. If they like to knock sticks together or tap their feet, or if they like to make a lot of noise, they'll like this place, too.
I was astonished at the wide variety of percussion instruments and all of the things kids were allowed to do – and all for a great price. Plan on spending 1-2 hours at this location.
Rhythm Discovery Center Details
Tickets: $12 for adults, $9 for students, $6 for kids 6-16, free for ages 5 and under.
4) Hunt for Iconic Indy Signs and Downtown Adventures
Various spots around Indy have signs begging you to become the "I" in Indy.
Such great kid fun in Indianapolis – and adult fun, too. A perfect way to capture your Indy memories!
You can find become the "I" in Indy sculptures at:
Indianapolis International Airport
Massachusetts Avenue and Alabama Street
Washington Pedestrian Bridge at White River State Park
5) Discover a New Game at Action & Atomic Duckpin Bowling
Bowling is fun any time of year at a regular bowling alley, but retro bowling in Indianapolis is even more fun.
Historic Fountain Square, part of the Indianapolis Cultural Trail, is home to Action & Atomic Duckpin Bowling. Duckpin bowling is a bowling variety that uses smaller balls and pins.
The game originated in Baltimore and eventually spread along the east coast. Fountain Square is the only authentic duckpin bowling alley in the midwest and has been restored to look just like a 1930's era duckpin bowling alley.
Because there are only eight lanes available, reservations are highly recommended. Lanes book by the hour. We had four people on our lane and it took us one hour to play one game. (I'm sure the 5-year-old slowed us down, though…)
Action & Atomic Duckpin Bowling Details
Parking: Parking is FREE in Fountain Square. On-street parking is free, with a two hour restriction Monday – Friday from 9:00 AM – 6:00 PM.
Do not park in the Family Dollar lot on the north side of their building; you will be towed.
Tickets: Open bowling is $40 per hour per lane. Reservations are recommended (call 317-686-6006 or 317-685-1955.) Bowling shoes are provided for free.
6) Learning is Exciting at the Indiana State Museum
Let me set the record straight: The Indiana State Museum is COOL. It is one of the BEST things to do in Indianapolis.
It's not the IMAX theatre that earns it the cool award – although that helps! Rather, it's the imaginative way the museum draws visitors into topics they've seen a hundred times before.
Seriously. How many times is a kid taught about the solar system in school? Studying the planets is something everyone does and has been doing for eons. The topic suffers from "been there, done that" syndrome, and that's hard to overcome.
Indiana State Museum makes understanding our universe interesting and accessible.
The giant animated globe that morphs from one planet to the next, plotting earthquakes and other features along the way, is just one example.
Kids are in the driver's seat here, and it's easy to see why they would want to spend a long time fiddling around with technology.
Other topics get the same treatment.
Be sure to budget lots of time for the Foucalt Pendulum.
This simple device proves that the earth is rotating by tipping over carefully placed tiles (they look like dominoes.) The pendulum is reset each day at 8:00 AM and it is truly mesmerizing to watch the bob swing back and forth.
Many more snippets of time are captured and explored at the Indiana State Museum. Budget time according to your kids' attention span. Some will spend an hour, some will spend a day. This is a definite YES on our Indianapolis with Kids list.
Indiana State Museum Details
Parking: Parking is available in the attached White River State Park underground parking garage on Washington Street and in nearby garages, or in the White River State Parks' South Lot. For more information about other parking locations in the area, visit the Indianapolis Downtown parking site. Parking is $5 per car with the purchase of a ticket to the Indiana State Museum.
Tickets: Adults are $17, kids ages 3-17 are $12. (Purchase tickets online to save $1 per ticket.) Grand Rapids Public Museum members, your membership (via the ASTC passport) gets two adults and dependent children age 21 and under into the Indiana State Museum for free. Excludes special traveling exhibits. IMAX tickets require additional fee.
7) Watch Dolphins & Orangutans at Indianapolis Zoo
Allow half a day or more for the Indianapolis Zoo – there is a lot to see and do!
Housing orangutans, dolphins, elephants, baby animals and more, this zoo ranks #7 on TripAdvisor's list of things to do in Indianapolis for a reason.
Make sure you get your free tickets to the dolphin show at the entrance. Since the dolphin shows have open seating, you'll want to arrive early to get a prime spot. There are splash zones, too, if you feel like getting a little wet during the 15-minute show.
When you're done watching the dolphins jump, head below and get a glimpse of them in the underwater viewing area.
Another favorite here is the International Orangutan Center, especially important since orangutans are critically endangered, with only 6,500 left in the wild. The center houses eight orangutans. The exhibit is huge, with a cathedral ceiling high enough to send my heart aflutter. This Orangutan Center is considered essential in the preservation of these apes.
As you make your way through the zoo, you'll encounter many more animals to delight: tigers, polar bears, sea lions, walrus, zebra, rhinoceros, and SO many more.
There are many opportunities to purchase add-ons for your Indianapolis Zoo experience. Choose from the 4-D theater, carousel, Kōmbo coaster, Skyline gondola rides, White River Junction train, the world's LARGEST shark touch tank, bird and giraffe feedings.
Kid fun in Indianapolis Zoo is everywhere!
If you don't feel like pulling out your wallet every few minutes, get the Total Adventure Package (TAP). It makes the zoo an "all-inclusive" experience and is worth it if you can afford it.
And, if it's hot, bring your bathing suit and towel. There is a splash play area that will be sure to cool – and drench – you.
One criticism Indianapolis Zoo hears again and again? It's expensive. With adult tickets between $16-$26 and kids at $13-20, you are going to pay a bit to gain entrance to the zoo. Why is this zoo so much when the St. Louis Zoo is free?
The answer is simple: funding. The Indianapolis Zoo is financed by private money and as such, receives no direct tax support. The zoo operates an endowment to protect its legacy, but it also must charge visitors a higher price than some other zoos to remain operational.
In other words, your higher ticket prices go to help run and support the zoo, as well as help with the zoo's animal conservation efforts around the world.
White River Gardens is a Bonus Zoo Perk
Entrance to White River Gardens is included with your Indianapolis Zoo admission. This lovely indoor/outdoor space is worth a short visit, especially if you're looking for a quiet place to unwind.
Indianapolis Zoo Details
Parking: Parking is $8.
Tickets: Pricing is based on demand. Days projected to be busier command a higher price. Use the online pricing tool to determine your price.
8) Travel to Year 1836 at Conner Prairie
How impressed would you be if your gadget-loving tween got excited about history? That's exactly what happened to me.
I went into Conner Prairie thinking it was just a historical museum. A place where old buildings and artifacts were on display, waiting for me to interpret and make them interesting for my kids.
I was 50% right. Yes, there are a ton of artifacts and old places at Conner Prairie. But the museum signs I expected – they weren't there.
Instead, there were people in their place acting out what might have appeared on a sign in a different museum.
I found myself drawn in and learning about pioneer life right alongside my kids.
The Prairietown village is set up as if it were 1836. Every character in the town has a role to play and a house to live in or a place to work. The characters all know each other and talk about each other.
My three kids were captivated by the three women in the doctor's house. They sat and chit-chatted with the characters for at least 15 minutes, and would've stayed longer if time would have allowed.
This photo below shows the carpenter telling them how to carve a bowl. He also tried to enlist my 11-year old son as an apprentice. We could've visited my son once a year, he'd get a good education, room and board, and learn a trade. Sounds like a good deal to me!
Aspects of Conner Prairie, apart from village life, include a petting farm, a Civil War area, a hot-air balloon, and an indoor hands-on experimental center.
We spent a few hours at Conner Prairie. It would have been longer if the museum didn't close on us while we were experimenting! This was a great stop for exploring Indianapolis with kids. I'd plan a half-day for this adventure, at least.
Candle-dipping and other pioneer activities are also available. Some have a fee.
Conner Prairie Details
Parking: Free
Tickets: Open Wed from 11:00 AM – 3:00 PM, Thurs & Fri from 10:00 AM – 3:00 PM, and Sat & Sun, from 10:00 AM – 5:00 PM. $18 for adults, $17 for seniors, $13 for youth 2 to 12 and free for those younger than 2.
Conner Prairie offers some fun events that require tickets ahead of time.
9) Get in Some Easy Fun at Indy Glow Golf & LASER MAZE!
If the weather goes south and you need some indoor things to do in Indianapolis with kids, consider Glow Golf.
This downtown attraction is tucked away on Level 4 in Circle Centre Mall. Although the holes are nothing like what you'd see at an outdoor putt-putt course, the novelty of glow-in-the-dark golf was enough for 90 minutes of fun.
The facility also offers a laser maze challenge where kids are challenged: Kids be nimble, kids be quick. Escape the doldrums and into the amazing Laser Maze. As your heart races while the clock ticks, let your reflexes and agility lead the way through a luminous web of lasers at every twisting, contorting turn.
GloGolf Details
Tickets: 54 holes at $8 for kids age 5 – 12, $5 for kids 4 and under, $10 for adults.
10) White River State Park
If the weather is nice while you're in town, be sure to explore Monument Circle and then head over a mile west to the beautiful Canal Walk in White River State Park.
Renting a four-wheel surrey bike from Wheel Fun Rentals is the most fun way to explore this area.
The state park is a 250-acre urban greenspace and is packed with Italian-imported gondolas, paddle boats, and kayaks.
Seven family-friendly museums border the park, include the Indianapolis Zoo, Eiteljorg Museum, Indiana State Museum, Victory Field (home of the AAA Indianapolis Indians baseball team), a concert venue, and more.
Don't Forget to Eat
In a city the size of Indianapolis, there are a million places to take your kids out to eat. In fact, this list of places where kids eat free is a stellar resource.
I just have two local food destinations to recommend, however, as my kids chose to dine at Costco one evening (don't ask!) and Chick-fil-A another. I insisted that we had to sample local fare at least a few times on our trip and the places we ended up did not disappoint.
Cafe Patachou
225 W Washington St, Indianapolis, IN 46204
(317) 632-0765
Tasty, healthy, and with gluten-free options. And grilled cheese with cheese that goes on for miles. My gluten-free son declared that these were the best gluten-free waffles that he has ever eaten. This place was delicious.
Bru Burger Bar
410 Massachusetts Ave, Indianapolis, IN 46204
317-635-4BRU (4278)
Iconic burgers, fries, and milkshakes. Hard to go wrong here.
Conner's Kitchen and Bar
350 West Maryland St, Indianapolis, IN 46225
(317) 405-6100
Inside the Indianapolis Marriott Downtown. Favorite weekend brunch destination with local Indy brews.
Trader's Point Creamery
9101 Moore Road, Zionsville, Indiana 46077
(317) 733-1700
This family-owned artisan creamery produces yogurt for Whole Foods nationwide. It is a working organic dairy farm offering great seasonal, family-friendly events. You can enjoy self-guided hikes, guided tours, and the public is always welcome for the evening cow milking.
The Loft Restaurant is housed in a historic 1860s barn and offers a rustically elegant farm-to-table dining experience. Many of the ingredients come from their own farm, garden, and creamery.
Where to Stay in Indianapolis
Indianapolis is a large city. Driving to and from each attraction on this list can take considerable amounts of time. If you can swing it, Downtown Indianapolis makes a great hub – many of our adventures were right downtown.
Downtown JW Marriott
10 S West Street, Indianapolis, Indiana 46204 USA
Great service, beautiful scenery, intriguing architecture, very clean and a friendly atmosphere.
Bottleworks Hotel
850 Massachusetts Avenue, Indianapolis, IN 46204
Stay in the old Coca Cola bottling administration building! This new hotel is in a great location – the Bottleworks District.

Sleep in a Train Car at the Crown Plaza Hotel
123 W Louisiana St., Indianapolis, Indiana, 46225
Sleep in this historic 1920s Pullman train car. You'll be right in one of the original trains that used to steam in and out of Union Station.

Drury Plaza Hotel
9625 N Meridian St, Indianapolis, IN 46290
Indoor/outdoor pool, hot tub, free breakfast, and free evening meal!
Beautiful Fountain Square Vacation Rental with Bunkbeds & Pool Table
The house is a very short walk to Fountain Square where there are awesome restaurants, breweries, coffee shops, and more.


Sleeps 16, 4 bedrooms, 3 baths
Top Floor Penthouse Loft in Downtown Indy
Quickly walk anywhere downtown! 20-foot ceilings and exposed brick.

Sleeps 12, 4 bedrooms, 2 baths
Have you visited Indianapolis with kids? What things to do with kids in Indianapolis did we miss? What tips can you share? We would LOVE to hear about your experiences and hear about the things to do in Indianapolis with kids that you found!