Haunted Houses & Haunted Mazes in Michigan
Want to celebrate the spooky season with Halloween activities like a visit to a Haunted Attraction? Here's what you need to know before going to a Haunted House near you: One size does not fit all.

Parental judgment is the biggest "rule" when it comes to an age limit for haunted houses in Michigan. You know your child the best. In my own family, my nine-year-old is gangbusters for getting freaked out, whereas my 15-year-old wants nothing to do with it. This is definitely not the time for forced family fun.

If you dare to track down all of these Michigan haunted houses, haunted corn mazes, and yes, even a haunted ship – you'll be driving for the better part of a day.

With all that said, here's a list of local favorites and top Haunted Attractions in Michigan:

Haunted Hayrides, Haunted Mazes, Haunted Houses & More
Haunted House in West Michigan
1256 28th Street SW, Wyoming, MI 49519
About This Haunted House
A Free Nightmare With Every Ticket! The Haunt, an award-winning haunted house, has been West Michigan's Premier haunted attraction for over 20 years. They have 50,000 sqft to terrify you.

They have 5 different themes/stories for 2022.

The Haunt is open on various dates through November 6th, 2022. See the calendar above.

Advance ticket purchase is highly recommended. Every ticket gets you into ALL of The Haunt's attractions!
General Admission Ticket: $30 each; VIP/Fast Pass Ticket: $45 each

Kids Haunt on October 30th from noon - 5 pm.
Scare Level & Age Limits
5 out of 5.
NO ONE AGE 10 YEARS OR UNDER WILL BE ALLOWED ON THE PROPERTY. Persons 11 to 15 Years of age MUST be accompanied by a paid adult (18 & over).
Haunted House, Haunted Maze in West Michigan
7737 Fruit Ridge Ave NW, Sparta, MI 49345
About This Haunted House, Haunted Maze
Their Haunted Attraction is a unique, immersive experience so prepare to be scared. Jump into (3) haunted experiences:

Each of the mazes are well over a quarter of a mile long each and as you travel trough the mazes you will enter buildings, barns and sets, animatronics, and movie-quality special effects with lots of actors!

Two haunted mazes:

#1- Bloody Butcher Corn Maze: Full of Mutant Pumpkins, Witches, Hillbillies, Wandering Corpses, Scarecrows and other insane farm animals.
#2 - Big Top Terror Vision Corn Maze: Carnival-themed, full of crazed clowns, misfits and deranged circus animals in a 3D environment (3D Glasses Included).

Plus, the Old Eli Experience -
#3- THE OLD ELI EXPERIENCE
As you wander through the cornfields of Abandoned Acres Farm you find yourself in Old Eli's workshop. Step into the mind of a serial killer - Can you figure out the method to his madness before Old Eli returns? Come live the story or die trying!

Rates:
$35 for Both Attractions; $55 Fast Pass
$5 - Old Eli Experience add-on
Tickets sales end one hour before closing

DATES:
In 2022, Abandoned Acres Farm Haunted Attraction is open:
September 23 & 24, 8:00 pm - 11:00 pm
September 30 + every Friday & Saturday in October, dusk - 12:00 am
October 9, 16, 20, 23, 27, 30 & 31, dusk - 10:00 pm
Scare Level & Age Limits
4 out of 5.
They do not have an age restriction. They rely on parental discretion as you know your child best. They are a high startle entertainment haunt with little or no Gore and the actors are not allowed to touch you.
Haunted Woods, Haunted Maze in West Michigan
4516 24th St, Dorr, MI 49323
About This Haunted Woods, Haunted Maze
This farm located outside of Grand Rapids is family-friendly during the day and frightful at night.

Nighttime Activities
- Witches Woods: The New Salem "Witches of New Salem" haunted woods is a frightening experience with over 20 attractions and dozens of actors and props. You will find yourself clinging to the closest person next you, just hope it's not one of their patients that have escaped the mental ward. $25 Admission Per Person.

Stroll down one of the two paths in the Witches Woods. It's up to you on "witch" path to take, whether you take the "Twisted" or the "Wicked" you will scream around every corner.

- Haunted Maze: You will be stalked + spooked by their team of corn stalkers as you twist your way through their dark and spooky corn maze. Enter the corn at your own risk. This nighttime adventure will take you on a wild and ride of dead ends, twists & turns, confusion, mayhem and to top it off you will be stalked by their devilish team of corn stalkers. $25 Admission Per Person.

Do both activities for $40/person.

DATES:
Open Friday and Saturday nights in October 2022.
Friday, Sept 30 & Saturday, Oct 1
Friday, Oct 7 & Saturday, Oct 8
Friday, Oct 14 & Saturday, Oct 15
Friday, Oct 21 & Saturday, Oct 22
Friday, Oct 28 & Saturday, Oct 29
Scare Level & Age Limits
4 out of 5.
*No refunds - enter at your own risk. They don't have an age limit but they don't recommend for under age 12.
Haunted Maze in West Michigan
17647 40th Avenue, Conklin, MI 49403
About This Haunted Maze
Survive the HAUNTED SUNFLOWER MAZE 👻 with Ghosts and Ghouls Lurking around every twist and turn. It's sure to be a WICKED good time.

You can also try your hand at the creepy corn maze or spooky tractor ride.

Pay for admission in the market where you will also find HOT Apple Turnovers, fresh fall donuts, HOT Cider and Cocoa and so much more!! It will be a GHOULISH good time!!

Hours:
Fridays & Saturdays in October, 9-11 PM. (Starting October 7).

Rates:
Haunted Sunflower or Creepy Corn maze are $15 each.
Spooky tractor ride is $7.
Or choose all 3 are $30.
Scare Level & Age Limits
3 out of 5.
The target age is for about 10 and up but prepare to have chills run down your spine! All ages under 12 must be accompanied by someone 16 or older.
Haunted Woods in West Michigan
6800 Cannonsburg Rd NE, Belmont, MI 49306
About This Haunted Woods
The Haunted Forest is a spooky outdoor experience at Cannonsburg Ski Area.

The woods are filled with hungry zombies, scary witches, ghosts, and other monsters that exist only in your worst nightmares. Be prepared to encounter all of them, as you try to make your way through the woods.

The walk is roughly ½ mile long and takes place on a lit dirt path that winds through the trees.

Scary props and actors will create a haunted experience that is sure to spook everyone.

The Haunted Forest will run every Friday & Saturday starting October 1st through October 29th.
Friday and Saturday hours are 6pm-10pm.
Tickets must be purchased by 9pm the day of.
*Please note that there might be a small wait,, even with reservations. To speed up your wait time, they recommend purchasing an express lane ticket.

The Haunted Forest happens in all weather conditions, so dress appropriately for the weather!

General admission tickets are $20 online and $25 at the door.
Scare Level & Age Limits
3 out of 5. Scarier than the Spooky Forest but not a hardcore scare experience.
They ask that all guests be 5 or older. Earlier time spots are recommended for younger children.
Haunted Woods in West Michigan
11530 Stebbins Ave, Sparta, MI 49345
About This Haunted Woods
Grim Acres is a short, winding trail thru 2 acres of woods with several Halloween-themed attractions, Spooky clowns, witches, spiders, and more.

It is mostly Halloween scenes thru the wooded trail. Most of the props are motion detected. It's very kid-friendly. The haunted trail is handicap assessable.

Located just north of Downtown Sparta Michigan on Stebbins. Look for the banner and flashing signs for the drive.

Dates:
Oct 1 -Oct 31 on Fri-Sat-Sun, weather permitting (not open during rain). Call or check their Facebook page before heading out.

Rates:
Kids 5 & under - free
All others - $15
Scare Level & Age Limits
1 out of 5. This trail is a good "first spook" trail for kids. There are actors that will slowly walk toward you and come out of nowhere, and some of the scenes are bloody, but the overall experience is really not that scary.
No age limit.
Haunted Woods in West Michigan
6800 Cannonsburg Rd NE, Belmont, MI 49306
About This Haunted Woods
The Spooky Forest is an interactive, outdoor Halloween experience for kids.

It's designed for a younger crowd, who have the ability to walk (or be carried) 1/2 mile. The Spooky Forest is where you and your family can enjoy being active outdoors while having fun with Halloween characters.

Please note that the Kids Spooky Forest does have some scary elements!

Dates and Hours:
The Spooky Forest will be open every Saturday from 3pm-5pm
October 8th through October 29th.
*All participants must enter by 4:30pm to allow enough time to walk the entire half mile*

$10 per person
Online reservations are encouraged.

Good to know: You will be walking 1/2 mile on a dirt trail through the woods. There are a few inclines and downhills, but most of the trail is relatively flat. The trail is too narrow for strollers.
Scare Level & Age Limits
1 out of 5. A little bit scary. Good for kids that want to get spooked.
There is no age requirement for The Spooky Forest.
Haunted Hayride in West Michigan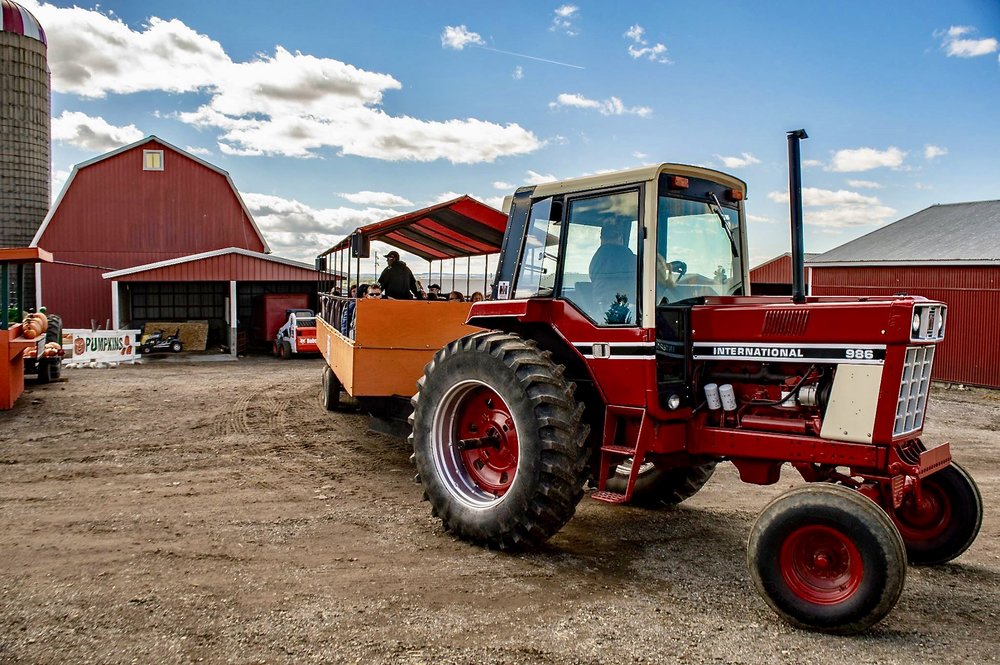 4516 24th St, Dorr, MI 49323
About This Haunted Hayride
HALLOWEEN LIGHT SPOOKTACULAR

Jump on a wagon and take a ride through the trail with lights synchronized to Halloween songs.

But don't be too scared, the Halloween Light Spooktacular is sure to please all ages.
The wagon ride will last approximately 20 minutes.

Spooktacular is offered Fridays & Saturdays in October -2022: Dusk to 11 pm
$10 Per Person, Under 3 - Free


On during daylight on Saturdays & Sundays (11am-6pm), add on the Corn Maze and other family-friendly fun for $8/person. You'll get:
-Daytime Cornmaze
-Farm animals
-Pumpkin patch
-Hay rides
-Child's train
-Playground

Don't miss out on the homemade donuts and cider!
Scare Level & Age Limits
0 out of 5. Not scary at all. Colorful wagon ride that is very family-friendly.
Good for all ages