P.J. Hoffmaster State Park: Lake Michigan Beach, Perfect Hikes & Great Camping Spots
P.J. Hoffmaster State Park, among more than 50 hiking trails, provides a magical opportunity to bask in the vast beauty of Lake Michigan.
Naturally, hikes to the lake are some of my favorites, and my hikes at P.J. Hoffmaster State Park are no exception.
Not only is P.J. Hoffmaster an excellent place to get in a good hike, it's also a great destination for a Lake Michigan beach day, a picnic, camping, or learning at the Gillette Sand Dune Visitor's Center.
This article is proudly presented by John Ball Zoo. We thank them for their support!
Exciting adventures area happening at John Ball Zoo in 2023! Come see the new animals and join us for all the favorite, fun events. More details at JBZoo.org.
P.J. Hoffmaster State Park
P.J. Hoffmaster State Park at a Glance
Encompasses over three miles of continuous Lake Michigan shoreline that visitors can walk in its entirety (if lake levels allow).
Since Hoffmaster is a Michigan State Park, parking fees are enforced if you do not have a recreation passport. (Passports are $13 when purchased at the Secretary of State at the time of license plate renewal. Passports are $18 + $5 convenience fee when purchased at state parks.)
The northern end of the park is where the 297-site campground is located.
To the south of the campground, you'll find hiking trails and eventually the day use visitors beach.
The southern end of the park houses the Gillette Sand Dune Visitor Center and more hiking trails, one of which leads to the Dune Climb Stairway that leads to the Dune Overlook Platform.
P.J. Hoffmaster State Park Hiking Trail Details
6585 Lake Harbor Road, Muskegon MI, 49441
P.J. Hoffmaster State Park in Muskegon offers lake views that are hard to beat locally (we see you, Sleeping Bear Dunes).
There are miles of trails you can choose from to get from the parking lot to the beach, followed by a seemingly endless beachfront you can walk once you get there. Hoffmaster has 10 miles of trails in all.
The trails at P.J. Hoffmaster can be steep and sandy at times. It makes for feeling like a true adventurer (which we love), but be sure to leave the stroller in the car.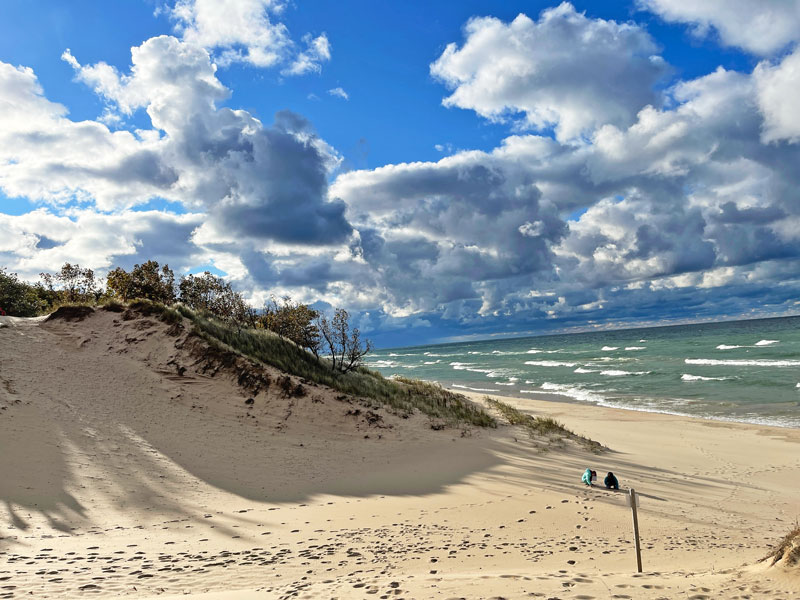 With Many Trail Options – Where to Begin?
There is no shortage of trail options at P.J. Hoffmaster State Park–with a variety of ways you can hike each of them.
The south hiking trails are my go-to spot, typically taking a variation of the Homestead Trail to the lake.
On our most recent visit, we took the trail along the lake on our return trip and it was delightful.
If you're looking for a shorter hike, try the "Walk a Mile" loop. It's as easy as it sounds–follow the trail for a quick, one-mile hike.
And you don't want to leave before climbing the stairs to their Dune Overlook!
In my hiking endeavors at P.J. Hoffmaster State Park, I've learned it's important to check the map frequently.
It doesn't seem complicated and you have the lake as your constant compass, but I've gone on longer hikes than I've intended because I tend to get a little…turned around.
Pro tip: download a PDF of the map on your phone! Cell phone reception by the lakeshore is spotty, so it's a good idea to be prepared.
Day Use Beach at Hoffmaster State Park
There are two different Lake Michigan beaches at P.J. Hoffmaster State Park.
One beach, the larger of the two, is designated for day use visitors. This is the beach with changing rooms, restrooms, and a large parking lot.
The other beach is specifically for campground patrons. It's a bit of a walk from the campground but has a fun stream feeding into the lake that kids love to play in.
Check to see what color flag is flying when you visit. Red flags indicate the water is unsafe and no one should swim in or enter the water.
The walk to the public beach is short and involves going down a short ramp.
Pets are allowed along the entire length of the Lake Michigan shoreline apart from the designated swim area.
Pets must always be on a 6-foot leash and under an owner's immediate control.
All pet waste must be properly disposed of in trash receptacles.
P.J. Hoffmaster Gillette Sand Dune Visitor Center
6585 Lake Harbor Road, Muskegon MI, 49441
The Gillette Visitor Center is tucked away in an impressive dune systems. The center seeks to tell Michigan's unique sand dune story.
Visitors will find a half-mile Lake Michigan Trail that leads hikers over the dunes to panoramic views of the beach and Lake Michigan.
The first part of the trail is universally accessible until the point of the Dune Climb Stairway (193 steps up) to the top of a parabolic dune featuring upper and lower observation decks.
Inside of the Gillette Visitor Center building, visitors will find an exhibit hall dedicated to teaching about sand dune science.
Animations about dune formation, interactive audio/video, dioramas, and other exhibits help with this goal.
Periodically, the Visitor Center will host live animal displays, activities, and events.
Hours: Memorial Day – Labor Day: 10 AM – 5 PM
Labor Day – Thanksgiving: Fri. and Sat. 10 AM – 4 PM
New Years – Memorial Day: Saturdays 10 AM – 4 PM
P.J. Hoffmaster State Park Camping At a Glance
Not far from the Grand Rapids area
Lots of campsites – sometimes easier to score a campground reservation here than at other Lake Michigan State Parks
Large, wooded camping sites
Great walking and bike riding opportunities
Nice sandy beach but it is smaller now due to high water levels
Fantastic Lake Michigan sunsets
P.J. Hoffmaster State Park Camping
*Note: the campground is closed for the 2023 season for repairs and upgrades. Plan to revisit in 2024.
One of the biggest challenges campers at Hoffmaster are greeted with is the lengthy hike required to make it to the beach area.
If the beach is your entertainment for the day and you require lots of equipment (coolers, umbrella, other gear), be prepared to hike it through a decent stretch of sand before you're able to spread out that beach blanket.
If you can select your campsite spot, the first loop of the campground is closest to the beach.
It may be preferable to drive to the main beach area if the long sandy hike to the small campground beach isn't in your wheelhouse.
FAQs
Are dogs allowed at P.J. Hoffmaster State Park?
Dogs permitted on 6 foot leash, not permitted on swimming beach
How long is the hiking trail at P.J. Hoffmaster Park?
P.J. Hoffmaster State Park has 10 miles of hiking trails
What is the difficulty level of the hiking trail?
These are moderate to difficult trails with some stairs
Is P.J. Hoffmaster State Park accessible?
No, the park is not stroller friendly
What time of year is P.J. Hoffmaster State Park open?
The park is open year round
Map of Grand Rapids Parks and Trails
Find your next outdoor adventure near you with this map of the best hiking trails, playgrounds, and parks in West Michigan.