You'll Love Window on the Waterfront Park
Window on the Waterfront is a beloved Holland, MI park featuring lots of open space, picnic tables, a cool Nature Playscape and is one of the places you can see tons of tulips for free during the annual Tulip Time Tulip Festival.
Pathways with observation decks overlooking a marshy area of the Macatawa River are also a part of Window on the Waterfront Park.
Window on the Waterfront Park – 85 East 6th Street, Holland, MI 49423
Here's a closer look at what you'll find at this park:
Window on the Waterfront Park during Tulip Time
Every spring, starting in late April or early May, thousands and thousands of tulips bloom here as part of the Tulip Festival.
Without fail, visitors flock to Window on the Waterfront park to snap selfies with the vibrant flowers.
The park also serves as a hub for some of the festival's events, like photography walking tours.
There is no fee to get into Window on the Waterfront and parking is free (if you can find an open spot.)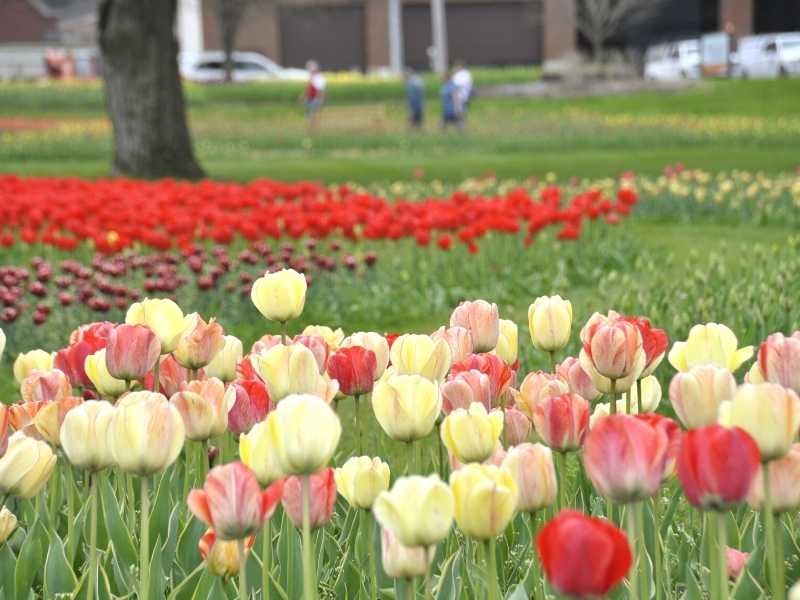 Park Location
If you're in downtown Holland, Window on the Waterfront Park is just a short walk away.
Multiple access points are available for this park – don't blindly trust your GPS instructions. If you do, put the nature playscare in your GPS to get closest to the tulips.
An Urban Trail
This 30-acre park is also home to a popular urban trail. The 1.4-mile route is easy to travel and great for biking, walking, or running.
Boardwalks and paved pathways are the primary surfaces.
Window on the Waterfront Park has one of 50+ walking trails in West Michigan. It also is home to one of over 85 playgrounds in the region.
Nature Playscape
New in the fall of 2021, the Sally Smoly Nature Playscape is a gift to any kid passing through Holland, MI.
This playscape is nature play for all and is family-friendly.
Play features include climbing walls, tunnels, logs, boulders, slides, nets, and sandboxes.
There are two main sections in the playscape: a fenced-in area with equipment geared toward younger kids and a bigger area that will appeal to kids with longer legs.
Several picnic tables are onsite as well.
The whole park encourages kids to climb, crawl and play.
The boulders, trees, and structures have rough edges, just like they would in nature.
The park is open from dawn to dusk daily.