Grand Rapids Public Museum Trip Planner
Grand Rapids Public Museum offers exciting experiences for toddlers on up. People often consider museums for much older kids and adults, but Grand Rapids Public Museum is designed for all ages to enjoy, especially people that live in or around Grand Rapids, MI.
From long-standing favorites to imaginative temporary exhibits, every visit to GRPM will fill kids with wonder and inspire their curious minds.
Grand Rapids Public Museum spans three levels of educational fun, making it easy to spend hours exploring. (Start exploring with this Interactive Map of the museum.)
POPnology – Special Exhibit
POPnology is OPEN through January 30, 2022
POPnology Wows with Hands-on Robotics, Interactive Space Exploration Challenges, and Iconic Sci-Fi Replicas
You've got to go see ET, R2D2, an actual DeLorean, and more.
Kids and adults alike are fascinated by POPnology. When I visited POPnology with my friend and our five kids, we all came away loving it for different reasons.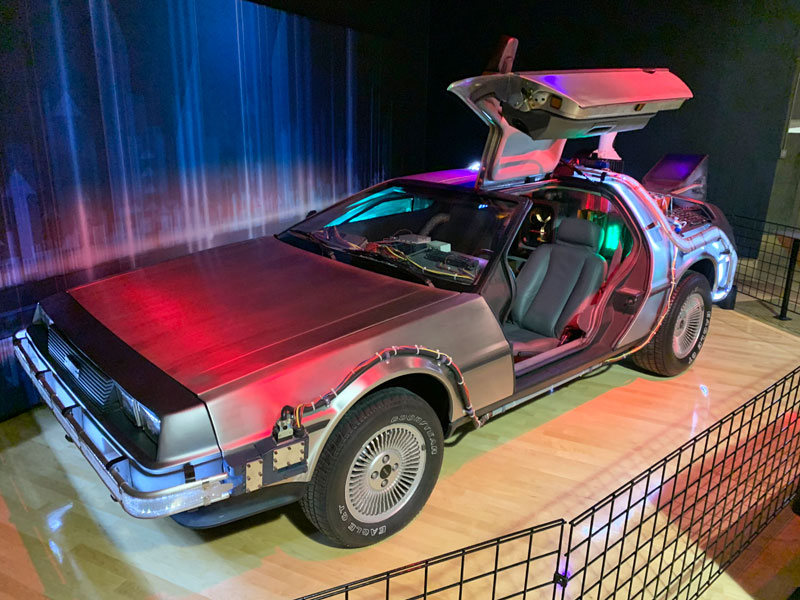 Adults can walk down memory lane with replicas of ET, Star Wars' favorites R2D2 and C-P3O, and an actual DeLorean time machine.
Kids are having a blast with dozens of interactive games and hands-on activities like steering a Mars rover and controlling robotic arms. Visitors of all ages can explore how technology has evolved in movies, tv, and in our everyday lives.
Our Visit
First stop was the DeLorean, the famous time machine from the Back to the Future series. This is an actual DeLorean – not a replica. This was my friend's favorite movie growing up, so she was immediately enamored!
Next up – the photo booth. It gives you four poses with space-related and futuristic backgrounds, emailed at no charge.
The younger kids gravitated to the giant Lite-Brite, and the older kids checked out the Space Exploration section, which included steering a Mars rover and launching a rocket. This gave us moms a minute to peruse the "History of mobile Phones" display and reminisce over our first Nokia cell phones. (Remember those??)
The robotics displays were a huge hit with all. My son loved moving dinosaur eggs with the robot arm reminiscent of Jurassic Park. The artistically-inclined members of our group were fascinated with creating computer generated music and sound waves.
POPnology Exhibit Highlights
This exhibit is open through January 30, 2022. Come explore four featured areas of science and technology in our everyday lives – past, present, and future: How We Play, How We Connect, How We Move, and How We Live and Work.
There are interactive elements examining technology in space exploration, the arts, and pop culture.
Learn to operate a Robotic Arm
Mars rocket builder and Mars lander
Visual Projection Games
Develop music with futuristic technology
See a Jetpack from Disney's™ The Rocketeer
Check out artistic renderings from visual futurists who created the look of Blade Runner™, Star Wars™, Alien™, and much more.
Virtual Reality demos for ages 12 and up.
Free photobooth with futuristic backgrounds
Grand Rapids Public Museum, Floor by Floor
Before you dive into the museum, consider picking up (or bringing along) the A-Z scavenger Museum Hunt. This scavenger hunt offers you clues and will easily take you all around the museum.
Grand Rapids Public Museum is three floors of discoveries. From Streets of Old Grand Rapids to rotating exhibits, there is something new to explore on every visit.
First Floor: Vintage Streets & the Carousel
Streets of Old Grand Rapids
Permanent Exhibit
The first floor features the Streets of Old Grand Rapids exhibit, a 3/4 scale replica of 1890s Grand Rapids storefronts and streetscapes.

This exhibit is a favorite for many visitors.

This is a particularly fun way to step back in time. In fact, if you're lucky, you'll find volunteers dressed in period clothing interpreting the streets of Old GR. While there is no set schedule for volunteers, visitors can expect to interact with museum volunteers most every day at various times.

CLOSED: 1928 Spillman Carousel
Currently Closed for Restoration. Core Exhibit
The other main attraction on the first floor is the historic 1928 Spillman Carousel.

This is my daughters' favorite section. Take your pick of one of the 44 hand-carved wooden horses and enjoy the ride just like your grandparents did!

Carousel rides are free for members or $1 with general admission.
A is for Auto
Core Collection
A is for Auto will kick off your visit to the Museum by showcasing historic vehicles.

This is one of many installments in the Collecting A to Z exhibition throughout the building to give you a peek inside the breadth of the GRPM Collections.

D is for Dolls
Core Collection
There is also a little-known cove full of dolls from different eras.

(Hint: it's right by the bathrooms!) There is a "please touch" section here which is fun for small hands.

This small gallery highlights 438 dolls from the Museum's Collections, spanning cultures around the globe over various centuries.

Curiosity Gift Shop
Located Near Admission Desk
The first floor also features a curiosity shop where fun and unique gifts can be purchased.

Take home a memento from your visit or the perfect gift for family or friends from the Museum's Curiosity Shop. Products and merchandise are updated regularly to reflect Museum offerings and exhibits, the local community and the State of Michigan.
Second Floor: Captivating Planetarium, Cafe, and Gigantic Steam Engine
The museum has a very open feeling and the floors can easily be viewed from the banister on the top two levels. There is a pretty amazing old clock tower which my daughter will sometimes just sit and stare at.
Roger B. Chaffee Planetarium
Core Exhibit
The Roger B. Chaffee Planetarium is one of the most unique spots at GRPM. Named after GR's very own hometown astronaut, young and old alike can explore our galaxy through a variety of fascinating shows ranging from space, science, entertainment, art documentary, and live sky shows to see what is in that evening's sky.

There's a variety of shows to choose from, and cost is $2-$5/person.


Corliss Steam Engine
Core Exhibit
When regulars think of the Public Museum, they often think of the massive steam engine you can view from the second floor.

It's a massive, real life steam engine – over 30 tons! It's amazing for kids to imagine that a machine this large was used to make things, when today, we can create just about anything with tiny little computer chips.


Museum Cafe
Located next to the planetarium.
Snack or dine at the museum cafe while overlooking the Grand River.

Offering prepacked snacks and drinks, and open till 3 PM weekdays, and 5 PM on the weekends.
Additional things to see on the second floor:
Explore the Amazing Pollinators exhibit (open through August 29, 2021).
Watch a Mighty Wurlitzer Organ concert at the Meijer Theater.
Explore historic Grand Rapids – via Lego displays.
Third Floor: Special Exhibits + West Michigan Habitats & People
West Michigan Habitats
Core Exhibit.

Experience habitats native to West Michigan, from dunes to woods to lakeshore. This exhibit has hands-on fun for kids, like a bug drawer, treehouse, animal footprints and more.

The People of This Place
Core Exhibits.

Grand Rapids has more history than you know! Learn that Grand Rapids didn't suddenly exist when white fur traders arrived – it had been a thriving home to the Anishinabe. Since then, many have called Grand Rapids home. This is where you can learn about them.

Bi-Plane & City Hall Clock
Core Exhibits.

Check out more amazing larger-than-life displays suspended in the air on the third floor. Both of these special objects came straight from West Michigan and each have their own special history.

Summer Camps at GRPM
Summer fun happens at the Grand Rapids Public Museum with Camp Curious!
What You Can Expect at Camp Curious
Kids pre-K through 12th grade will have special access to the Museum to use as a learning lab – experimenting, creating, exploring, and having fun through a variety of offerings.
Camp Curious Session Details
Camp Curious offers single-day or multiple-day camps and are available by the grade level students will be entering in the fall.
Popular camp themes range from Slimy Science and Fossil Hunters to Dream it, Build it with LEGO® Bricks and Young Wizards Academy, and more. New, in-person camps this year include River Critters, Adaptations & Pollinators, Fun Tech, and River Explorers.
To register, visit their website. Registration typically opens in the spring, so check their site for updates around that time.
Early registration is recommended as camps will sell out.
Field Trips at Grand Rapids Public Museum
Grand Rapids Public Museum Offers Field Trips for Kids
The Grand Rapids Public Museum provides school groups with the opportunity to explore three floors of exhibits and artifacts related to science, history, and culture, all with a unique tie to Grand Rapids.
Classrooms can explore the GRPM on their own or book a guided education program, as well as visit the Chaffee Planetarium for a show to learn about space and science, and ride the antique Spillman Carousel. Guided education programs are delivered by the Museum's dedicated educators.
Popular Field Trip Focuses
Streets of Old Grand Rapids: The Streets of Old Grand Rapids exhibit is a favorite, as it transports classrooms to the 19th century of what it was like to walk through downtown Grand Rapids. Each storefront has been recreated, and volunteers open four shop fronts for an immersive peek inside what it was like to work and visit local stores in the 1890s.
West Michigan Habitats takes classes through the animals and their environments throughout West Michigan, from the dense forests to swamps, sand dunes, the depths of our lakes and then to the snowy outdoors. With lots of hands-on activities, including drawers filled with bugs, the water bubble at 200 times the actual size, a tree house, animal footprints to touch, and more, it's a great area for kids to spend time and learn about the vast number of animals we have around us.
Native Peoples: Learn about the Native American culture of Michigan in the Anishinabek: The People of this Place exhibit. With many direct descendants of the original Ottawa, Potawatomi, and Chippewa people still living in the region today, this exhibit tells the story of the Anishinabek – "the people" – in their own voices, with rare and fascinating objects, photographs, and documents handed down through their families. On display are hundreds of artifacts representing Native American decorative arts, clothing, weapons, and tools.
Newcomers: Those Who Call West Michigan Home. With 45 ethnic groups in West Michigan, the Newcomers: The People of This Place exhibit showcases how these people have come to call it home. Showcasing more than 600 artifacts and images dating from the first French fur traders to the latest influx of refugees escaping wars and others seeking a better standard of living. Each object tells a fascinating story about our newcomers: stories of work, play and families; of religion and prejudice; cultural traditions, and more.
Outer Space: The Chaffee Planetarium is a great add-on for field trips offering shows ranging from space, science, entertainment, art documentary, and live sky shows to see what is in that evening's sky. The planetarium now boasts Digistar 6 technologies featuring the latest in resolution quality, content features, and immersive surround sound for an out-of-this-world experience.
The Museum also offers guided tours of the Community Archives and Research Center that house 95% of the Museum's Collections.
To learn more and reserve your trip, visit their website.
Pro Tips for Visiting GRPM
Free GRPM Admission for Kent County Kids
Thanks to a Kent county millage, kids who live in Kent county get FREE admission to GRPM, and adults are only $5 with a valid ID. AND Kent county residents enjoy free parking in the parking ramp across from GRPM with the purchase of a ticket!
Pro Tips for Visiting GRPM
Parking: Off street meter parking as well as a parking garage west of the Museum. (Kent County residents get free validated parking in this ramp, with the purchase of a ticket.
There is a circle drive for buses and disabled persons to be dropped off at the main door.
The museum has elevators and is stroller friendly.
Admission to the planetarium and carousel rides is extra, as are some of the temporary exhibits.
Watch for additional themed programming for kids during winter and spring break.