Splash, Stay, and Play: The Ins and Outs of Great Wolf Lodge Traverse City
Great Wolf Lodge isn't just a waterpark hotel; it's an all-inclusive getaway designed to offer an unforgettable experience for families, particularly those with babies, toddlers, preschoolers and other kids under the age of 12.
More than just a place to splash around, Great Wolf Lodge Traverse City has meticulously crafted an environment that takes care of every little detail to make your stay exceptional.
From water slides tailored for the youngest adventurers to interactive games and activities for the whole family, you'll discover countless ways to connect and have fun. Once you check in, you'll never want to leave.
You should know: Great Wolf Lodge Michigan is one of several indoor waterparks in Michigan and one of seven Great Wolf Lodge locations in the Midwest. They also have a small outdoor waterpark.
The Great Wolf Lodge Traverse City (3575 U.S. 31 North S, Traverse City, MI 49684) opened in 2001 has been a favorite indoor waterpark getaway for Michigan families since.
Why Choose Great Wolf Lodge Traverse City?
Yes, Great Wolf Lodge Michigan comes with a hefty price tag at times – especially peak summer season and holiday breaks.
Over the years, our family has become GWL connoisseurs…we try to go at least once a year. After your first visit, you'll know what to expect and will be able to easily put together a schedule for the day. We're here to help you get ready for that first trip.
We contend that Great Wolf Lodge is definitely worth it, though, especially if you use our tips to make the most out of your GWL visit.
So, read on for a recap of our Great Wolf Lodge Traverse City experiences, including helpful tips.
We'll even talk about the pros and cons of Great Wolf Lodge in Traverse City as well, so you'll be able to make an informed decision before booking a reservation.
*This post contains affiliate links.
What to Expect at Great Wolf Lodge Traverse City
Great Wolf Lodge in Traverse City is an indoor/outdoor water park built for families with children of all ages. Families with kids 12 and under are the target audience, although teens and adults can have fun here, too.
While similar to other GWL destinations, they are not all the same.
The Great Wolf Lodge Traverse City location is a little smaller than others around the country, with the attractions varying from destination to destination.
Great Wolf Lodge Wins with Attentive Lifeguards
I feel that my kids are safe when we're at Great Wolf Lodge.
My kids are all under 5 years old, but we often travel with cousins who are older and able to play by themselves. It's impossible to keep them all together.
Thankfully, the park's attentive lifeguards and life jackets helped me handle my fears.
We spend most of our time helping the younger kids float around the lazy river, while the older kids (about 8 & 11 years old) gave the waterslides a run for their money.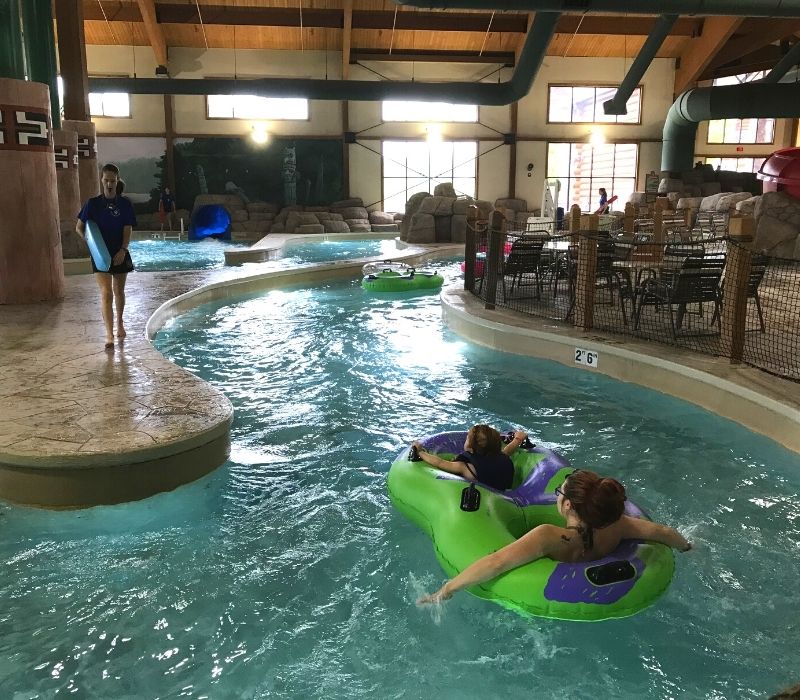 Waterslides at Great Wolf Lodge Michigan
The two large waterslides here are not the biggest in Michigan, but they are fun. We find kids under age 12 have the most fun here.
The water park is divided into a few different sections.
The far end of the waterpark houses the largest water slides, River Canyon Run and Alberta Falls, as well as the lazy river.
These water slides require children to be 42″ or taller – measure heights before your trip to prepare your kids for this reality. Thankfully, there is still plenty to do if a child is not quite tall enough for the big waterslides.
If you do have a family that ranges in ages, sometimes we have one adult take the bigger kids down later in the evening to ride the big slides, so their siblings don't get upset. But again, it's always fun to wave to family members waiting in line for the slides way up at the top, while floating down the lazy river!
Hot Tubs
Great Wolf Lodge has two hot tubs. One is for adults, the other is for all ages.
Kids love to hop in the hot tub after getting drenched by the nearby tipping bucket.
Needless to say, this is not a relaxing hot tub for adults. There is another hot tub tucked away (Manitoba tubs) that is intended for adults that is a little calmer. But still, when I've been there, teens and kids find a way in.
The Kiddie Pool
This zero-depth entry area is make for little kids. Specifically, kids under 52″ tall are invited to play here.
The younger kids enjoy the smaller slides, a shallower pool, water cannons and geysers.
Indoor Pool Area
The pool area is kept warm, at about 84 degrees, so it's comfortable for most kids and adults.
The pool is split down the middle, with one side for just relaxing and swimming around, and the other half with basketball hoops for the athletic bunch to play a game of HORSE.
Toward the back of the pool is an obstacle course, where kids can try to walk across floating lily pads while hanging on to ropes above their heads. So much fun to watch dad try this one!
Fort Mackenzie Water Treehouse
It's impossible to miss Fort Mackenzie – it's the first thing you see when you enter the waterpark. (Psst- Kids get to "turn the water on" in the morning if you are there when the park opens.)
This four-story water treehouse is equipped with a giant 1,000-gallon tipping bucket. Adventurous kids love this!
Exit the treehouse by sliding down one of the Totem Towers waterslides.
They are perfect for kids and toddlers – the height requirement is that kids under 42″ need to be supervised by an adult.
Totem Towers waterslides
Outdoor Pools at Great Wolf Lodge Michigan
In summer, typically between Memorial Day and Labor Day, the outdoor section of the park is open.
Two large pools with play toys and a splash area are a nice treat.
Often, you'll find staff leading kids in games of limbo or other games.
Basketball is a good time in the outdoor pool.
Racoon Lagoon offer refreshments, including island-inspired cocktails and an extensive beer list when the outdoor water park is open.
Staying at Great Wolf Lodge Traverse City
One of the best things about GWL are the rooms! Rooms, also known as Suites, vary in size and design, but all are lodge-themed.
There really is a size for every family.
You can choose from Standard, Themed, and Premium Suites.
Suites sleep from 4 to 8 people and may offer a separate bunkbed room or loft. Some rooms even have balconies.
All suites come with a microwave and a mini-fridge, amenities that I find very helpful.
How to do Food & Drink at Great Wolf Lodge Michigan
All of this play is going to make everyone hungry, but don't worry – GWL has you covered! Below are a few options available on and off-site.
Buckets
Did someone say poolside picnic?? Yes please! Order and eat right next to the pool. Tables are provided. The food is decent. Hamburgers, hot dogs, chicken strips, etc. Be prepared to pay amusement park prices. Alcoholic beverages are available.
Camp Critter Bar & Grille
This onsite restaurant is open for breakfast, lunch, and dinner. They have a great all-you-can-eat breakfast buffet, and one of my favorite times to go is over Thanksgiving, when they have a Thanksgiving Buffet.
Make sure to plan ahead no matter when you stay, because this restaurant is a popular destination at the resort, make a reservation when booking your trip!
Fast Food Options
If your kids want to take a quick break, towel off and head to one of the quick onsite eating options. GWL has a pizza/sub/pasta joint or sweet treat stop in the lower level.
On the main floor there is a Dunkin' Donuts. (Time-Saving Tip: If you know you will want DD in the morning, fill out the pre-order form on your Suite's door handle and place it on the outside door handle before the designated time at night.)
Offsite Restaurants
The Traverse City GWL is located near numerous restaurant options. If you want local fare, head downtown. You really can't go wrong with any of the downtown restaurants – they're all phenomenal. If you're looking for a chain restaurant, Applebee's, Wendy's, Chick-fil-A and many other options are also close by.
Pack a Cooler
This economical option requires forethought. While Great Wolf Lodge won't allow you to bring your own food into the water park, the do allow coolers in the waterpark lobby. To make the most of this option, do these things:
Your room will have a mini-fridge in it. Use this to store perishables and repack your cooler in the morning before you go to the park. Or leave your cooler in the car if it's cold enough outside and grab it right before you head to the park.
While you'll be able to sit at tables and chairs to eat, you can't bring the towels out of the water park with you. You may want to bring a few towels of your own so you're not freezing while you eat.
Bring your own disposable plates, utensils, cups, and napkins.
Pack items that are easy to handle. Leftover pizza or sub sandwiches are great options.
Bonus Activities – Great Wolf Lodge Michigan
If your kids want a break from the water action, you're in luck. GWL designed a complete kid-oriented resort that you won't need to leave for anything unless you want to.
Here are some of the other activity options you'll find at GWL. Some are free and some are fee-based. Times vary daily, so make sure to check the online Event Calendar or see your Lodge Life activity guide upon arrival.
The Great Clock Tower Show: Watch with wonder as the Great Clock Tower friends come to life in the Lobby to entertain your pack with songs and stories. Smiles are guaranteed with jokes, musical entertainment, and even a little learning mixed in. Free.
Bedtime Story: The sun may be down and the moon may be up, but there's still more fun to be had! Usually, this night activity includes a dance party and story time. PJ's and wolf ears encouraged. Free.
MagiQuest
Imagine a hotel that encourages kids to run around its halls. You found it! Kids purchase an expensive wand and game and then proceed to solve a magic-filled scavenger hunt that takes them all over the property. My older kids probably love this more than the water park.
Kids need to be able to read to do MagiQuest, so sometimes pairing up in groups or playing as a family is your best bet. Wands can be reused from trip to trip; be sure to save them. Fee.
Northern Lights Arcade
Lights, action, and energy fill the arcade with excitement as you're surrounded by the newest and best games, and great prizes, too. Sometimes they will have arcade happy hour during slower times at the resort – be on the lookout for this – it may mean that your arcade tokens go twice as far. Fee.
Ten Paw Alley
Kid-size bowling alley…shorter lanes and smaller bowling balls make this a perfect way to spend time together as a family. Fee.
Howl in One Mini Golf
Perfect outdoor game for your wolf pack if you head to GWL during the warmer months. Fee.
Great Wolf Lodge Day Passes vs Hotel Stay
Once upon a time, only Great Wolf Lodge hotel guests were allowed to use the water park facilities. Recently, though, GWL introduced Day Passes.
Without booking a room, you can spend the day at the waterpark, with the use of the locker rooms and towels. Price varies by market, and prices vary tremendously depending on the season, but on average, plan on day passes at a cost of $40 to $50 a person (2 and under are free).
You may choose a full day pass or a half day pass. It's also important to note that there are a limited number of day passes available each day. You are able to book day passes online in advance.
As a family of five, booking a room that includes the waterpark is often a better deal for us.
Deals for Great Wolf Lodge Traverse City
At our stage of life, we love taking the kids to Great Wolf Lodge, but can't afford to go for long stays or go very often.
We view it as a very special treat and always look for discounts or other ways to save a bit. The "Year End Sale" email usually has a pretty good discount (I've seen up to 50%), but the email usually comes in October.
We do pay extra for the MagiQuest games because our kids love them and spend almost as much time playing MagiQuest as they do splashing in the pool. We've visited the Double JJ water park and prefer Great Wolf Lodge. Other water parks look fun, but the overall vibe of GWL can't be beat.
For us, right now, it is worth it.
I'd love to hear about your thoughts on Great Wolf Lodge. Do you think it's worth it? Do you have any tips to share? Leave a comment below or tag us in your posts @GRKIDS!
FAQs – Great Wolf Lodge Traverse City
Finally, here are a few more things to know about if you're looking to make your trip as smooth – and as economical – as possible:
How can I get Great Wolf Lodge Discounts or Deals?
If you are on the Great Wolf Lodge email list, special offers come frequently. Try to go midweek on teacher training days to get discounts. Also, Groupon frequently has deals for Great Wolf Lodge but they usually don't last long.
Is Great Wolf Lodge Allergy-Friendly?
A Grand Rapids mom says, "The Great Wolf lodge franchise is notoriously good at safely handling food allergies and special meal requests. As a food allergy family, it is a joy and a relief to be somewhere where we can feel secure eating out."
When is the best time to go to Great Wolf Lodge?
School breaks are the busiest. Although, it's also during this time that GWL puts on special events and activities, too. Halloween, Thanksgiving weekend, Christmas, and Spring Break are times to avoid if you do not like crowds or paying super high prices. (If Christmas Eve is at an oddball time of the week, we've had luck scoring mega deals on a visit around Dec 22/23.)
Can we swim before our hotel room is ready?
Yes! Your stay includes water park passes with access from 1:00 PM on the day of arrival until the water park closes on the day of departure, even though you can't check into your room until 4:00 PM. Ultimately, this means you can play in the water park for two days for the cost of a one-night stay. Have your suits packed in a separate bag to make getting straight into the pool a breeze.
Does Great Wolf Lodge Michigan have day passes?
Yes, GWL offers day passes. Available on many, but not all, days, the passes are either Full Day Passes (open to close) or Half Day Passes (4 PM to close.) Weekend holiday day passes tend to be much more expensive than weekday day passes. More info
What is the Paw Pass and Should I get it?
The Paw Pass is an activity package. It may be a good way to go if you're staying at GWL for more than a day and want to play MagiQuest. According to GWL, you save $43 with this package.
What are the Locker Rooms Like?
If you want to secure belongings in the water park, you'll need to pay for a locker. Locker rooms are equipped with showers but have wet floors; you'll want to bring shower sandals and shampoo along.
Towels are provided but must stay inside the water park area. The towels are on the smaller side.
Can we bring our own food to Great Wolf Lodge Traverse City?
While Great Wolf Lodge won't allow you to bring your own food into the water park, the do allow coolers in the waterpark lobby. To make the most of this option, to make the most of this option, do these things.
Is Great Wolf Lodge Michigan good for toddlers?
There is a lot to do for toddlers at this waterpark hotel. The Totem Towers waterslides are perfect for this age group – the height requirement is that kids under 42″ need to be supervised by an adult. There's also the kiddie pool for visitors under 52″.
Is this waterpark good for teens?
Teens can and do have a good time here but this is not a teen-focused destination. The emphasis is on family fun, so if you happen to have a range of ages in your family, Great Wolf Lodge is a solid option. This waterpark hotel in Michigan is best for kids under age 12, but older kids often enjoy it, too.